Get Porch Handrail Help
Chris from North Carolina writes:

Our home is an 18 year old two story. Five windows on the second floor and four windows on the first floor with a front porch across the front.

We have 3 steps up to the front door and have removed the old railings and pickets to have an open low country feel.









The house is light gray vinyl with white trim and black paneled shutters. My mom is elderly and needs the assistance of a handrail. I think the front would look better without a handrail but it's necessary and I don't know what look to go for.

We have 6 - 8" diameter simple square columns as supports. The porch decor is white wicker chairs and small tables with bright cushion accents. The front door is white also as I think the red doors are overdone. I am open to a new door paint color as well.




Porch Handrail Options
Thanks, Chris, for contacting us regarding porch handrails. Having worked as an Aging In Place specialist, I agree that your Mom needs a railing for assistance.

To keep the feel of an open porch, I'd opt for a very simple railing with square balusters (pickets)to match the columns (like in the photo below). We realize this isn't an open porch but it should give you a visual of the step railings.

You'll have to install a porch railing support at the bottom of the steps and ensure the steps are secured to the landing or sidewalk, etc.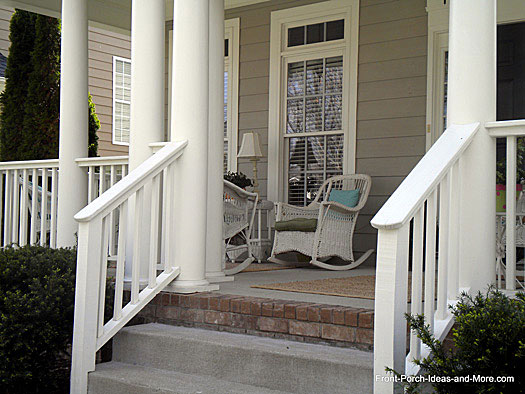 Another option, and the one I like better for your situation is a very simple wrought-iron railing. As you can see from the photo below (realize this is not an open porch) it is not intrusive and because it is black, your eyes don't focus on it.






Hope this gives you some sound ideas. Our extensive porch railings section (see links below) may give you even more ideas.

As far as your front door - since your home is a light gray, which is a neutral color, you could choose from a range of attractive colors for your front door. A shade of blue or green might be nice. Or cranberry. It's a personal choice but there are many other colors besides red that would look sharp on your home.















Helpful Links
Popular Pages
---
Our Sponsors
Porch Store
Custom Porch Products
Vintage Woodworks
For Your Porch Parts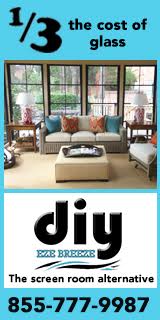 DIY Eze Breeze
Screen Porch Windows
PCA Products
Complement Any Home!
End sponsor section
---
---
Copyright© 2009-2016 Front-Porch-Ideas-and-More.com.
All rights reserved.
Content and photos may not be reproduced
in any way without our written permission.