Porch Swing Beds for Ultimate Comfort
Ooh and Ahh An Afternoon Away
Spend time on porch swing beds and you might just quit your day job! Once you try one you will be oohing and ahhing all afternoon! It just feels soooo good relaxing on this magnificent porch swing. Unbelievable comfort right on your very own porch.

Bed swings come in a variety of styles and materials so finding one to fit your needs is easy. They definitely add style and comfort to a porch; you can't help but want to spend time on one.

Turn your porch into a most comfortable sleeping porch with the addition of a swing bed!

We'll sort through your options and if you are looking for both comfort and functionality we have a recommendation for you too.


The Serenity Of A Bed Swing On The Front Porch

(photo courtesy of

Walla2Chick)



We may receive a small commission on sales for some of the swings noted below. Please see our Disclosure for additional information.




Bed Swing Styles
We've found porch swing beds in almost every style imaginable, from New Orleans flair, traditional, English cottage, fan back, to colonial and even nautical.


Stylish Swing Bed On Front Porch

(photo courtesy of

Rian Bean)



We can only show a few below as there are so many styles; click on the links to explore even more design options to find one just right for you.




Cottage style design
by The Porch Company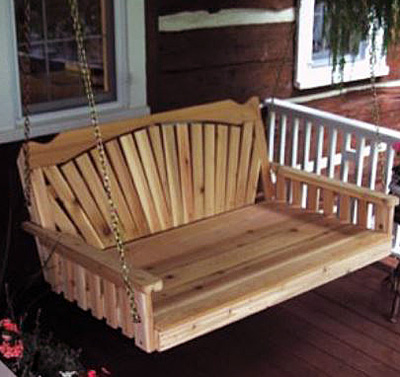 Fanback Bed Swing
by PorchSwings.com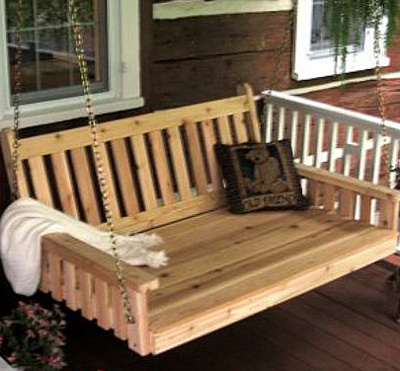 Traditional Bed Swing
by PorchSwings.com
Royal English Bed Swing
by Porchswings.com
Americana design
by The Porch Company
Bed Swing Materials
You can find swing beds in a wide variety of materials but recommend you opt for cedar, cypress, or other wood that is better suited for outdoor use. You will find many beds in pine or poplar and those will work fine as long as they are maintained properly (either painted or stained and sealed) to prevent moisture issues.




Swing Bed Sizes
Porch swing beds usually come in traditional sizes like twin or queen. However, depending on the manufacturer, you may be able to customize the swing to the size you need. Here are some typical swing bed sizes; however, they do vary based on the manufacturer:
Twin - 48W x 86D x 35H in.
Full - 63W x 86D x 35H in.
Queen - 69W x 96D x 35H in.
You can also get swing beds in extra long sizes like the beautiful Marlboro style shown below.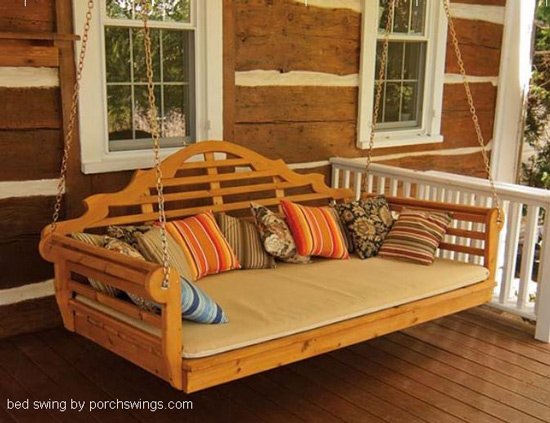 Marlboro Extra Large Cedar Bed Swing

by PorchSwings.com





Although traditionally used on porches, swing beds are ideal for screen porches, lanais, and even in the interior of your home. No matter where you choose to use your swing bed, it is guaranteed to be a wonderful spot to hang out (pun intended)!


A Most Inviting Swing Bed
(photo courtesy of
Cia_B)
Porch Swing Bed Considerations
Because of their size, you may need extra space on your porch as it is larger than a typical porch swing.

Almost all swing beds are perfect as beds but most are not as comfortable when using them as porch swings. The back support (if it has one) is usually just too far back to rest comfortably when swinging without having lots of pillows.

However, we did find one innovative company who makes a swing bed that easily turns into a really comfortable porch swing and one we highly recommend - see our pick below.




Mary and Dave's Pick
Of all the swing beds we've investigated we think you'll love these from
The Porch Company
.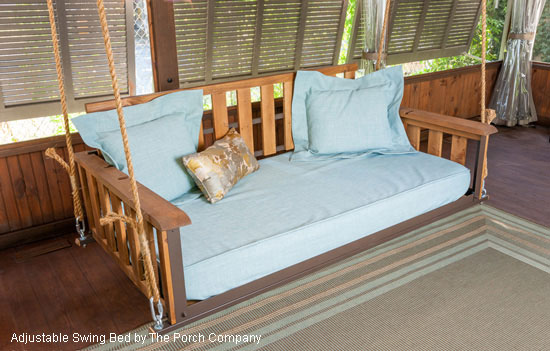 After many different designs, prototypes, tweaks and input from different people with different skills, The Porch Company has developed a great product. Here's what makes their swing beds innovative and more functional:
They are made with wooden arms and backs and a powder coated metal frame so they are not only incredibly strong, but lightweight.



The backs of their swing beds are adjustable, so you can leave them in the furthest back position to enjoy it as a bed, move them forward for more comfortable seating, or remove it completely.






Back positioned forward for sitting





Back removed for ultimate comfort

Watch This Video to See the Difference



Adjustable back makes it comfortable for both a bed AND a swing






And they are easy to assemble, shipping right to your door in a box containing only 5 different components with easy to follow instructions.
Not only are the swing beds easy to assemble but they also offer customers attractive mattress and pillow covers to complete the look.

They recommend twin-sized air mattresses for your swing bed due to the mildew issue. They even have a small opening in the covers that allow you to re-inflate your mattress without having to remove the cover. How clever is that!

Mary and I recommend you see what

The Porch Company

has to offer and to learn more about their amazing swing beds today! We are also very pleased they are one of our sponsors.



Porches were made for swings. So make your porch happy and go all out with a porch swing bed.

Send us pictures of your swing bed as we'd love to share them with others.



Look at This One Too!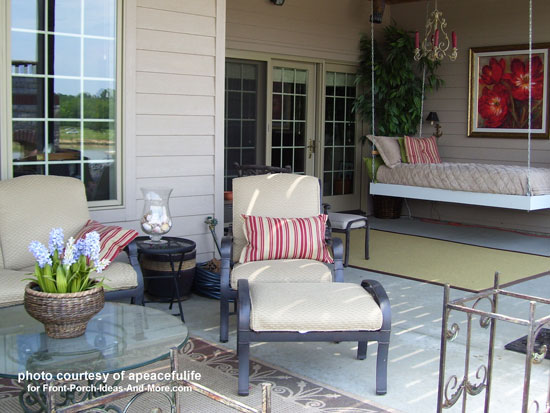 Cozy porch swing bed (photo courtesy of
apeacefulife
)
Also do you see the beautiful wall art above the bed?
Helpful Links
Popular Pages
---
Our Sponsors
Porch Store
Custom Porch Products
Vintage Woodworks
For Your Porch Parts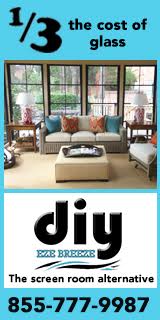 DIY Eze Breeze
Screen Porch Windows
PCA Products
Complement Any Home!
End sponsor section
---
---
Copyright© 2009-2016 Front-Porch-Ideas-and-More.com.
All rights reserved.
Content and photos may not be reproduced
in any way without our written permission.