Ranch Porch Design Options
We periodically receive questions about ranch porch design options such as this one from Tracy in Houston, Mississippi:

"I just purchased a ranch home and was wondering what type porch would look really nice on it.



I was thinking of (A) extending the garage to the right(south) to make a double or (B)extend the garage back to the west to the sidewalk and have cars pull in north to south with a triple carport.

Either way the south side brick wall is coming down to where the storage room starts.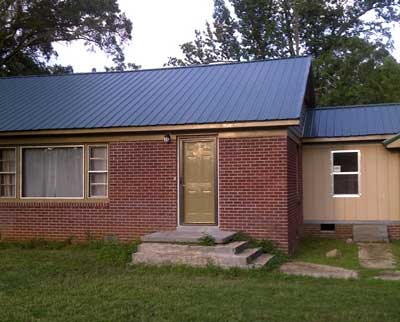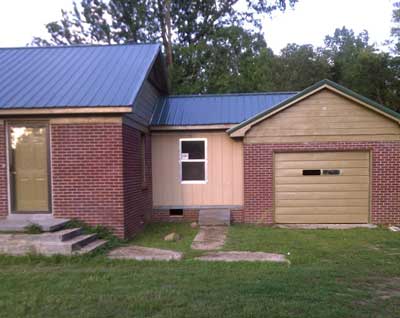 Any ideas on how to blend in porch the easiest with either plan will be appreciated".


Two Ranch Porch Design Options to Consider
Thanks, Tracy, for contacting us. You have a charming ranch home and a porch will really add lots of curb appeal - plus a great place to relax! Not exactly sure from your description regarding the "wall coming down" and its impact - it is always easier to assess if we can be on scene.

Here are two ranch house porch design options to consider which you could also modify to fit your specific construction plans.

Both options below will work with either a gable-style roof or shed-type roof. The shed-type will be less expensive.


Option 1
Small porch addition with porch patio. The two photos below depicts small porches with gable-style roof lines. Your porch would be similar and I recommend you extend it from far right corner of the front of your home to the picture window on the left.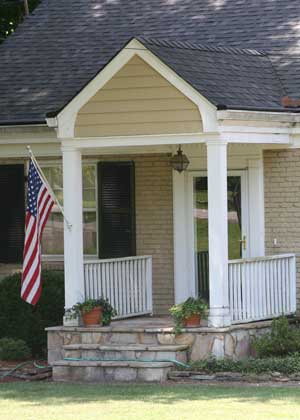 I would then turn the area between the house and garage (where it is inset) into a patio porch to give you added space.

See our patio porch ideas.




Option 2
Larger front porch with patio. Your home would be ideal for a larger front porch across the front.

This porch is a combination shed-type with a gable over the front door (technically this is a hip roof with a gable but the front part is the shed-type roof) . Yours could be similar with the door to the right instead of the left side.




Once you decide upon the roof design you like the most and one that fits your budget, the rest is fairly easy. It appears you will need porch railings but check with your local building codes department to determine the requirements for your area.

Here's another option Mary and I think you should consider as well. It is almost always cost effective to ensure your porch design fits your home and is one that you will really enjoy - you'll have it for a long time. A 3-D rendering allows you to visualize exactly what your project will look like once completed.

Here's a link for you to see some conceptual front porch design examples by landscape architect friend of ours. Perhaps you can find a landscape architect to help you draw conceptual renderings.

Once your porch is built, add some landscaping and you will have the perfect retreat!

Here's a bonus ranch porch design option:


A Ranch Home Porch Dilemma
Ben, one of our site visitors writes:

"I am looking to add a front porch to my house this summer and need help with porch ideas. I finally was able to realize my dream and move to the country and keep my horses in my backyard!

I bought the property primarily for the pasture and use it to "rescue" various unwanted animals. I remodeled the inside of the original house in 2007-2008 and resided the house last year.

I feel like my ranch house is very plain and I want to add some pizazz and curb appeal but I am totally confused on what type of porch design would accomplish this. Cost is always a concern and I am concerned about blocking too much of the natural light.

Any creative porch ideas would be appreciated! Attached are pictures of my existing house".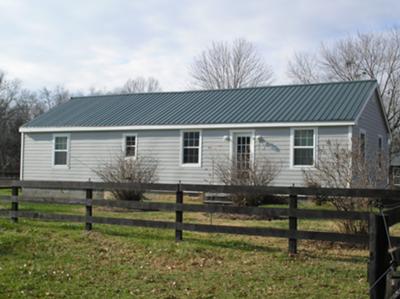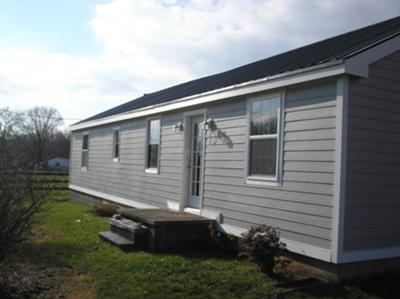 It is always fun to consult on front porch ideas! Hopefully, we will hit upon some ideas you may not have previously considered.

Your home is like an empty canvas to an artist. You have several wonderful ranch house porch design options. Aesthetically, your home has long lines - so let's break them a bit to create more interest and appeal.

I'd opt for a gable roofed porch. Reason being is that your windows extend almost underneath your current eaves which doesn't leave much room for a shed-type roof. It would block too much light. An advantage of a gable roof is that you can also install sky lights in them for more light if you are so inclined.

Next comes size. Your options range from building a small portico over your front door to a rather large roomy front porch.

Here's a sample portico with a gable roof over a front door. Although this is on a two-story home, hopefully you can visualize something similar over your front door. The gable would extend up onto your existing roof. I'd choose square or rectangular columns; however, for your home.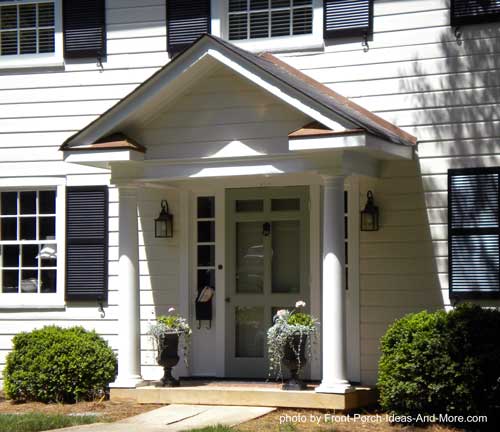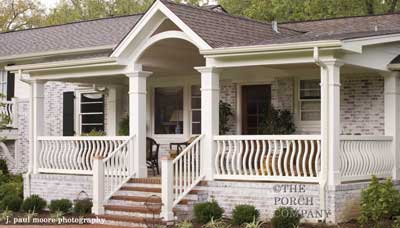 As a minimum, I'd extend it past the windows on either side of the front door. Make it at least 8 feet deep to accommodate a porch swing and comfortable seating. I think your ranch home would look great with an open porch (no railings) but you will have to check with your local building codes department to see if one is required for your area.

From your description it sounds like you really like the outdoors. You could screen in all or part of your porch. See our screen porches section for some pictures of custom designed screen porches. It would give you additional living space as well.

Use our porch landscaping section (see link below) for ideas of how to landscape around your porch. Landscaping adds lots of appeal to any home and porch.













Helpful Links
Popular Pages
---
Our Sponsors
Porch Store
Custom Porch Products
Vintage Woodworks
For Your Porch Parts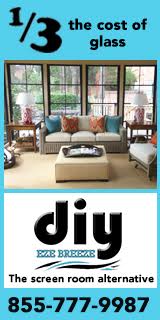 DIY Eze Breeze
Screen Porch Windows
PCA Products
Complement Any Home!
End sponsor section
---
---
Copyright© 2009-2016 Front-Porch-Ideas-and-More.com.
All rights reserved.
Content and photos may not be reproduced
in any way without our written permission.