By Dave and Mary
As an Amazon Associate we earn from qualifying purchases. If you make a purchase through affiliate links on our site, we earn a commission at no cost to you. See our disclosure policy.


Ranch Home Porches
Ranch home porches not only add immense appeal but all also comfort and functionality. Mary and I grew up in ranch homes, but much to our dismay, many ranches are built without front porches as was ours. Because they normally have adequate front yard space, most ranch home designs are ideal for this outdoor living addition.

We are often asked what front porch design works best for ranch homes. Ranch homes normally have low sloping roofs which can limit the porch's roof design but don't let that stop you.



A Wonderful Ranch Home Before and After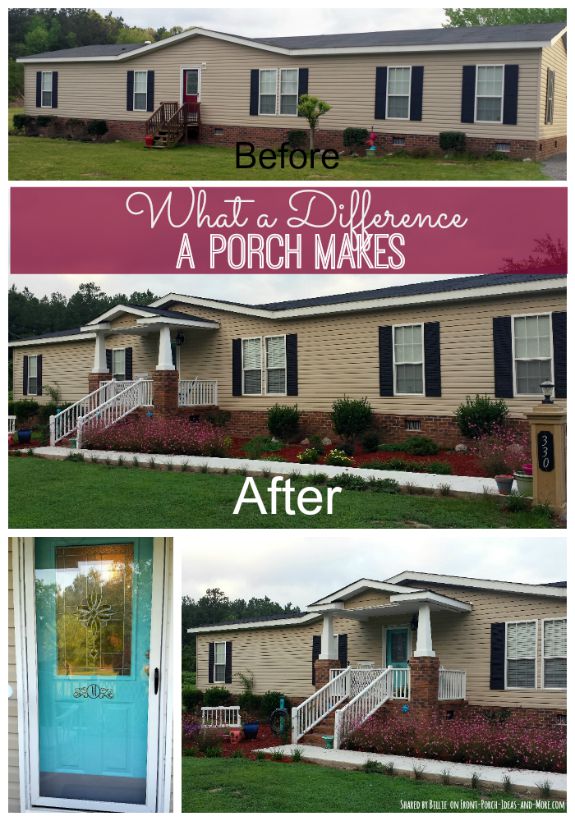 It is easy to see the beauty that a front porch makes on this ranch home. Ranch home porches rock.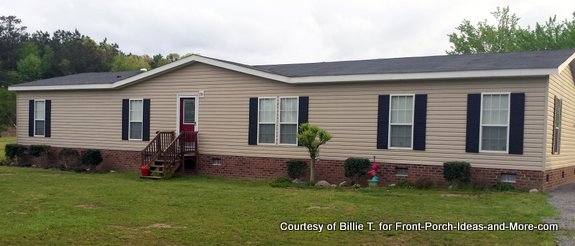 Billie's home before remodel
Billie's ranch home before a front porch was added. One of our readers, Billie, shares the wonderful transformation of her ranch home when they added a front porch.

Above you can see that the home is very long and plain without the beauty of a front porch. She shared with us that it took 7 years to figure out the porch design that they would like.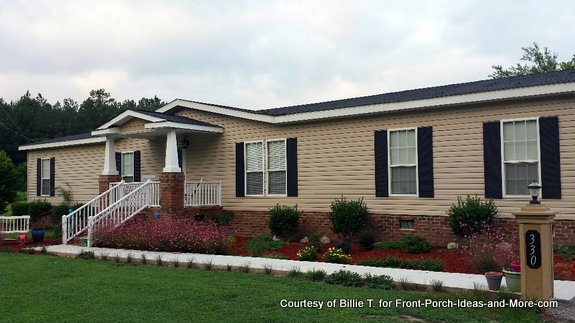 Billie's home with wonderful front porch



Lovely transformation with the addition of a porch and landscaping.

What a fantastic transformation the porch made on Billie's ranch home. The porch landscaping, of course, adds immense appeal too. Isn't it amazing the beauty that a front porch with beautiful landscaping adds? We thank Billie for sharing her photos with us.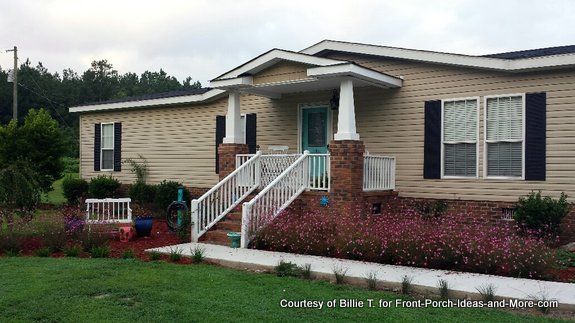 New Craftsman-style front porch
Never underestimate the appeal of a porch especially on a ranch home where the lines are long and simple.
More Ranch Home Pictures and Designs
Gable-style front porch on picturesque ranch home
Gabled roof on this porch - and notice the attractive hanging baskets, too. Dave and I were delighted to see this ranch while coming home from a trip



Front porch with colorful outdoor cushions
Isn't this a super charming ranch home? From the wreath on the door to the cushions and the potted plants, beautiful!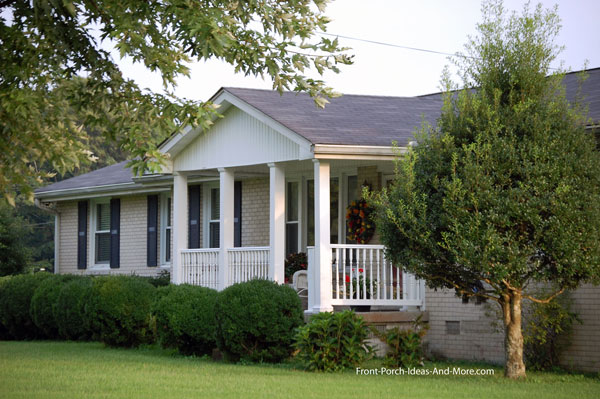 Ranch home with gable style front porch
Ranch home construction essentially began in California in the 1940s and continued well into the 1970s. Their simplistic design was perfect for families after WWII which energized the growth of suburbs across the U.S.

Ranch home's architectural characteristics of a long, low-sloping roof line, an attached garage, and large front windows lend themselves well to adding an appealing front porch.


A typical ranch home can be transformed by its new front porch addition as evidenced by the photos below: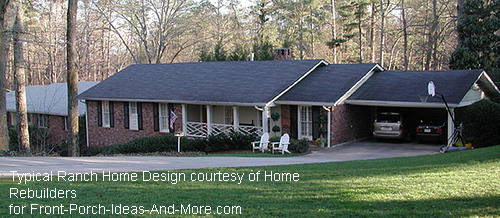 Typical ranch home without a front porch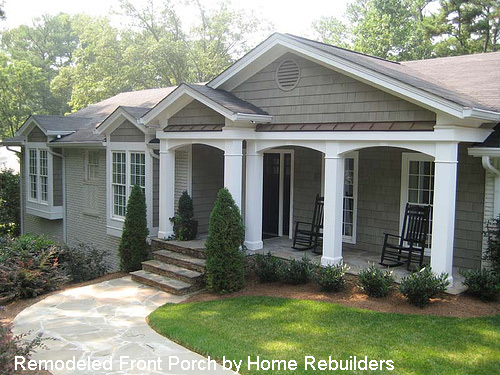 Same ranch home but with an inviting front porch addition

(both photos courtesy of Home Rebuilders) You can achieve the same dramatic effect for your home. The largest hurdle is overcoming the usually low-sloping roof. Once that is resolved, you will have a lot of fun designing the remainder of your front porch - and we can help with both!


Ranch Home Porches - Roof Design Ideas
Shed Type Porch Roofs
First, a few words about roof slope (often called pitch or rise and run). The lower (or flatter) the roof the more difficult it is to have a shed-type roof but it is mostly dependent on your geographical area.

Be sure to check with your local building codes department to see what the minimum front porch slope is required for your local area.

The following picture illustrates a shed roof on a home with a low roof slope. By starting the shed roof farther up the home's roof you achieve one, a more cost effective solution, and two, a deeper front porch.



Ranch home with shed type roof
Had the shed roof been just an extension of the main roof, the front porch would not have had much depth as the overall height would have been limited due to the pitch of the roof.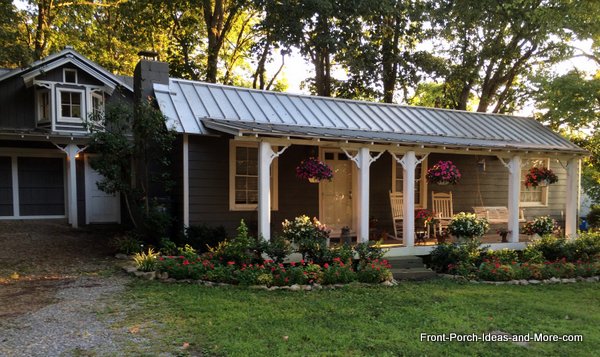 Rocking chair ranch home front porch
This cozy ranch home is one we see often when we take walks. The shed style metal porch roof is somewhat of an extension of the home's roof. Hanging baskets, rocking chairs and a porch swing - what more could we want?



Shed roof on ranch style home and beautiful American flag
Here's a neat variation of the shed roof and one that seems to be very popular. It actually looks like a partial-gable roof that starts the ridge board and extends over the front porch area.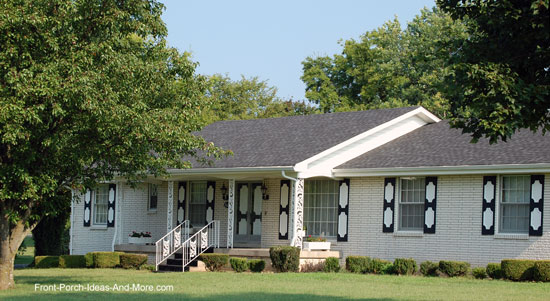 Shed roof variation over front porch
We are partial to ranch home porches with combination roofs like the one below. They tend to add a bit more appeal and interest by breaking the straight lines of typical ranch style roofs.



Ranch front porch with a combination shed and gable style roof
Another option for ranch home porches would be to construct a flat roof off of the main roof. This allows you to extend the depth of your front porch considerably.

However, flat roofs may be restricted by local building codes in some geographical areas; be sure to check with your local codes department.



Hip and Mansard Roof Designs for Ranch Home Porches
Hip roofs are another great option and make for an interesting porch roof design. Hip roofs have equal angled sides whereas a mansard roof (a variation of the hip roof) may have unequal sides. Either one can work well for ranch style homes but the mansard style roof offers more flexibility.

Here's an example of an aesthetically pleasing front porch with a mansard roof on a ranch style home.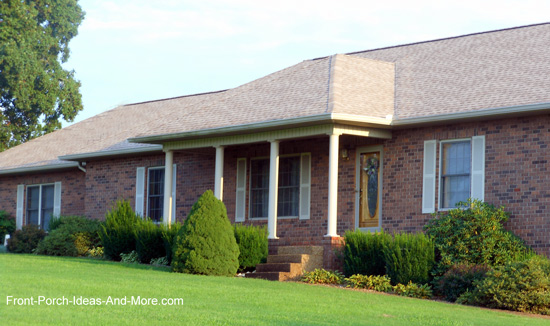 Angled view of a mansard roof on a ranch home
Front view of the same mansard roof over front porch on ranch home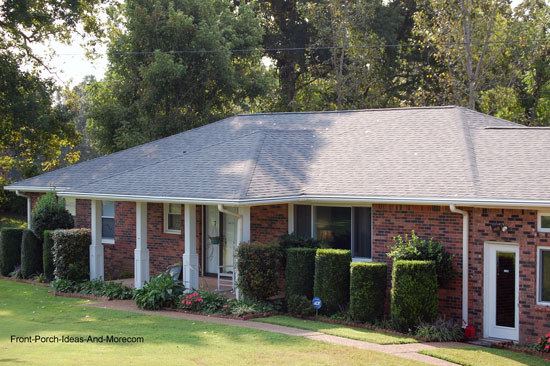 Another ranch home's front porch with mansard style roof
Again, the slope of your home's roof will dictate the style of your hip or mansard roof as evidenced in the photo below. Compare this with the mansard roof designs featured above. On a mansard roof, you can add depth to your front porch by extending the ridge board which will in turn extend the size of the angled sides.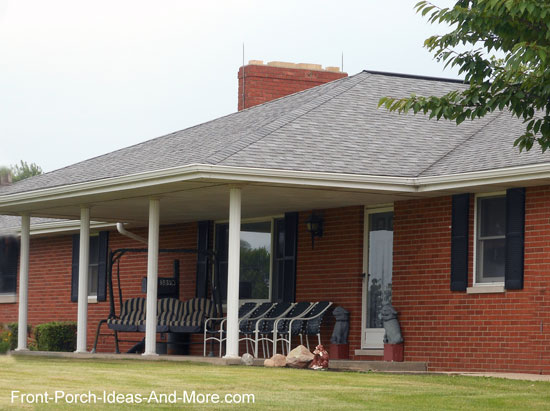 Note how the mansard roof can be extended to increase the depth of a porch
Gable Style Roof Designs for Ranch Home Porches
Clearly the most popular roof design for front porches on ranch homes are gable roof designs.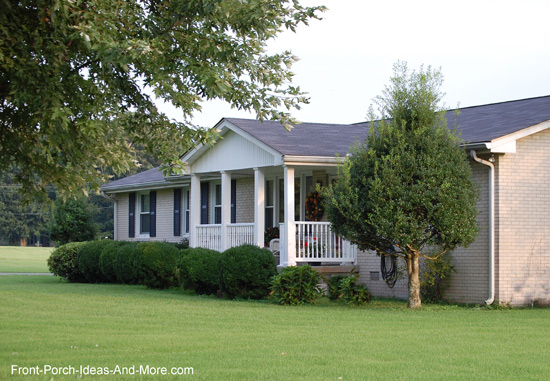 Typical gable roof design on a ranch home
Just like mansard roofs, to increase the depth of your front porch, extend the ridge board to the desired length. This can create an expansive outdoor room like the one shown below.



Large gabled front porch on ranch home





When designing ranch home porches, consider the available light. Deeper porches will diminish the amount of light shining into your home. If you desire a deep porch and light, consider installing skylights on both sides of the gable to maximize the available light.




A gable porch roof over a front porch can make a huge impact as shown below:

Before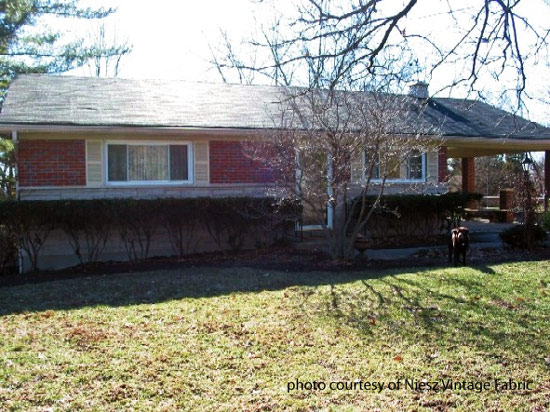 Ranch home before remodel
After
Front porch with gable roof addition with craftsman style porch columns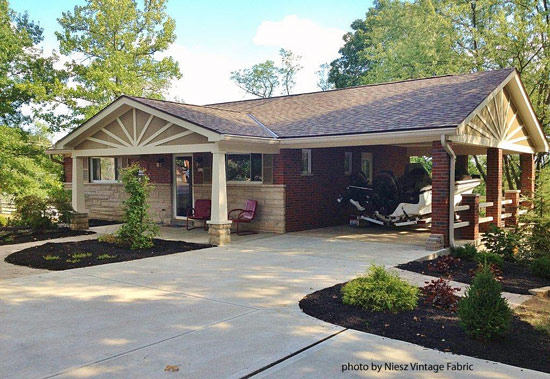 Another view of front porch with gable roof addition
Above 3 photos are courtesy of Niesz Vintage Fabrics
Questions Asked About Ranch Homes
Having grown up in a ranch home, I thought our home was very ordinary, but being an adult I now have much greater appreciation for our simple ranch home. Living in Nashville now, I see many ranch homes from the sixties and seventies garnering a high price. Homeowners are giving them face lifts; how beautiful they can be.

Why would someone prefer a ranch home over a two-story home?

Many homeowners love having everything on one level; no going upstairs for sleeping, laundry or anything else. While ease of mobility is often a deciding factor, many homeowners prefer the mere convenience of everything on one level.

Having one level on the exterior of a home is convenient, too. Cleaning windows, changing light bulbs and power washing are much easier.


What do homeowners like about the feel of a ranch home?

Ranch homes generally flow nicely and usually have an open, spacious feel, so even if the square footage isn't great, it can still feel roomy.


What are other reasons people love a ranch home?

While ranch homes have been around a long time, they have a timeless appeal. Ranch homes often have bigger yards compared to two-story homes, which is an advantage for families with children or anyone who enjoys more space outdoors for entertaining or enjoying nature.


And lastly, we love ranch home porches. A ranch home with a pleasant porch is a delightful place to call home.



Remodeling a Ranch Style House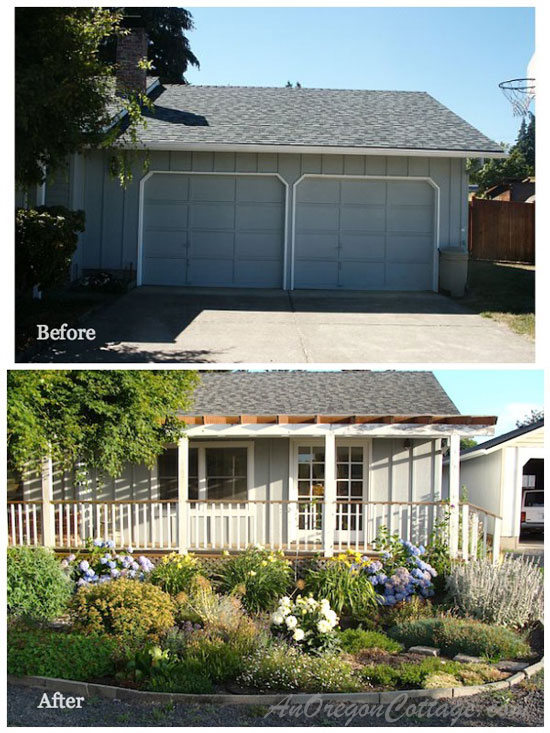 Jami and her husband Brian took their 1982 ranch home and turned it into a cottage charmer with a delightful front porch.

Here's a variation of the gable style ranch home porch roof which gives it a more contemporary appeal. It is important to note that subtle changes in roof designs can make dramatic differences.



Very appealing contemporary gable style roof over front porch
Bigger isn't always better. Even a small gabled front porch creates lots of curb appeal on ranch homes.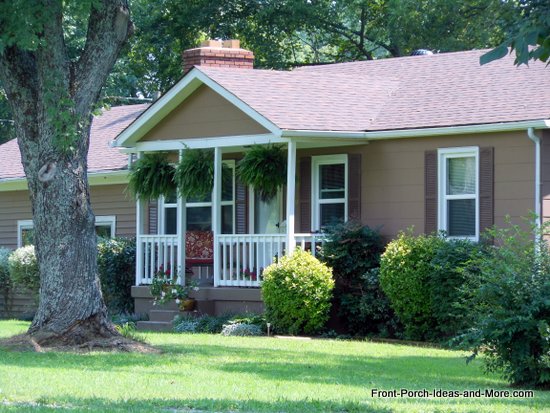 Curb appealing small gabled front porch on ranch home
Interesting variation. Do you see what I see in the photo below?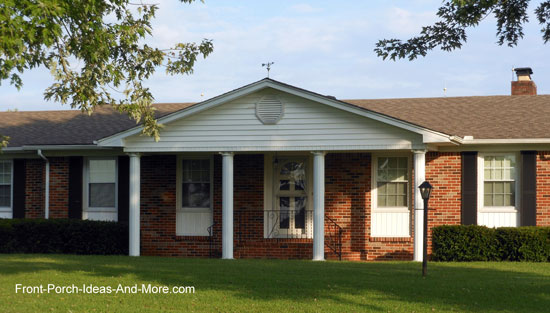 Gable roof addition
The photo above depicts a rather interesting gable roof addition to a brick ranch home. Note the placement of the original steps to the front door. Instead of moving the front steps to the outside of the porch, they erected the gable style roof over them giving this a very unique look.

By doing so, they alleviated having to raise the entire porch to the door's level.

Yet, another option, and one that is primarily for new ranch home porches, is to raise your roof's pitch so that you can extend it to cover a front porch as shown below.



Gable roof addition
Looking for Ranch Style House Plans?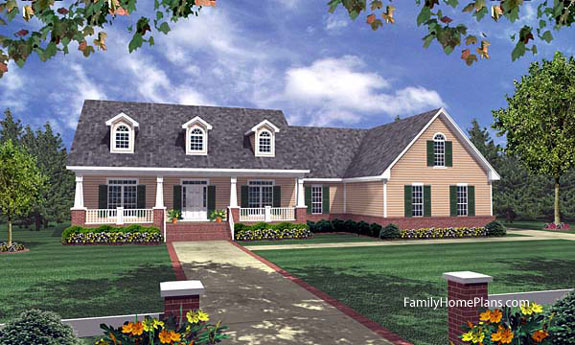 Southern Style Ranch Home Plan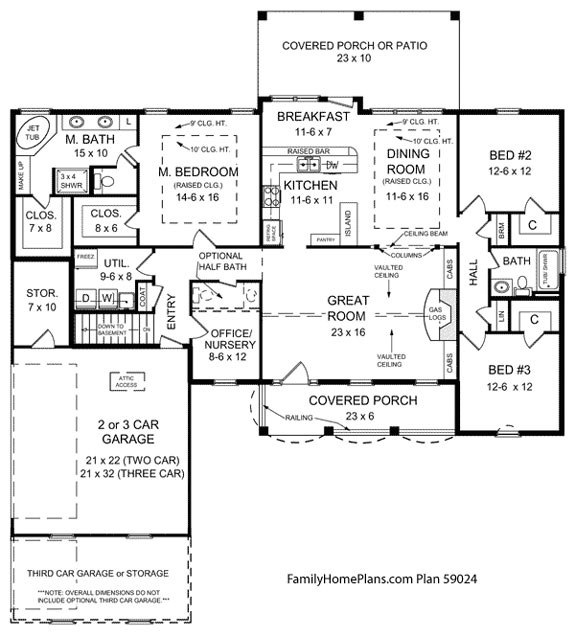 Family Home Plans 59024
Use Our Front Porch Illustrator
It isn't always easy to conceptualize how a new or remodeled front porch will look on your home. To assist you in seeing how much a front porch can change the look of a home, we've created what we call a "Front Porch Illustrator".

Our tool lets you see not only how much a new porch impacts both a one story and a two story home but also gives ideas for landscaping too. So be sure to check out our front porch design illustrator tool.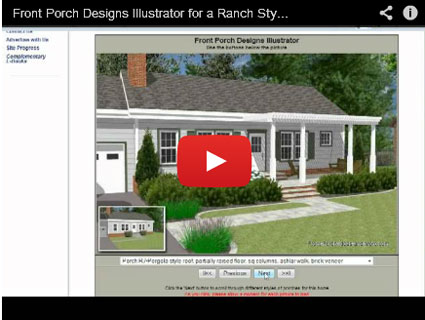 Ranch Home Porches - Things that Matter
Once you determine the style of your front porch roof, it's time to consider adding the appeal. Curb appeal and functionality are the result of your roof, porch columns, porch railings, flooring, steps, and even landscaping.

Fortunately or unfortunately, you have lots of options in every category. We can help!



Front Porch Columns for Ranch Homes
Choosing the right style of porch columns will increase your porch and home's aesthetic appeal. Larger round or fluted columns will give it a more sophisticated look, whereas square or rectangular porch columns present a more traditional look.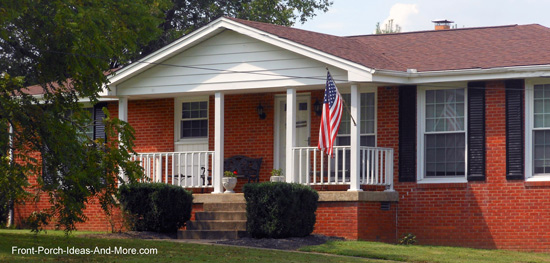 Square porch columns on ranch home front porch



Turned columns are ideal for giving your porch a more country appeal as will adding exterior house trim onto or between the columns.



Turned porch columns on ranch home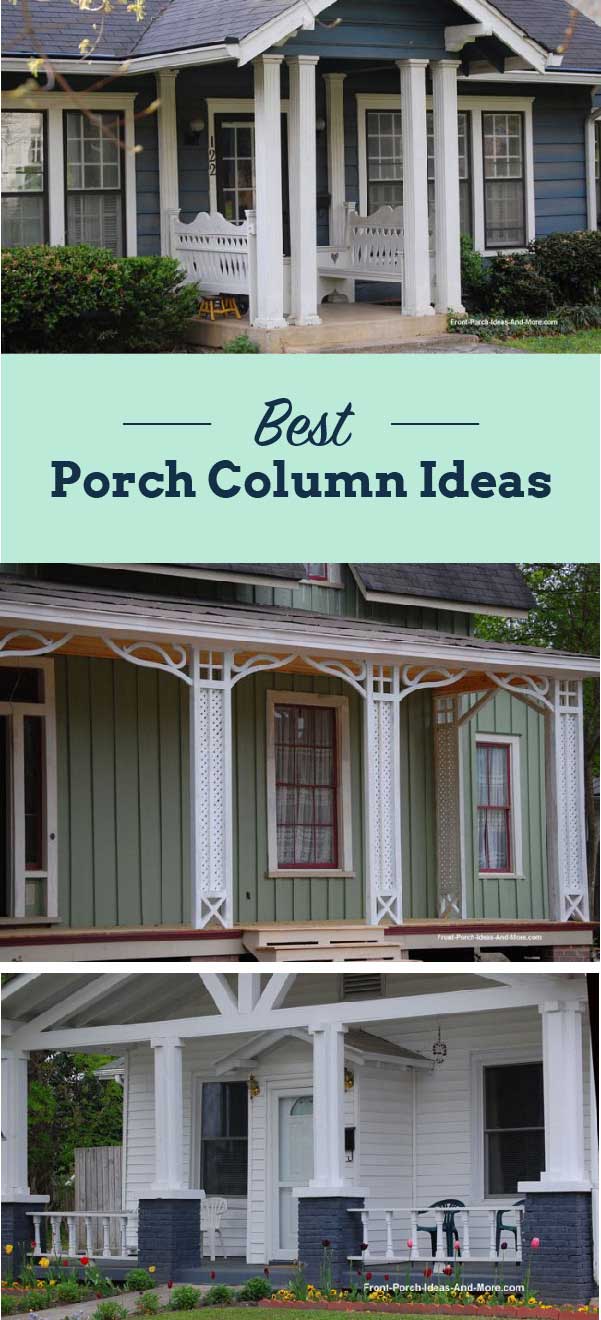 Before you decide on your porch column style, be sure to see our entire front porch column section to not only see a myriad of styles but also to choose column bases, materials, trim, and lots more.



Railing Options for Ranch Home Porches
Like porch columns, you also have many porch railing options. Because of their design, many ranch homes offer the opportunity to forgo porch railings altogether to have what we call an "open" porch.



Colonial style front porch railings on ranch style home
Opting for no porch railings is also an option. As long as your porch is below 36 inches from the ground (check with your local building codes department) you do not have to have porch railings. This is a perfect option for those who don't want to inhibit their view.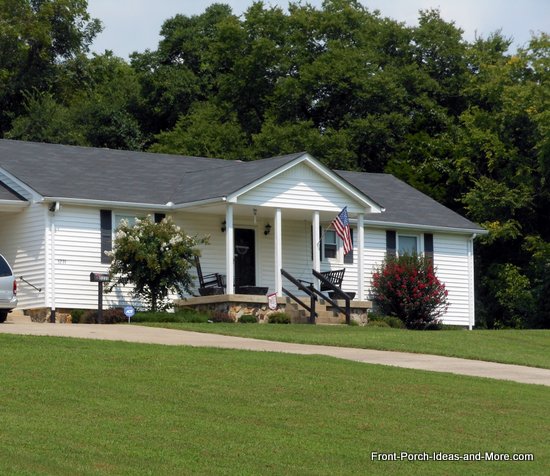 Open front porch with gable style roof on a ranch style home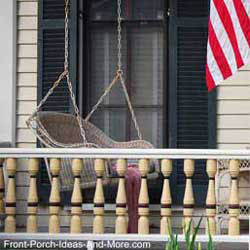 Are you ready to choose your porch railings? See all of your options before you make a definitive decision - we have oodles of information and photos of porch railings. See our entire porch railing section.



Front Porch Steps for Ranch Home Porches
Many people fail to consider their porch steps in the overall porch design. Ranch homes have an advantage in that most times very few steps are required. However, you should make the most of them and turn ordinary steps into extraordinary ones.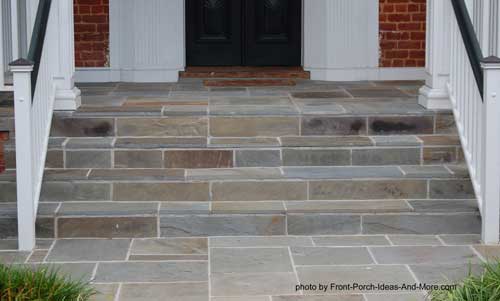 Beautiful slate front porch steps
One common mistake is making your porch step too narrow. You'll make a better impression if you extend the steps a bit to make them appear more expansive. Works well for a small porch too.

Be sure to see our entire porch steps section; you'll be pleased with all of the ideas we offer.


Enjoy seeing our entire porch pictures section from which you can get even more great ideas.

We've only just touched the surface for porches on ranch style homes. Enjoy all the information on our site and please send us pictures of your porch; we'd love to share them with others.



You may have more options than you thought
Hi!
We're Mary and Dave
, lifelong DIYers, high school sweethearts, and we both love porches. You've come to the right place for thousands of porch ideas.
Our Sponsors
End Sponsors
---
Helpful Links
Enjoy shopping Amazon
(affiliate link)
Popular Pages
What's New
Join Our Newsletter Family
Porch Designs
Porch Ideas for Mobile Homes
Find a Local Contractor
Build a Porch
|
Small Porches
Porch Columns
|
Porch Railings
Screened Porches
Porch Curtains
|
Porch Enclosures
Porch Landscaping
|
Vinyl Lattice
Porch Decorating
|
Porch Ideas
Shop
Navigation Aids
Home
|
Top of Page
Site Search
|
Site Map
Contact Us
Policies
Disclosure Policy
|
Privacy Policy
Legal Info
---
Please Join Us Here Also

Find a Trusted Local Pro
---
Copyright© 2008-2024
Front-Porch-Ideas-and-More.com All rights reserved.
No content or photos may be reused or reproduced in any way without our express written permission.
At no extra cost to you, we earn a commission by referring you to some products on merchant sites. See our
disclosure policy
.
We, Front Porch Ideas and More, confirm, as stated on our
privacy policy
, that we do not sell personal information.
All content here is solely for presenting ideas. We recommend consulting with a licensed, experienced contractor before you begin your project.
We make no guarantees of accuracy or completeness of information on our site or any links to other websites contained here.
Thank you for taking your time to stop by.
See what's popular and new here
.

Hi!
We're Mary and Dave
, lifelong DIYers, high school sweethearts, and we both love porches. You've come to the right place for thousands of porch ideas.
--- Our Sponsors ---
--- End Sponsors ---
Mary's Etsy Shop
Find Top-Rated Service Pros
Our Newsletter, Front Porch Appeal
Learn more
!
Thank you for being here!