Craftsman Style Home Plans Offer
Simple Yet Elegant Porches
Craftsman style home plans incorporate natural materials to make a uniquely beautiful home and inviting porch. Mary and I would love to have a Craftsman home some day.

Craftsman style home plans are charming and usually include lots of built-in-features and beautiful woodwork - probably reasons why Mary loves these homes.

Easily identifiable, a craftsman home has low-pitched roof lines that extend over a wide porch with deep overhanging eaves and wonderful front porches too.

Also called, bungalows or California bungalows, these homes were extremely popular around the world between 1910-1925 and are treasured today for their artistic style and functionality.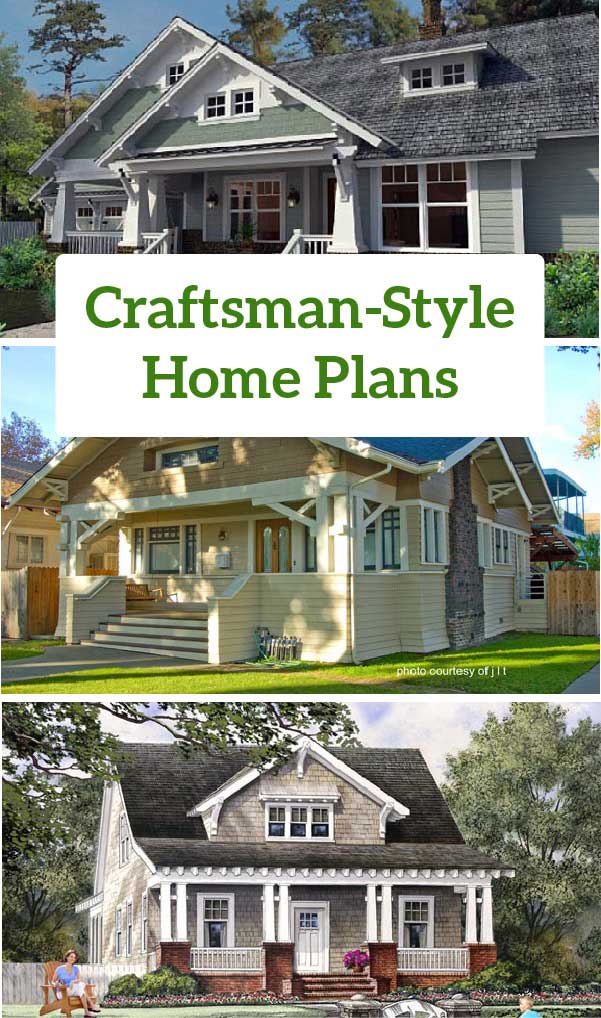 If you love Craftsman style like we do, welcome!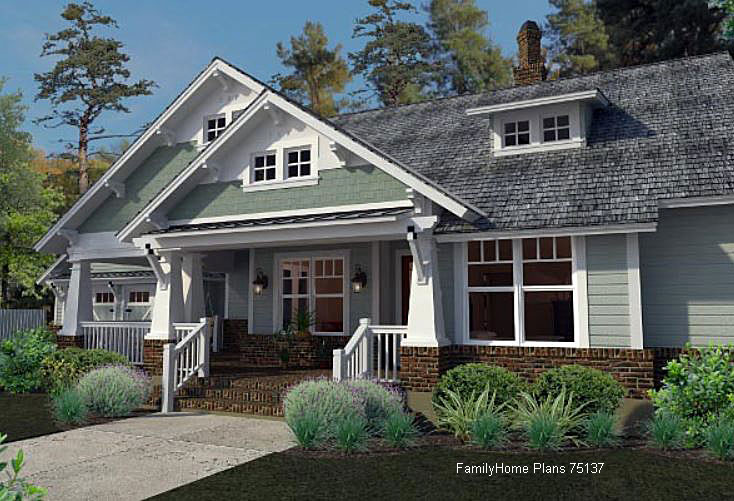 An ideal craftsman-style home plan 75137
Family Home Plans #75137 - 1879 square feet
Bungalow style homes have a signature look - one or one and a half stories, sloping roofs and eaves with visible rafters, and a gable over the main portion of the house. They are horizontally designed and use local materials and transitional plantings to blend in with their surroundings.

Bungalows can be found in the older neighborhoods of most American cities. In fact, they were so popular for a time that many cities have what is called a "Bungalow Belt" of homes built in the 1920s.






Craftsman and Bungalow Home Directory
Advertisement
Craftsman Style or Bungalow Characteristics
Porches are built beneath the main roof
Tapered, square columns supporting roof
Larger bungalows might have asymmetrical "L" shaped porches which were often enclosed at a later date due to street noise
Low-pitched roof lines, gabled or hipped
Deep overhanging eaves with exposed rafters
Decorative brackets under eaves
Double-hung windows
Hand-crafted stone or woodwork, often mixed materials throughout structure
Wood shingle siding, wood clap-board siding or cut stone cladding
Wide window and door casings
Craftsman front porch with knee wall and triple wooden porch columns - Photo courtesy of j l t
Craftsman Porch Plans and Home Plans




Here are some home and porch plans that you can purchase from Family Home Plans to build a home or to use for adding a great porch!
Our Picks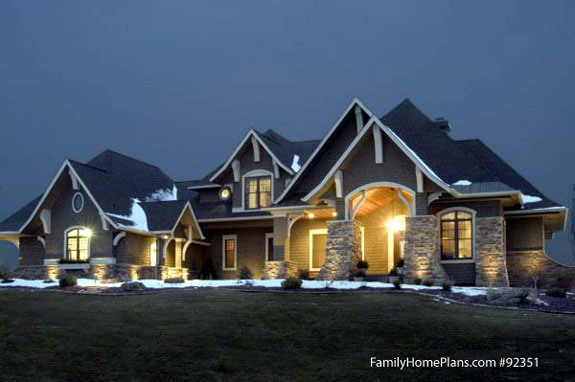 Beautiful Craftsman style home at night-Plan 92351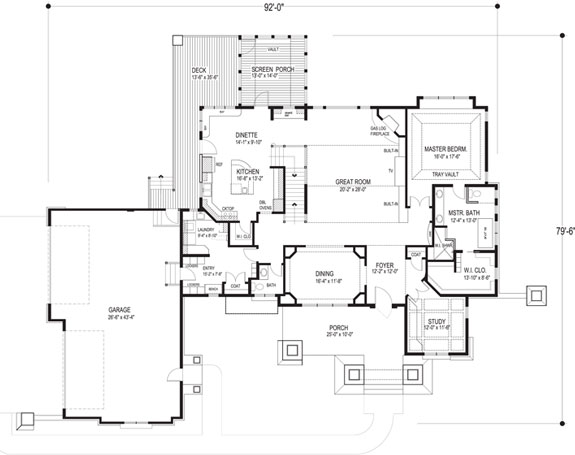 Family Home Plan # 92351 - 3651 square feet
---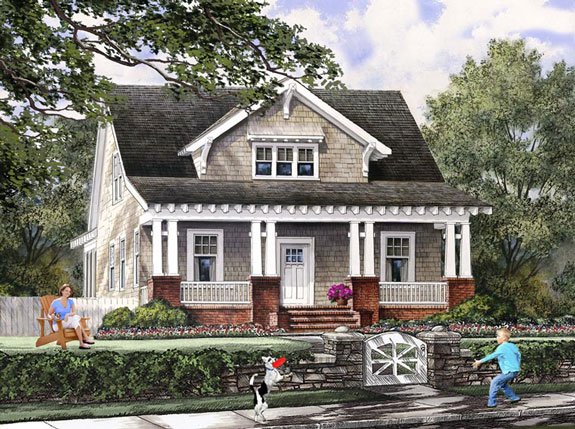 Typical Craftsman style home with nice front porch - Plan 86121

Note the large eaves and exposed rafters above front porch.



Family Home Plan # 86121 - 1907 square feet
Advertisement
Country Craftsman home style with lovely front porch - Plan 87811
Family Home Plan # 87811 - 1591 square feet
---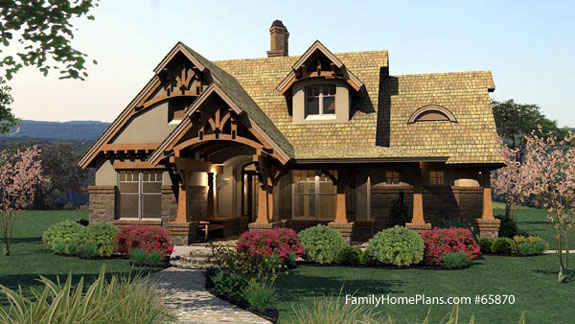 Tudor Craftsman home style - Plan 65870
Family Home Plan # 65870 - 1421 square feet
---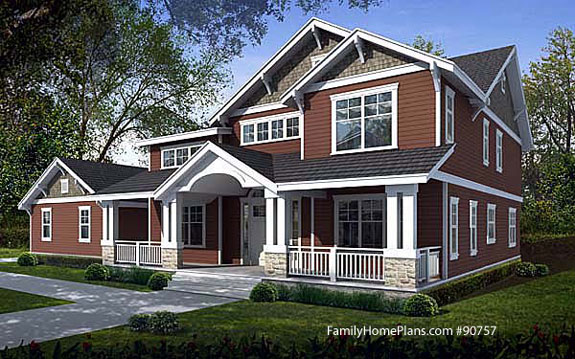 Farmhouse Craftsman Home style with large front porch-Plan 90757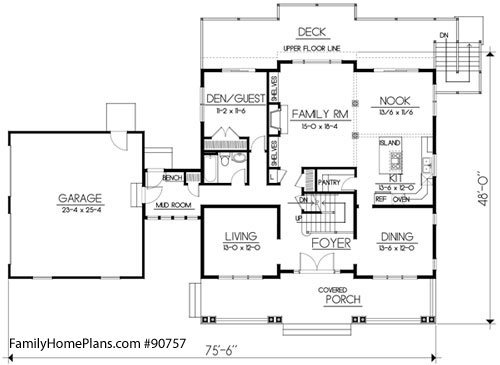 Family Home Plan # 90757 - 2968 square feet
---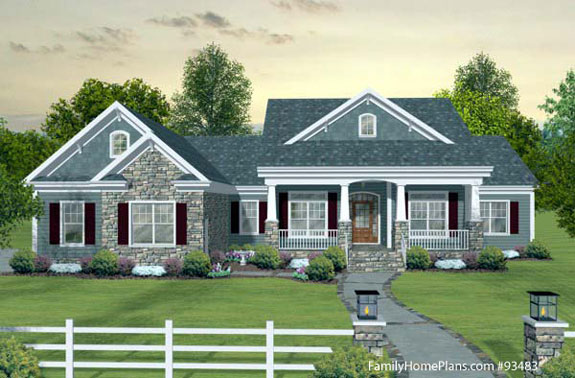 Bungalow Style Craftsman Home with inviting front porch - Plan 93483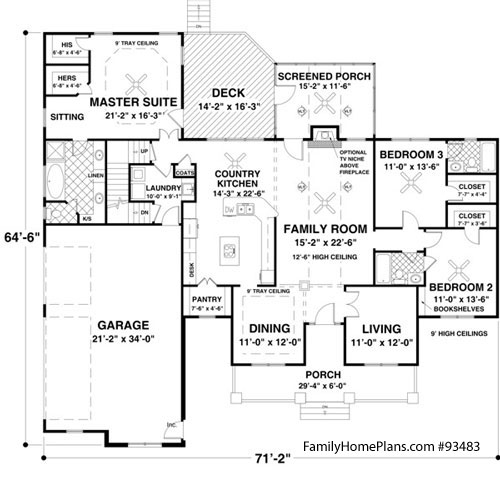 Family Home Plan # 93483 - 2156 square feet
Craftsman Style Home Plan Pictures
Our intent is to give you design ideas for your own craftsman home through these classic Craftsman home photos. Discover details you'd like on your own bungalow and then find a craftsman home plan below from our sample plans.

A Craftsman airplane bungalow (like the one below) is named such for its second floor which seems to "pop up" to resemble a cockpit of an airplane. It also resembles bungalows with wide soffits and dormers sticking out of the roof looking like the cockpit of an airplane. Either way, they were popular on the West coast.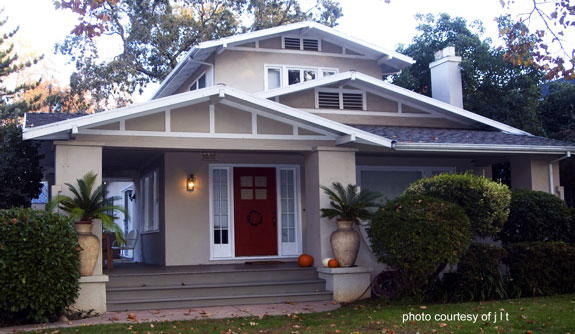 Beautiful Craftsman airplane bungalow - Photo courtesy of j l t
Many Craftsman style homes were built with gable or hip roofs along with pergola extensions to make for a more natural transition from the outside to the interior of the home.




Hip roof design with pergolas on each end of the porch giving easy access to the gardens - Photo courtesy of j l t
Classic Craftsman front porch with exposed rafters and braces under eaves - Photo courtesy of j l t
Two of the most prominent features of a Craftsman-style home plan are the tapered columns and wide front steps.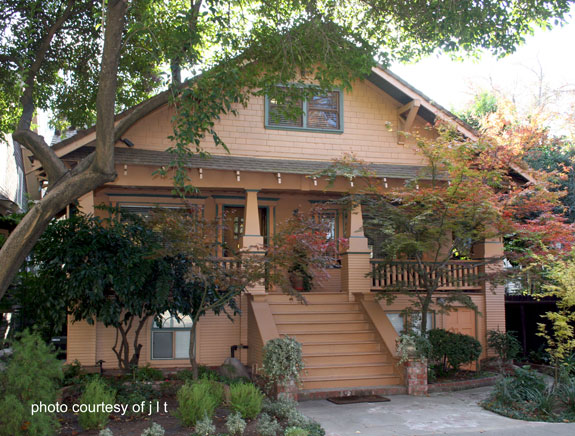 Classic tapered front porch columns and wide porch steps - Photo courtesy of j l t




Bungalow designs spread across the country through mail-order catalogs like the Sears Catalog. A variety of firms offered pre-cut homes, which were shipped by rail or ship and assembled on site. These were most common in locations without a strong existing construction industry, or for company towns, to be built in a short time.

The majority of bungalows included some elements of mass production; typically doors, windows, and built-in furnishings such as bookcases, desks, or folding beds were sourced from lumber yards or from catalogs.



The following craftsman style home photos provided by Farmer1976: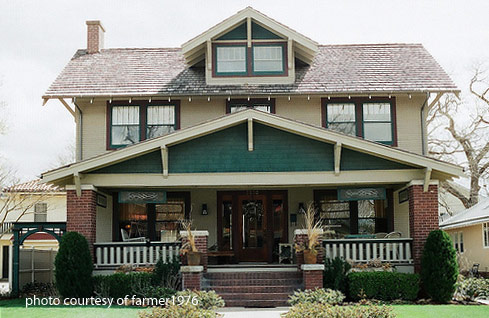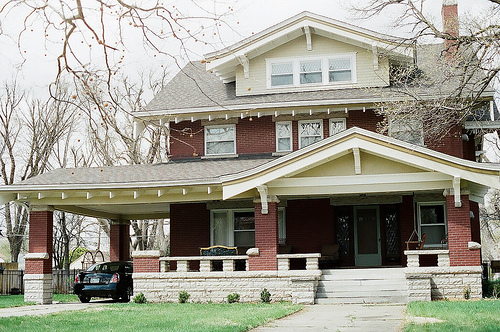 The photo above depicts a new craftsman style home plan being built. It captures the old world charm of a classic craftsman home while using today's materials.



This craftsman home was originally ordered from a Sears catalog
in 1911 - Photo courtesy of brewbooks)



Photo Credits: brewbooks, j l t, orangeeener, superstructure, j l t, flowergardengirl, FL Architect Fan







Our Sponsors


End Sponsors


---



Thank you for taking your time to stop by. See what's popular and new here.
Enjoy shopping Amazon
(affiliate link)
Our Sponsors
End Sponsors
---
Find Top-Rated Service Pros (our referral link)
---
Get Our Newsletter,
Front Porch Appeal
and a bonus!
Learn more
!
Subscribe and also receive our eBook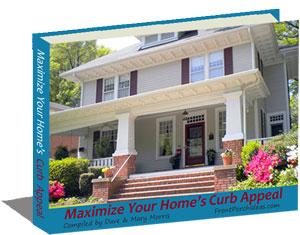 We will use your email address only to send our newsletter and this helpful ebook on curb appeal!
Enjoy our
back issues
.
---
What's New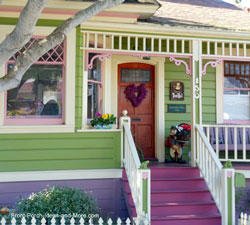 See Our Latest Updates
Get Our Porch Ideas Generator eBook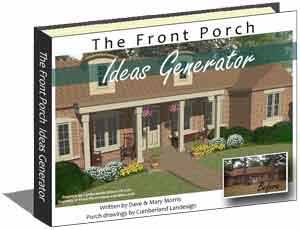 See Our Porch Illustrator eBook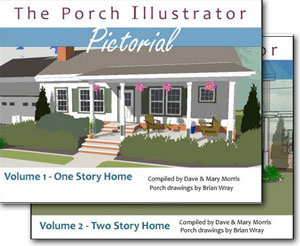 Search Our Site

Porch Ideas Network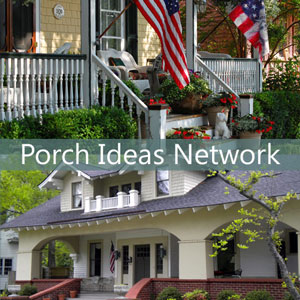 Thank you for taking your time to stop by.
See what's popular and new here
.