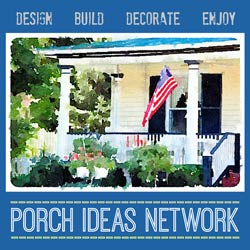 We bring experts to you each week through our
Porch Ideas Network
who share their love of porches and their expertise in such areas as building, designing, planning and decorating porches. Each show lasts approximately 20 - 30 minutes.
Tips for Staining Concrete
Our guest David Goddard gives you professional tips for
staining concrete
. His suggestions and experience will help you decide if staining is a good idea for your porch or driveway.
Listen here:
New Ideas for Painting Your Front Door
Our guest, Jim Rogers of Modern Masters, tells about the
revolutionary Front Door Paint
that his company developed.
Listen here:
Expand Your Small Porch This Year
Is this the year to make your small porch larger? The two of us give you ideas for
expanding your small porch
. You might be surprised at what you can do.
Listen here:
We'd really appreciate your assistance in launching our audio program. In order to give it more visibility on the internet, please subscribe to our audios (use buttons below) and if you enjoyed it, please give us a favorable rating.
That will help others to find our future audio segments.
In addition to our audio casts, we also feature selected
porch builders and landscapers
- must see if you want more ideas from experts in their fields.
At no cost to you, we receive commissions for purchases made through affiliate links in our content. Here is our
full disclosure
about affiliate marketing.
As an Amazon Associate we earn from qualifying purchases.