Front Porch Appeal
Fall Porch Decorating Issue
Issue #81 September 2016
September - Friday night football games, school activities, fall construction projects, and cooler temps mean more porch time.

We know many of you like to decorate your porch for fall so our goal in this issue is to give you plenty of ideas.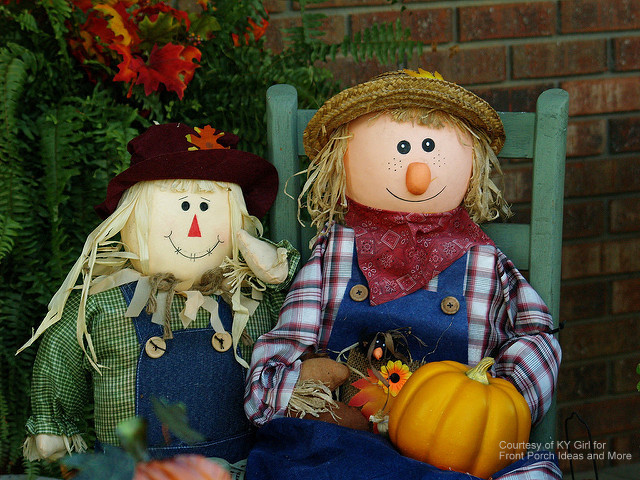 Adorable scarecrow couple- photo courtesy of KYgirl
Whether you have a huge wrap-around porch or a small space to decorate, there are many easy things you can do to celebrate arrival of fall.



What's in This Issue
Bringing Back Our Autumn Decorating eBook
Mary and I put together fall decorating ideas from 40 creative and inspirational bloggers.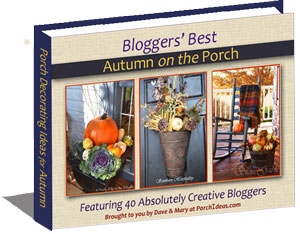 What's inside...
251 attractive pages loaded with colorful photos
Autumn decorating ideas galore (oh, and a few fun Halloween decorating ideas, too)
How-to's - like a cute yarn fall wreath, a messy raffia wreath you'll love, a "31" pillow for Halloween...
Yummy fall recipes - like Mary Beth's pumpkin biscotti, Anita's pumpkin cheesecake and more, and
Pure inspiration all in one very attractive eBook
Enjoy our eBook on your computer, laptop or tablet!
Our "
Autumn on the Porch
" eBook is truly nice for someone you know who loves to decorate their porch.
Fall Decorating in Full Swing
So let's look at some stylish fall decorating ideas that add a touch of elegance without breaking the bank or taking up your porch sitting time.

And then we give you suggestions (with some product links) that will help you replicate the look of these pretty porches.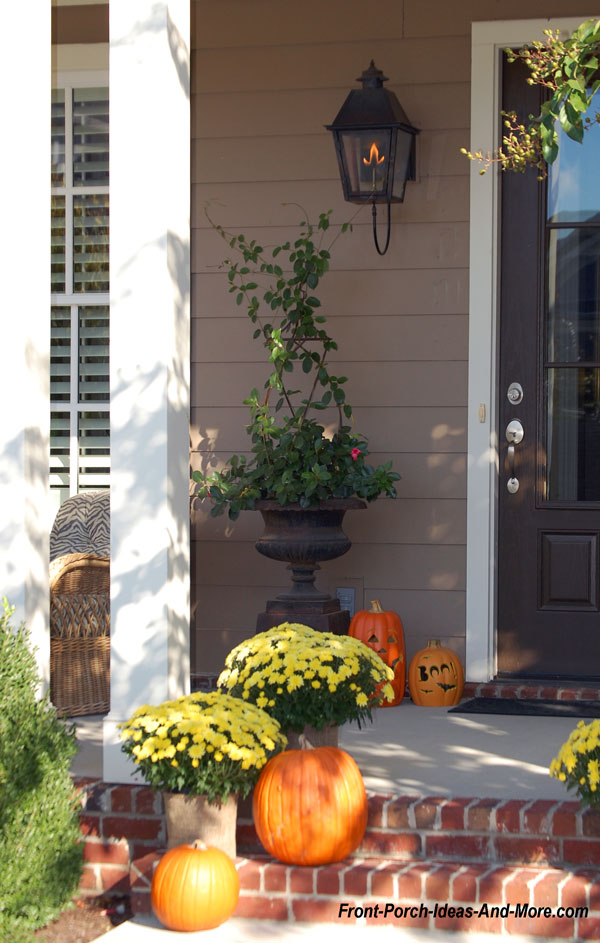 You could do this on your autumn porch!
Simply combine pretty mums and pumpkins on your porch steps. Leave room to walk. Instant autumn and charm. Then if you got hardy mums, you can plant them in your garden for color year after year (for most planting zones).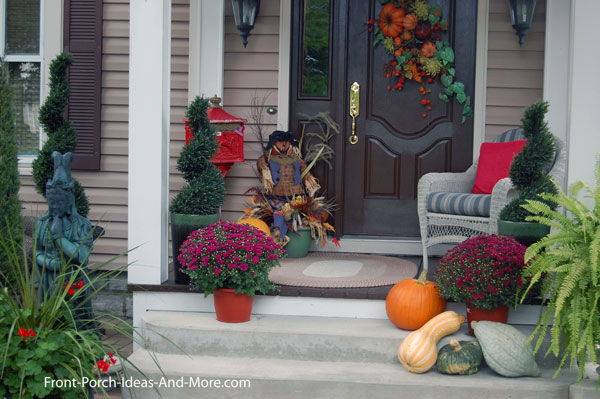 Ooooh! That red retro mailbox and wicker chair. Create this look...
We found a similar postal mailbox (at right) like the one in the porch above. And it could be painted red too.


The two of us also like the wicker chair (affiliate link); here's a similar one for your porch.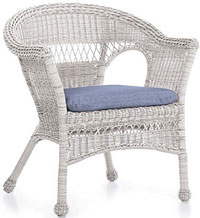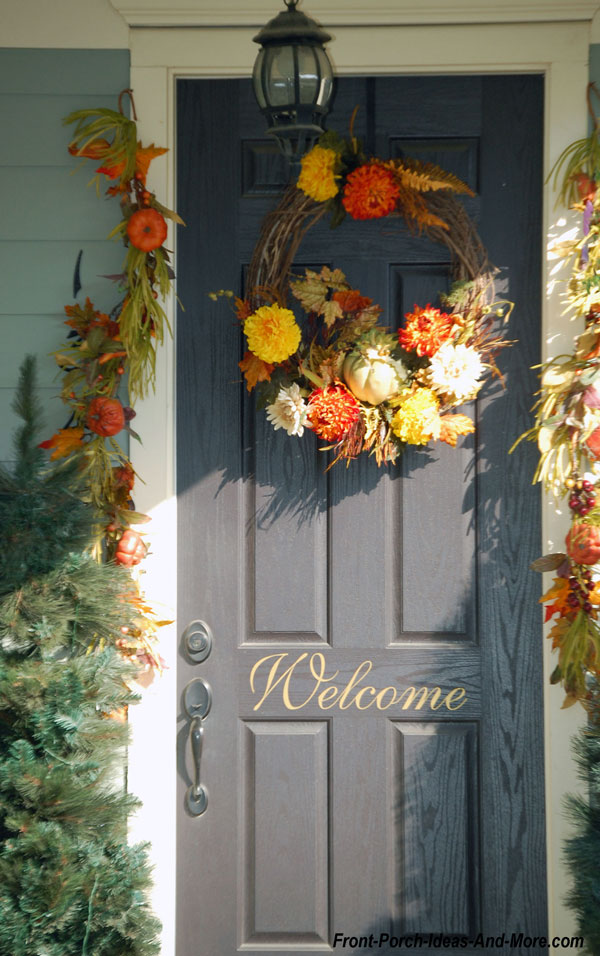 How to get this look: Drape an attractive fall garland over your door and add a complementary wreath. Stencil "Welcome" on the front door for a most inviting touch.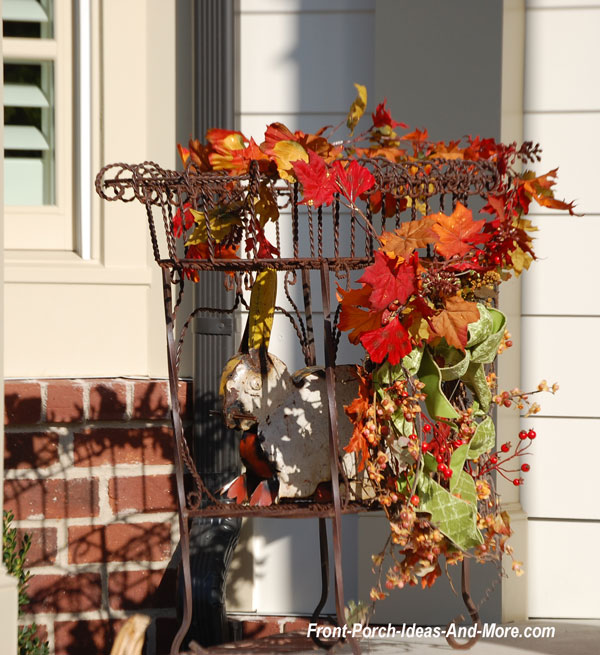 Garland draped on your porch boosts seasonal charm
You can find beautiful fall garland and autumn wreaths similar to those shown here on Amazon (affiliate link).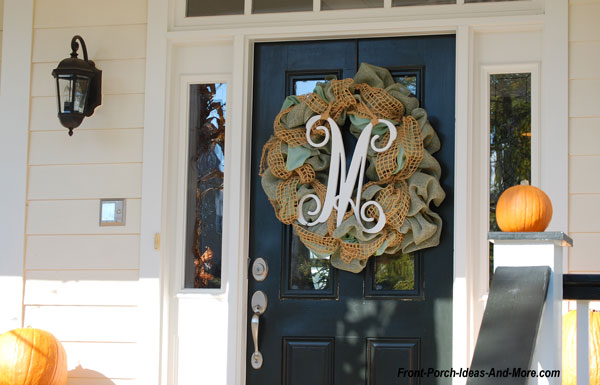 Add your family's initial to personalize your fall door
Purchase a wooden monogram with your initial and combine it with your autumn door hanging.



Want to Replicate This Fall Decorating Style?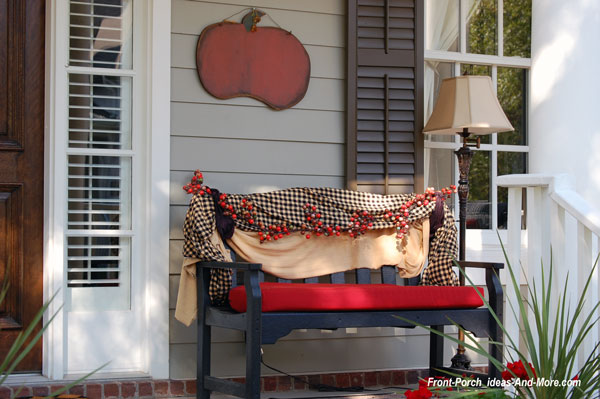 Quaint and charming autumn decorated porch
Drape two pieces of inexpensive fall fabric along with autumn berry garland on the back of a bench, add a bright red cushion, and hang outdoor artwork on your porch to create a most welcoming seasonal array.
Mary and I use an outdoor lamp and timer on our porch to create a sense of warmth for fall evenings. It's remarkable what a difference the soft lighting makes on our porch in the evenings.
We found similar items on
Amazon
(affiliate) so you can easily create this same curb appealing array as shown above: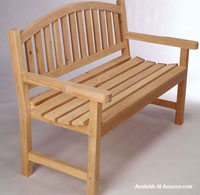 Inexpensive porch bench
(affiliate) to stain or paint if you wish.

Red porch bench cushion
(affiliate) for striking color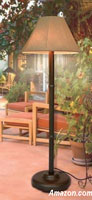 Outdoor floor lamp
(affiliate) for subtle light in the evenings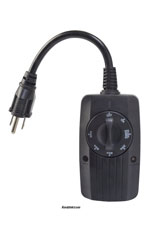 We use a timer
on our outdoor lamps like the one at left so we never need to think about turning on / off our porch lamp.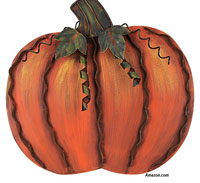 Wall hangings
(affiliate) make for great porch appeal and you can pick art that speaks to you.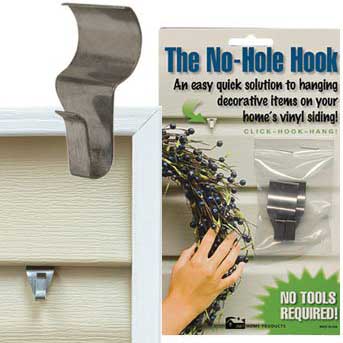 Mary and I use these
vinyl clips
on our porch to hang wreaths, outdoor artwork, and more!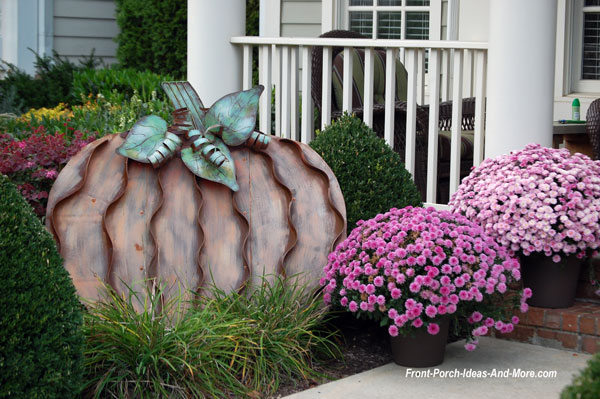 Whimsical metal pumpkin decoration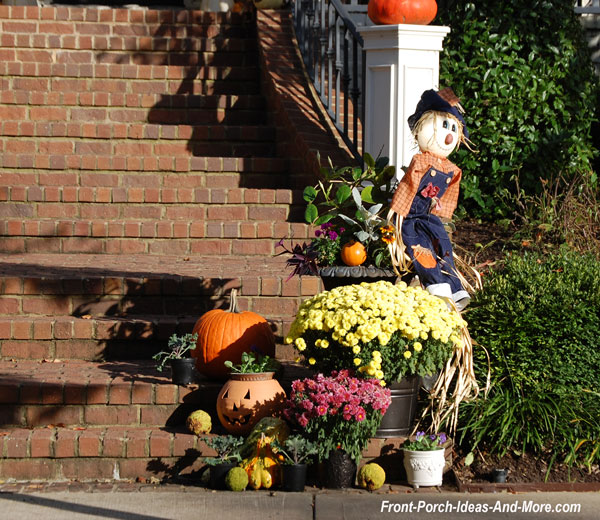 A nice autumn array on the porch steps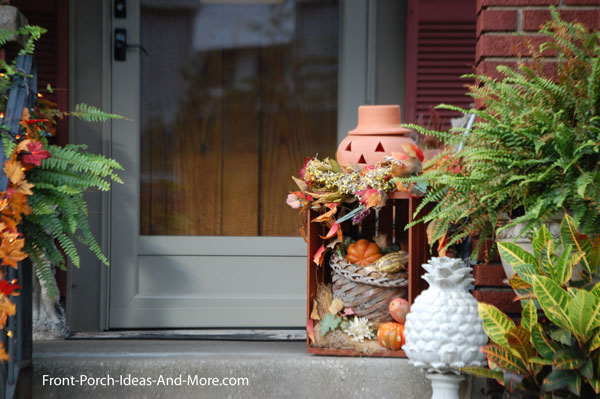 Enjoy decorating your porch this fall
Enjoy our Autumn Decorating Ideas Section that contains timeless decorating ideas and tips.



Are You an Amazon Prime Member?
Dave and I have been members of Amazon Prime for several years now.

We are able to sit on our porch and get our grandchildren's birthday gifts online and get free two day shipping with our membership.

We also like streaming prime videos and tv episodes for free, listening to prime music and getting free eBooks each month. We tell you because it's a membership we both like. For us, it's a no-brainer when it comes to renewing our membership each year.

This is our affiliate link for Amazon Prime (affiliate) but the cost is the same to you. We thank you much.

PS: Prime members get unlimited photo storage, too. That's pretty nice indeed.



Creative Autumn DIY Decorating Projects
Check out these fun DIY fall decorating projects you can use inside or out.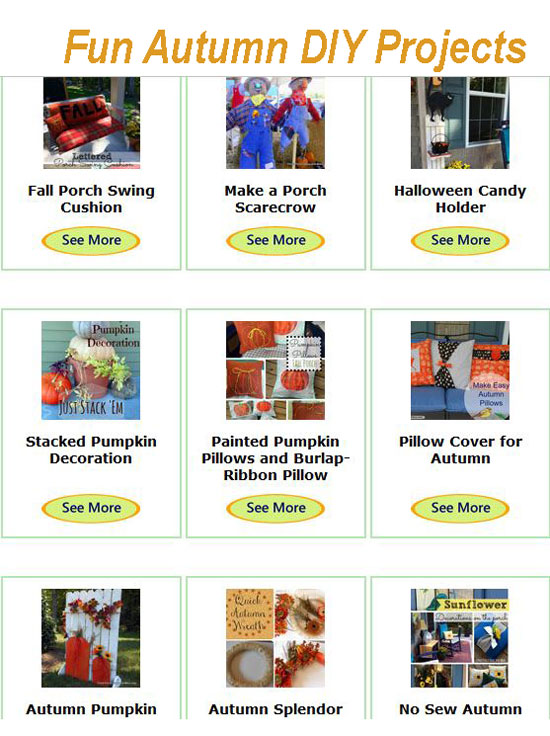 Instructions and tutorials included
Football Fever on the Porch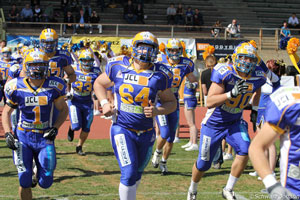 No matter whether you are a "Friday Nights Lights" or a "Sunday Game Day" (or both) sports fan, support your favorite team with these ideas for your porch and home.

Mary and I discovered some really fun football decorative items that show team spirit and will look fantastic on your porch this season - all from Amazon to make purchasing easy and delivery quick.

Photo above courtesy of both Creative Commons and Johann Schwarz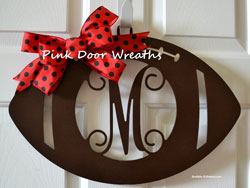 Visit our
Porch Market
for more fun football decorative team and party ideas! There's something for every fan.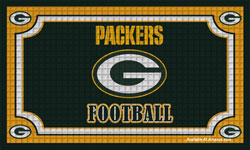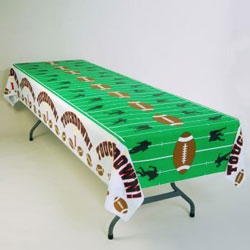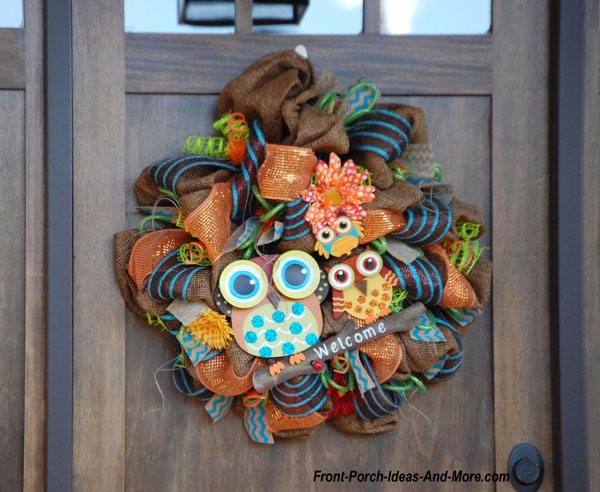 Add a little fun with your porch decorating this fall
Fall Construction
We know many folks build porches, decks, sheds, and other projects in the fall. Here are a few items Mary and I know can help with your fall construction projects.



Working Alone
Offers oodles of tips and techniques when working alone. (Comes in handy when working with a novice neighbor too!)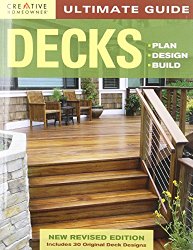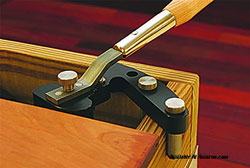 Deck Board Straightening Tool
I love this tool; makes quick work of straightening deck or porch boards. Pays for itself with the time you'll save during construction.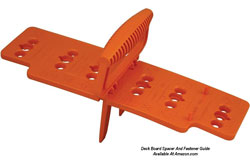 Sneak Peek at Upcoming October Newsletter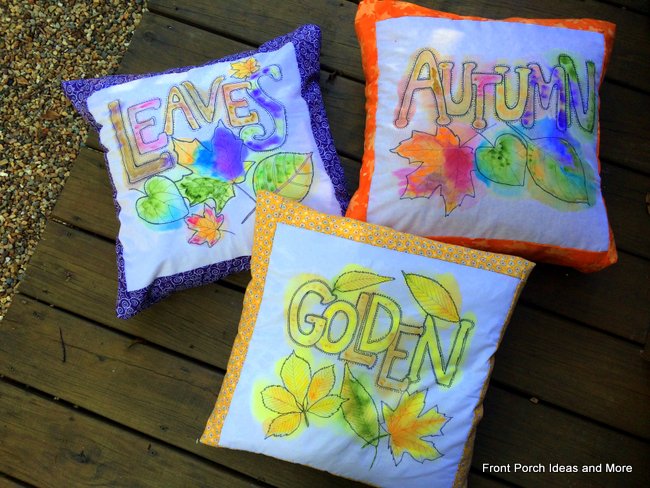 Very colorful "watercolor" autumn pillow toppers

In our next newsletter coming out in early October, Mary shows you how she made these watercolor autumn pillow toppers and how she carried out that theme on our autumn porch.

And we're putting together Halloween decorating ideas, too!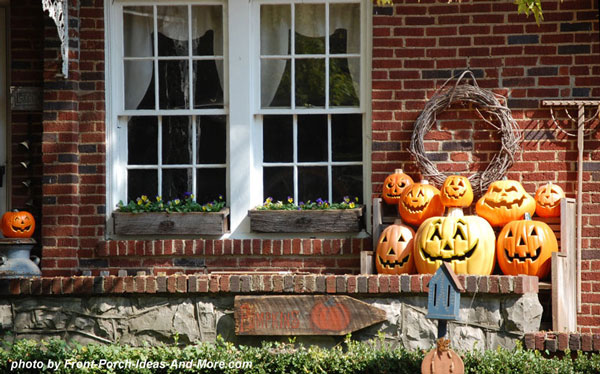 See you in early October! Next newsletter is coming soon.
We hope you enjoy autumn and all its splendor. Always feel free to share our newsletter with friends and family.



Please Visit Our Fine Sponsors
We value our sponsors and the products and services they provide.








Join Our Porch Community on Facebook
You're invited to be part of our Facebook community. We share ideas with one another for decorating and using our porches. We have over 10,000 porch friends and would love to count you among them.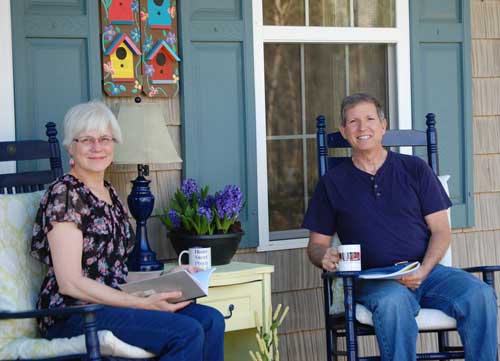 Happy porch sitting from your friends,

Mary and Dave


Life is short. Enjoy your porch.





If you make a purchase through one of our affiliate links, we earn a commission but at no cost to you. Here is our

full disclosure

about affiliate marketing.

We are a participant in the Amazon Services LLC Associates Program, an affiliate advertising program designed to provide a means for us to earn fees by linking to Amazon.com and affiliated sites.








Porch Home

/

Newsletter Signup Page

/

Back Issues

/ September 2016 Newsletter











Popular Pages
---