Use Our How to Build a Porch Guides
From Foundations to Roofs and More
Knowing how to build a porch can save money no matter if you are doing it yourself or hiring a contractor. A new or remodeled front porch not only adds value to your home but also lots of curb appeal as well.



Understanding how to attach your floor framing to the home and your porch roof to your home's existing roof are all critical components of porch building.

We'll show you what is involved and offer tips and ideas for every facet of your building project (and some you may not have previously considered too).

Most DIYers with solid carpentry skills can build a front porch. Our porch building guides walk you through the process and we even help you assess your skills.








Directory to How to Build a Porch
Our "How to Build a Porch" guides below show you the basic steps and give you important factors you need to consider when building along with tips and ideas to make it easier. I've tried to arrange them (or group them) in order of a typical construction porch project. These may vary based on your specific building requirements.




Table of Contents
Foundations and Flooring *** Roof Construction

Electrical and Lighting *** Porch Columns

Porch Railings *** Porch Steps

Porch Ceilings *** Assess Your Skills

Building Essentials *** Porch Building Projects

Porch Skirting *** Paint Your Porch

Front Porch Ideas Generator E-Book *** Share Your Tips with Us




Start with a Solid Foundation
Raising the Roof
Now that you have the front porch foundation and floor constructed, it is time to construct the roof. We recommend you contact a licensed contractor if you are not sufficiently experienced and knowledgeable about roof construction - this is not a job for the everyday DIYer.

Our guides will show you what is involved and help you choose the right roofing materials.













Wire It Up
Every How To Build A Porch guide should include information about electrical requirements. If you haven't considered your electrical requirements at this point - you should. In fact, you will really want to include them in your initial planning.

It is a lot easier to run cable before the joists are covered or the porch ceiling is installed. Plan for receptacles, ceiling lights and fans, wall sconce lights, and even running conduit under your porch for yard lighting.












Install Porch Columns
Once the foundation, flooring, and roof have been constructed it is time to install the porch columns to support the roof. In most cases, temporary supports were installed during roof construction. Now is the time to replace them with actual porch columns.









Install Porch Railings
We are making great progress. Now it is time to install your porch railings - if you need them. Mary and I opted not to have porch railings as our porch floor is less than 36 inches from the ground. However, porch railings have two primary purposes. One, they provide an element of safety and two, they can add lots of appeal to almost any porch.

Like columns, they need to be aesthetically pleasing and complement the style of your porch and home. We can help - use our railing guides to discover all of your options along with our installation tips.








Build Your Porch Steps
If you've gotten this far you should be fairly proud of your porch building progress. Now's the time to add steps for easy access.









Finish Your Porch Ceiling
Before you finish your porch ceiling, make sure you have installed your electrical wiring for lights, fans, etc. Like many other components on your porch, you have many options.









Install Porch Skirting
Porch skirting can not only add curb appeal but also serve as a barrier to animals wanting to create a home under your porch or deck.





Paint Your Porch
Other Important Porch Building Considerations
Building Essentials
Porch Building Projects You Will Enjoy
Our Front Porch Ideas Generator - eBook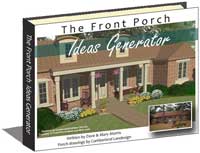 Are you planning to build or remodel your front porch this year?

Before you get too far, please check out our 140-page eBook of before and after porch design ideas.

Dave and I don't want you to say "Oh, I wish I would have known that" --- after your porch is built. That's no fun.

Our eBook is instantly downloadable and features 10 homes that undergo amazing face lifts with a new porch.

Before you spend a lot, invest just $9.97 risk free in our picture-rich eBook and get some wonderful ideas for your porch - before you break ground.




Resource list of photos and information





Porch

› How to Build a Porch
















Our Sponsors
Vintage Woodworks
For Your Porch Parts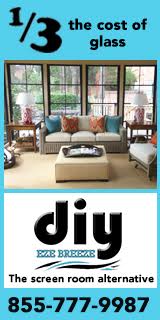 DIY Eze Breeze
Screen Porch Windows
Porch Store
Custom Porch Products
PCA Products
Complement Any Home!
End sponsor section
---
---


Front Porch Ideas Generator
Before you spend a penny
on your porch design