Front Porch Landscaping Ideas
To Accentuate Your Front Porch
Raise your home's curb appeal by a bunch by putting great porch landscaping ideas to work around your porch. Mary and I love beautifully landscaped front porches - they are fun to create and enjoy.



Have you ever driven past a home that has an amazing appeal? Usually it is a combination of several factors, one of the most important being the front porch and front yard landscaping.

Our home landscaping photos and free landscaping information is the perfect place to start to create your own fabulous yard!





Landscaping around your porch can range from very affordable to a small fortune. It need not be costly if you just start with a few of the right plantings and placements.




Use Our Directory of Porch Landscaping Ideas And Projects
Porch Landscaping Options
Porch Landscaping Projects And Ideas For Your Porch
Listen To Our Porch Landscaping Ideas Audio Program
Listen to our interviews with front porch and front yard landscaping experts who share their tips and ideas to enhance the look of your porch and home.



J. Paul Moore's passion for both plants and photography makes for an interesting interview. You'll discover ideas for planning your porch's landscaping, deciding what plants to use, and lots more.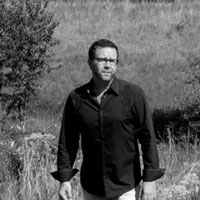 Don't miss our interview with Troy Marden, host of a local PBS's The Volunteer Gardner. Troy travels the world searching for exquisite gardens and he shares his modern landscape ideas for combining edible plants around your front porch and yard.





Landscaping for Appeal
A beautifully designed front porch along with the right landscaping can create not only added value but immense appeal as well.

A porch without landscaping is like a banana split without the whipped cream. Landscaping is not only aesthetically pleasing but also enhances the look of your front porch. When planning your front porch landscaping, consider such factors as line of sight from your porch and traffic patterns in addition to color and textures.

The porch landscaping idea shown below is an excellent example of an established landscaping plan that has matured over time. Note how it makes the porch a more welcoming place.





Often times it is difficult to imagine what your landscaping plan will look like once it has matured. 3-D renderings can help. See our Before and After renderings below:


BEFORE
AFTER


Be sure to see our Front Porch Designs Illustrator. We show both a one-story and two-story homes with over 30 different porch designs plus walkway and landscaping ideas.




Porch Landscaping Architecture Basics
---


Is your home and porch formal or informal, traditional or contemporary, southwestern or a Cape Cod, tall and boxy, or short and angular?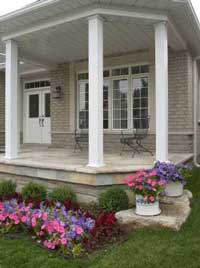 Our porch landscaping ideas will help you enhance or downplay your home's architecture.
For example, if you have a formal brick, symmetrical colonial home, landscaping suggestions include manicured shrubs, a central path or walkway of brick, and period railings on your porch.

If you have a Cape Cod style home consider window boxes and/or planters attached to your porch railing and stone paths leading to the porch.

For more details on matching your home's architecture with your landscaping, see our Guide to Front Porches.


If your house is symmetrical
plantings should match on either side of doors
continue matching as you move away from center or add a little variation the farther you go - make sure they are balanced
ensure plantings are geometrically arranged and trimmed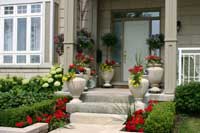 If your house is asymmetrical
balance is important but now balance plants with specific architectural features instead of with each other
create natural looking mixed plantings
ensure plantings are geometrically arranged and trimmed


If your house is
horizontally designed: use a low sheared hedge along the base.
tall and narrow: use columnar trees to accent its height
boxy: use large round trees
large: use deep foundation beds, a large tree to anchor a corner with a mix of evergreens and deciduous shrubs underneath
Small Porch Landscaping Ideas
Although larger porches are making a comeback, most newer homes only have a small-sized porch or portico. Most are pretty bland and without great architectural features. Notoriously small city porches like the charming one depicted below (Boston brownstone apartments) have little space for landscaping.

Perhaps the only option is to create a space! There are many porch landscaping ideas that you can add to enhance the look of your small porch wherever it's located.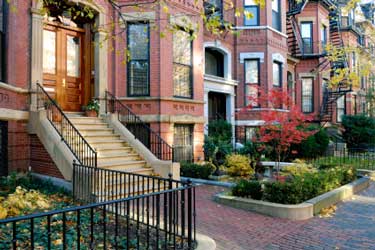 For instance, you add an enclosed terrace beside your porch and have a great place for dining, a place to enjoy a glass of wine, or a secluded spot to read your favorite book!

Extend your small porch with an arbor and plant clematis to cover it. Not only will it be an inviting entrance to your home but fragrant as well.

Or, soften hard surfaces with potted plants of boxwood topiary and clematis. These porch landscaping ideas are really worth the extra effort.

A small porch has the advantage of cost savings; you'll be able to purchase more quality materials. Upgrade your door hardware, add antique light fixtures, and consider resurfacing the landing. Use stone, tile, or brick pavers. Small landings and stoops are great for patterned floors.

Install vine covered trellises, planters over your railings, hanging baskets, or clusters of evergreens.






More Porch Landscaping Ideas!
Beautiful Gardens in Front Yard


Gardens are beautiful at this lovely Wisconsin home - not only in the front, but also the sides and backyard.

We had the pleasure of meeting the homeowner and she expressed how much joy her gardens bring her and to people passing by. She even has delight fairy gardens in the back yard that her grandchildren enjoy.




Make a Memorable Stepping Stone


In addition to the pretty pieces of stained glass, this stepping stone also includes some mementos that are meaningful to her.

Learn how to make a special stepping using our tutorial.




Make Some Cool Garden Art


You will want to read our story about the stained glass panel that we wanted for above our porch swing. It turned into some cool garden art that at first we thought was a fail!






Tie your home and porch visually to the surrounding landscape- give it personality.

Make your porch welcoming with porch landscaping that draws attention with color, shape and textures
Block wind or noise from your porch with porch blinds or shades - you will be happy you did
Accentuate the positive and hide unsightly features like an old dilapidated building or your neighbor's rusting car.
Don't forget to light your landscaping. See our how to install landscape lighting section.
Check out our amazing walkway ideas. Keep walkways clear and control the water runoff.

When planting, keep in mind what the landscape will look like when it's fully grown - and how much care it will take.
If you love working in the yard, then fussy plants might be a good pick for you. Otherwise, pick plants, grasses and elements that are sturdy and low-maintenance. Photo at right courtesy of eklektick

Take advantage of Mother Nature to save you money like collecting water in rain barrels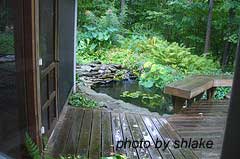 Want a very innovative porch?

Landscaping ideas can include a beautiful water garden beside the porch!
Photo is courtesy of shlake.




Bed and Breakfast Inn porches.

Bed and Breakfast Inn owners go to great lengths to ensure their landscaping complements the porch.

For example, take note of the landscaping and beautiful plants at the Prospect Hill Bed and Breakfast, SC.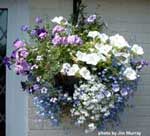 Porch landscaping ideas should include hanging baskets. See our Hanging Basket section in the directory above to create exquisite hanging baskets and learn about other options like creating hanging gardens or placing them on plant stands instead.






---


Tricia submitted the picture below to us and she shared her story about her new porch and beautiful landscaping.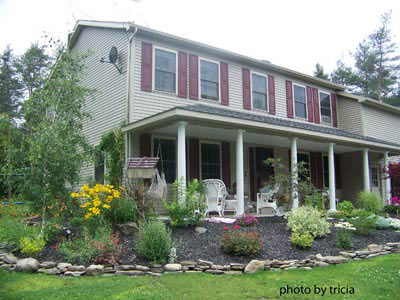 Ideas from your own neighborhood are free and you might make some new friends that way, too. Consider taking a stroll around a yard and garden store or botanical gardens to get specific ideas for landscaping your porch. Purchasing plants at the end of seasons can save you a considerable amount.
In the picture above by contributing photographer Cynthia Davis, flower garden landscaping leads you to the porch steps. This landscaping makes the porch that more inviting.









Ever Thought of Using Bamboo?
Bamboo Inspiration provides guides on bamboo plants and gardening.


---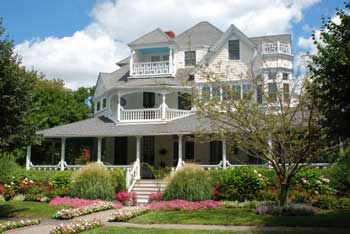 Please send us your landscaping ideas and pictures of your landscaped yard and porch; we'd love to share them with others.

Don't forget to check out our entire porch and yard landscaping section!





The Amazon ads are our affiliate links. Thank you.








Porch

/ Landscaping Ideas for Around Your Porch