Additional Landscape Ideas from Paul
Porch Eaves
Paul
: A very important consideration is if you have deep eaves on your porch. If so, refrain from planting directly beneath them as you are almost guaranteed you would lose your plants.
Pull your plantings out far enough where they will receive natural rainfall. Leave a path behind them for easy accessibility.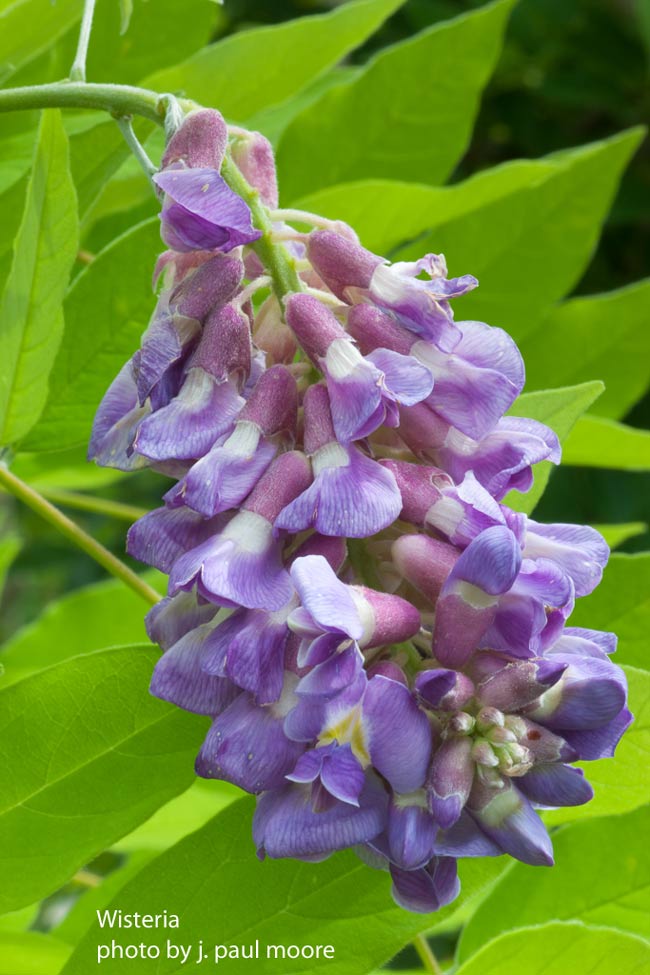 Beautiful wisteria
(photo by j. paul moore photography)
Water Chains Instead of Downspouts
Paul
: I do not have down spouts for two reasons. One, our eaves are large enough that precludes the need for them and two, they, unless made from copper, are not visually interesting. Instead, I use water chains.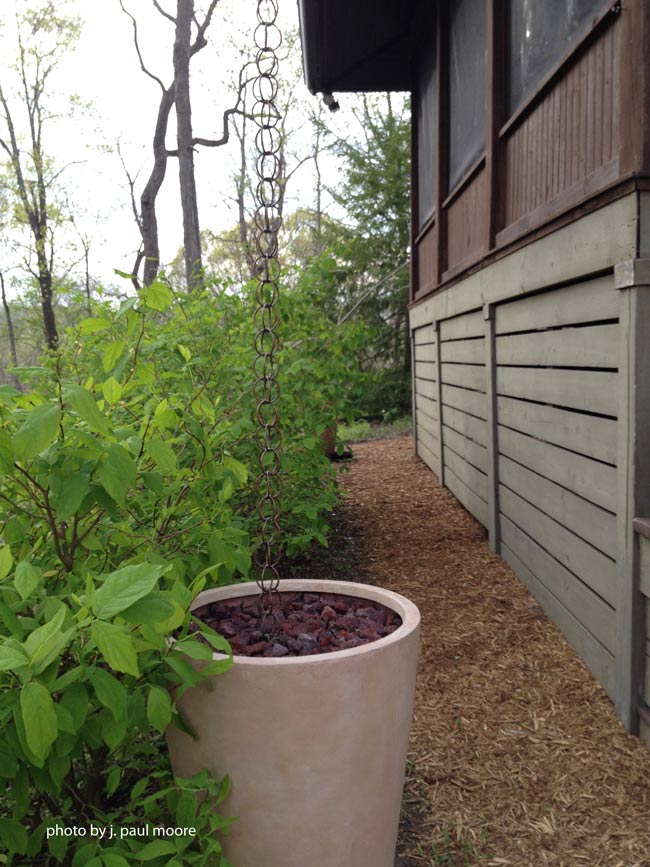 The chain is suspended from the corner and water just goes down the chain.
The chain goes into a decorative container filled with porous lava rock. Planted at the base of that are plants that like the extra moisture. So it is kind of a rain garden.
It's beautiful and fun and it creates a sound as the water goes down the water chain. It is just so much fun to watch.
Walkway Landscaping
Mary
: What can we do to make walkways more attractive?
Paul
: If you have a choice in designing the walkway, place it far enough away from the home so as to layer your planting. Avoid having just a row of shrubs in front of it.
If you have a nice curved walkway or a deeper walkway there is no law that says you can't cross the walkway. Use landscaping to soften geometric lines.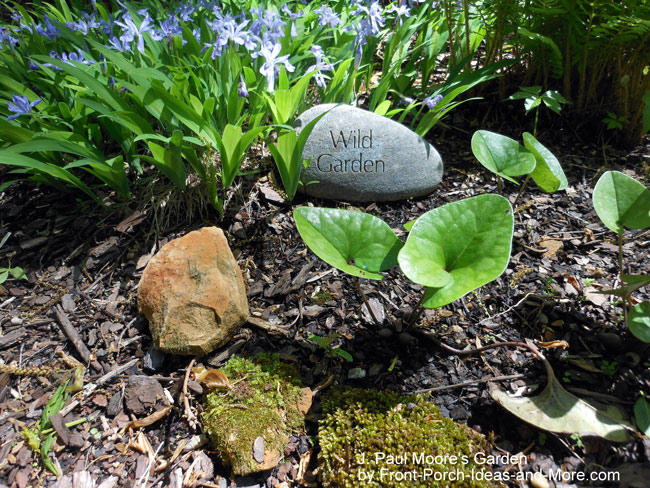 Mary and I really enjoyed our tour of Paul's native plant garden
Plant Issues
Mary
: I haven't had much luck with simple things like petunias. I used to be able to grow petunias really well and in the last few years not so much.
Paul
: Sometimes I think the hybridizers make improvements for flower color and all these different things but they breed the fragrance out, the disease resistance out, and perhaps the general toughness as well.
You want to make sure you have really good soil where you are planting. Make sure it is the right plant for the right soil. You need the right exposure and so forth but if you create a pocket where you plant annuals every year, leave evergreens behind them. You are going to have flowers from early spring till fall usually. Then the evergreens fill in for the winter months.
Soil is so critical to plant foundation; it is like the foundation of the house. You get the soil right and then your work is much easier. It is easier to plant.
Dave
: We have lots of rocks and clay.
Paul
: That opens up a different thing. There are some great products to break up clay. There are plant mixes made by Espoma; they are a type of soil mix. It is one really good product.
It has permatill in it, a shale, rocky type product with some humus so you get more organic matter and drainage material all in one. You can just take that and work that into the soil.
But if you have clay soil that doesn't breathe, there is not enough oxygen in the soil, so you want to be able to oxygenate that soil. So some real coarse particles like that is going to help do that.
Dave
: Should you try take out some of that clay first and use that product?
Paul
: I would try to; you want some binding properties that clay has so if you can get the right proportion and mix that together the clay is not bad. But if it is solid clay you dig it out. It is just going to be like a bowl and all the water is going to run through that; you are going to have problems with plants rotting. You must have drainage.
Photographing Your Porch Landscaping
Dave
: Can you give us some tips for photographing our landscaping?
Paul
: When I am looking at something to photograph, it is really all about the light. You know the quality of the light, what I call "sweet light". Like early morning or late afternoon light. That angular warm light is really nice to photograph and it really shows the project at its best.
When the sun is really bright and there's no cloud in the sky, we call that severe clear in photography terms. And that's when I usually put my camera up. And the human eye can see much broader ranges of light so we can compensate for that with our brain but a camera just can't capture all the shadows and all the highlights.
Button Bush (photo by j. paul moore)
It just doesn't work photographically. But I am always looking at the condition of the plants. Being a plant person you ask yourself if there is something detracting here? For example if the plant is wilted or dried. Or if there are some spent flowers that need to be removed.
Is there a birdbath on the corner that is skewed and needs to be straightened? Or is there a garden hose in the way? You don't want to see a lot of mulch generally. You want to have those filled with plants so I can instantly look at a garden around the porch or any structure and say whether it is ready to shoot or it's not.
I look for things that do not belong. Take the time to inspect the area. You will have to remove those things that I call an eye sore and really transform the shoot. Sometimes I will just be wetting down the surfaces.