Sunbrella Fabrics®
Extend Your Living Space Outdoors
Sunbrella® fabrics are designed for homeowners who want to expand their living spaces "outdoors".

Our good friend and Interior Decorator, Bohnne Jones, tells us how these fabrics can be used in your outdoor living spaces - like your front porch or back yard patio.


Some facts about Sunbrella®:
Originally designed and used in awnings, and then boating
Been in existence since 1961
Available in a wonderful selection of vivid colors and stylish designs and patterns.
Available on Amazon by the Yard (affiliate links)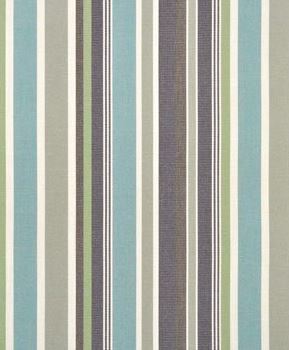 We found that you can purchase Sunbrella® fabric by the yard
on Amazon
. Who knew?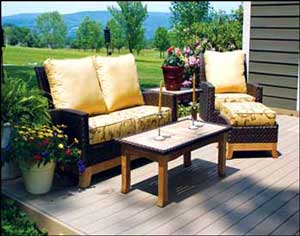 Bohnne continues..."Even before "green" became a theme in home decorating products, the manufacturers of Sunbrella® were already good stewards of our environment."


Several ways that Sunbrella fabrics protect the earth:
Create no wastewater from dyeing as is found in conventional dyeing processes.
Extremely durable - its lifespan is from 2 to 10 times longer than most fabrics.
Offer some protection from the sun. Awnings, shades and umbrellas made from Sunbrella can actually help to reduce sun-induced skin damage. Additionally, these fabrics do not fade from the strong rays of the sun.
Soil and stain-resistant finish - very easy to clean. As with all fabrics, it helps to brush off dirt and wipe up spots as soon as they happen.

Spot clean before dirt and stains are embedded in the fabric. You can spot wash your fabrics by sponging briskly with a soapy solution of natural soap in lukewarm water. Then, simply rinse thoroughly with clean water to remove the soap and let the fabric air dry.




Mildew resistant - however, mildew may grow on dirt and other foreign substances that are not removed from the fabric.

To remove mildew stains, add one cup bleach and two caps-full of a natural soap to a warm gallon of water.

Spray on entire area, and allow to soak in.

Sponge thoroughly with clean water, and let air dry.

Protect surrounding areas while working with the bleach solution.
Look at These Sunbrella® Fabric Covered Cushions and Pillows
We discovered these options at Amazon.com (affiliate)

This pillow-cushion ensemble is 100-percent acrylic Sunbrella fabric to make colors permanent. Is is 100-percent polyester fiber filled for maximum comfort. Made in the USA.



Sunbrella® pillow and cushion for your porch furniture - available at Amazon.com (affiliate)
Overstuffed for comfort, these 100% acrylic, high performance sunbrella fabric cushions are perfect for your porch, deck, or patio furniture. Vibrant colors too!



Sunbrella® deep seat chair cushion set - available at Amazon.com (affiliate)
Fashionable cushions that come in a wide variety of colors to fit almost any decor. Relax in the luxurious look of Sunbrella® covered cushions.



Outdoor fashion Sunbrella® cushions- available at Amazon.com (affiliate)
Meet Bohnne

Read more of Bohnne's tips about
porch decor
and
furniture placement ideas
.
If you need a professional residential Interior Decorator in the Middle Tennessee area,
Bohnne
would enjoy hearing from you.
Bohnne says you can find this wonderful fabric for both indoor and outdoor use.
We really appreciate Bohnne sharing these tips with us.
If you make a purchase through one of our affiliate links, we earn a commission but at no cost to you. Here is our
full disclosure
about affiliate marketing.
We are a participant in the Amazon Services LLC Associates Program, an affiliate advertising program designed to provide a means for us to earn fees by linking to Amazon.com and affiliated sites.
Popular Pages
---