Ideas for Front Porch Designs and More
Are you looking for inspiring front porch designs and front porch ideas?

Whether you dream of a country style porch, a sophisticated contemporary style or you only have a small space for a charming portico, we welcome you here to design, plan, decorate, and landscape your porch.



Fall Into Autumn


It's official! Autumn has arrived and it is time to enjoy cooler weather, falling leaves, football, and of course - your porch!



Mary and I have an entire autumn section dedicated to fall porch decorating and projects to explore and discover some amazing ideas you can use this season!




This Would Look Great on Your Porch or Yard
Mary and I thought this decorative wheel barrow would be a wonderful addition to many fall displays - and we know where you could get one!






Do you like the idea of the wheel barrow above?

Then look at this.

We think this rustic Amish wheel barrow / planter is a real find for under $20.

Oh my gosh! It comes in red too at a different price. Use it on your porch or in your yard for fall!

(We may receive an affiliate commission which does not affect your cost).


---




Size doesn't matter. Whether you have a small porch or large wrap around, decorating for fall can be both easy and fun! See these colorful autumn porches for ideas!




Get the Perfect Fall Porch (No Matter Your Front Porch Design!)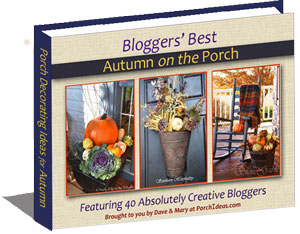 The two of us gathered a nice collection of delightful autumn porch decorating ideas.

Our 251-page eBook includes fantastic fall ideas from 40 creative bloggers. Pictures galore, tutorials and even some of their favorite recipes.

Want a super nice autumn porch?

Then get our attractive eBook, Autumn on the Porch. You'll enjoy the beautiful ideas inside!

Learn more or just purchase it right now.





Porches Enjoy Football Too!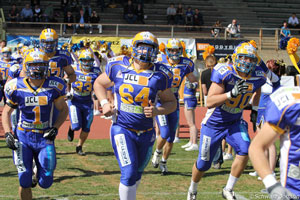 Support your favorite team and greet your football fans by decorating your front porch with your team's colors, pennants, flags, and more!

Whether you enjoy collegiate or professional football, your porch is the perfect place to display your team spirit. We discovered unique football decorative items that are fun for football parties and tailgating too!

Here's but a small sample of what you'll find: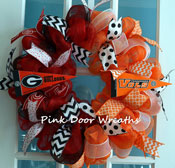 Halloween Porch Decorating the Easy Way!
We know many of our readers love to decorate for Halloween; thought we'd give you some "early" ideas!



Whether you like friendly Halloween decor or have mastered the art of Halloween fright you'll find plenty of new ideas for decorating your porch and yard for this ghostly event! And it doesn't matter about your front porch design either - small, medium, large or wraparound.




See the Halloween decorating ideas we have for you - many!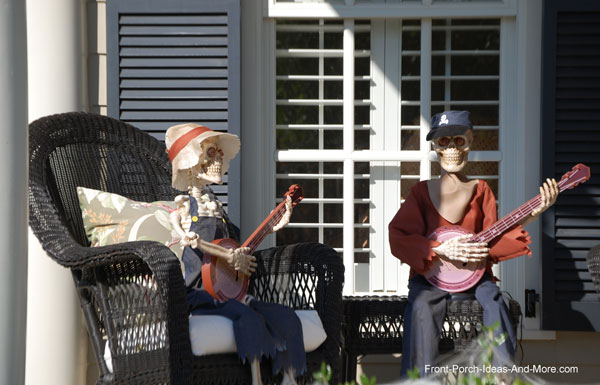 Maybe they have been strumming a bit too long

Elegant Halloween Decorating Ideas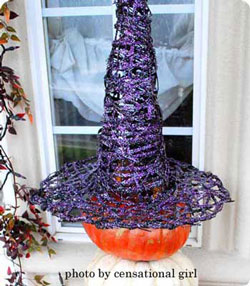 We found a wide assortment of similar inexpensive witch hats you can use to create the same effect as shown above on your porch!



It's Fall Construction Season
Build a screen porch or three-season porch this fall using an easy-to-follow porch plan to maximize your outdoor enjoyment.

Do it yourself using a detailed plan like the examples below or hire a contractor to construct an outdoor room your family will enjoy for years to come.




Many of our readers have purchased these screened porch plans - and there are other plans, too. Make this the year you do it.




Already Have a Screen Porch or A Covered Deck or Patio?
You can easily convert your back or front porch design into a three season room with these versatile screen porch windows!




Porch Enclosure Ideas
See 10 options for building a porch enclosure and find one that fits your budget, skills, and desires!






Porch Swings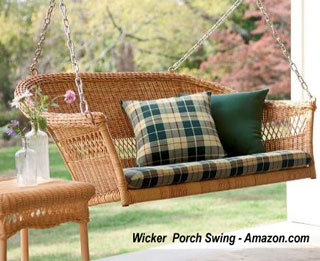 There's nothing quite like the feel of gently rocking back and forth on a porch swing on a fall day. Check out our newly updated porch swing section; you'll be surprised at how many options you have.





Introducing Our New Porch Market
You Don't Want to Miss Jennifer's Advice for Autumn Porch Decorating
Our Interior Decorator friend, Jennifer, from Jennifer Decorates gives us her best tips for getting your porch decorated for autumn. She shares lots of insider tips and tricks.

Enjoy the written program notes or listen to our fun conversation with Jennifer here:





Have You Heard About Our 2017 Porch Calendars?
Mary and I could never find a really nice porch calendar, so we created not only one but two. Be one of the first to get one of our 2017 Porch Calendars. They make wonderful gifts, too.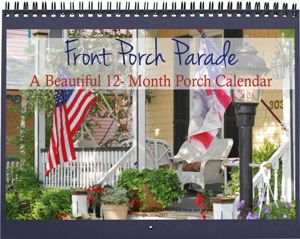 Our beautiful 2017 porch calendars are available now in our Zazzle store.

Would you rather enjoy 12 months of Beautiful Front Porches? Or 12 months of Blissful Screened Porches? Or one of each perhaps.

The lovely screened porches were designed and built by our friends The Porch Company.

Don't miss out on a beautiful porch calendar for the coming year!




Pause for a Lovely Autumn Scene
Have You Tried Our Porch Illustrator?


If you have a ranch home, our Porch Illustrator will give you some idea how a porch would look on it. Try it!

We also have a Porch Illustrator for a two-story-home, too. Both very helpful with planning your front porch designs.




Our Picks
Our Site is a Labor of Love
As Dave and I have looked at homes over the years and strolled through neighborhoods, we have always been drawn to charming front porches. We've lived in homes with big porches, small porches and no porch (sad!).

We once purchased a home just because it had a screened porch. And that was a terrific decision.

Dave and I use our passion to bring you the best porch decorating and design ideas for your front porch.

We hope that our front porch designs, decorating and entertaining ideas will help you whether you have a front porch, side porch, or a great back porch!
---


You will find many front porch designs and porch pictures throughout our site.

Our front porch pictures will help you visualize and plan your projects.
Thinking of building or renovating a porch? From stone columns to renovating to building a new porch from scratch we have photo gallery pictorials to show you how it is done.













---
Our Sponsors
Porch Store
Custom Porch Products
Vintage Woodworks
For Your Porch Parts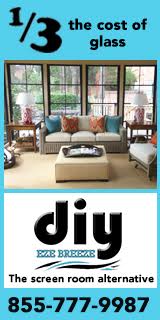 DIY Eze Breeze
Screen Porch Windows
PCA Products
Complement Any Home!
End sponsor section
---
---
---
Katherine says, "I love your site and look forward to every post. I sit on my porch and read everything posted. Thank you so much. "
---
Featured on national TV. Read our
story!