Ideas for Front Porch Designs and More
Are you looking for some awesome front porch designs and front porch ideas? Do you love porches as much as the two of us do?

Whether you dream of a country style porch, a sophisticated contemporary style or you only have a small space for a charming portico, we welcome you here to design, plan, and decorate your porch.



Beautiful Summertime Porch


Who wouldn't love a front porch design like this? A porch that is so full of personality and warmth: basketware and enamelware on the walls and look at that old-fashioned metal porch swing.

We like the beautiful flowers in the galvanized bucket, too. We could go on and on about this pretty place. Get more ideas for summer decorating.



Now's a Great Time for DIY Project Projects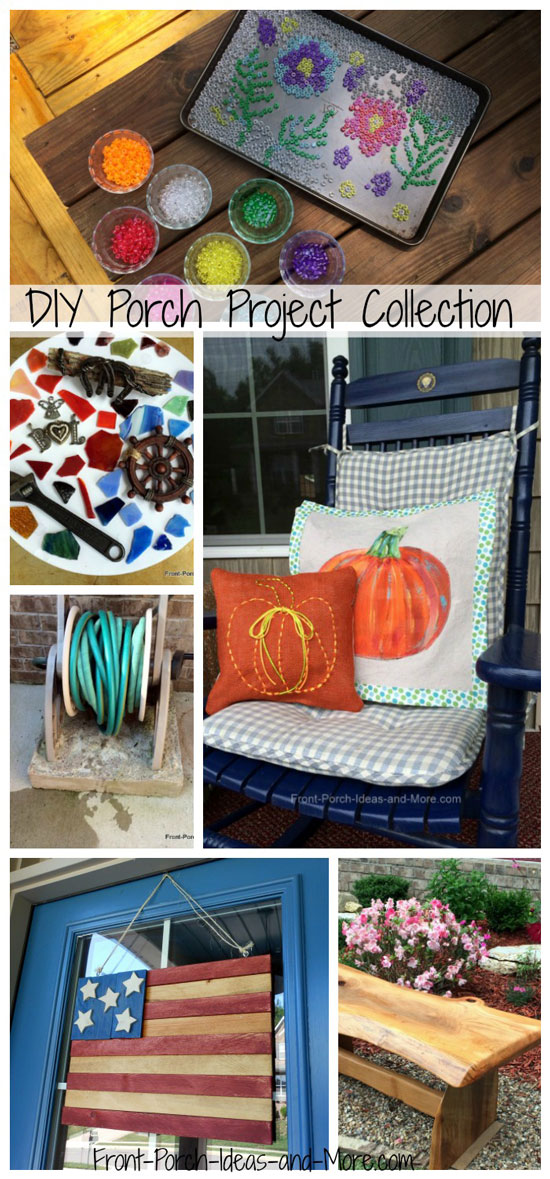 Mary and I gathered our

DIY Porch Projects

in one place.



You'll find over 50 neat projects that we've done for our porch and home - with tutorials, illustrations, videos, lots of pictures and inspiration!




Listen to our Podcast: Endearing Memories of a Front Porch Swing
Photo is courtesy of Creative Commons (

ctj71081

on Flickr.com)




Listen to Shannon's lovely story here:



Dave and I are really excited for you to listen to our newest podcast because we have a special guest who tells us a wonderful story about a front porch swing.

Shannon Lee is a professional writer who grew up on a big farm in Kentucky. She has a lot of memories to share.

Go here to see the program notes and more about Shannon Lee.




Go Crazy with Porch Railings
In addition to traditional porch railings but you have many other interesting options. Add immediate curb appeal by integrating creative railing designs on your front porch.



Even though you must adhere to local building codes, you still have plenty of latitude in which to create interesting baluster patterns.

See our porch railing section for lots of creative design solutions you can use on your porch.





Replace a Porch Column
Replacing a porch column is actually easier than you might think and you can even change your porch column style if you wish. We show you how along with a myriad of porch column ideas.





Wooden porch columns often decay at the base creating not only a safety issue but also unsightly rot on your porch. It may seem like an expensive repair but if you have basic construction skills, you should be able to replace your own porch column.

We walk you through the process so you can see how it's done.


And here's a video you will enjoy from our Porchology 101 series about replacing a porch column.







Wanted: 2017 Porch Calendar Pictures



Mary and I are creating a 2017 Porch Calendar and invite you to submit photos of your porch for possible inclusion.

If you have a porch that is perfect for a calendar, please send us an original photo.

Photos must be of your porch or if you know of someone whose porch would be perfect for a calendar, have them send us a photo.

Send photo to: info(at)front-porch-ideas-and-more.com





Screen Porch Plan Options
Build a screen porch or three-season porch this year using easy-to-follow porch plan.

It's easier than you might think. Do it yourself or hire a contractor to construct an outdoor room your family will enjoy for years to come.




Many of our readers have purchased these screened porch plans - and there are other plans, too. Make this the year you do it.

Imagine the joyful times you and your family will have on your screened porch - playing cards, sharing meals, listening to music, visiting with friends. Dave and I made lots of memories with our sons on the screened porches we had while our family was growing up. The boys often had friends over who hung out on the porch.



Do You Already Have a Screen Porch?


It's easy to convert your new or existing screen porch into a three-season room by using this innovative porch windows. With these windows, you can enjoy your porch almost year round!










Beautify Your Manufactured / Mobile Home Exterior


Adding a porch to your home is just one of the 9 mobile home improvement ideas that we put together for you. Simple ideas like adding a porch, installing shutters, adding nice landscaping and more.





How About Jazzing Your Porch with a New Aluminum Screen Door


Beyond the home department stores is a wonderful selection of aluminum screen doors to spruce up your home this spring We are proud to feature PCA's aluminum doors - handcrafted and focused on quality. Show pride in your home with a new screen door.





Dress Up Your Porch with Handcrafted Parts


A front porch design can go from nice to elegant with the addition of handcrafted porch parts from Vintage Woodworks.





Dazzle Your Front Porch Design with Lovely Railings


Oh, to not ever have to paint porch railings again. What a nice thought. With PVC railings like these, your porch is uniquely beautiful.

The railings you see above are available from The Porch Company.





House Plans Online


If you are looking to build a home, we have a section on various plans online that you can browse. Did you know that 1800 - 2200 square foot homes are very popular? Check out the front porch designs we found among different style homes.





Maximize Your Home's Curb Appeal
Maximize Your Home's Curb Appeal, our free eBook for you.

This time of year is when we dust our porches off and get our home ready for warmer days ahead. Your porch and front yard are what everyone sees when they drive by or come to visit. No matter your front porch design or size, jazz it up a bit this season!

We have gathered up some wonderful curb appeal pictures and tips to help you spruce up your home and make it look fabulous! See our eBook now and please share.



You Only Have 8 Seconds
If you are selling your home, get a variation of our eBook that is loaded with helpful information for impressing prospective buyers. Get ideas for staging your porch!

Barbara Corcoran, real estate mogul, says, "Buyers decide in the first eight seconds of seeing a home if they're interested in buying it."
(Today.com 5 Smart Ways to Sell Your Home)











Have You Tried Our Porch Illustrator


If you have a ranch home, our Porch Illustrator will give you some idea how a porch would look on it. Try it!

We also have a Porch Illustrator for a two-story-home, too. Both very helpful with planning your front porch designs.




Our Picks
Our Site is a Labor of Love
As Dave and I have looked at homes over the years and strolled through neighborhoods, we have always been drawn to charming front porches. We've lived in homes with big porches, small porches and no porch (sad!).

We once purchased a home just because it had a screened porch. And that was a terrific decision.

Dave and I use our passion to bring you the best porch decorating and design ideas for your front porch.

We hope that our front porch designs, decorating and entertaining ideas will help you whether you have a front porch, side porch, or a great back porch!
---


You will find many front porch designs and porch pictures throughout our site.

Our front porch pictures will help you visualize and plan your projects.
Thinking of building or renovating a porch? From stone columns to renovating to building a new porch from scratch we have photo gallery pictorials to show you how it is done.













---
Our Sponsors
Porch Store
Custom Porch Products
Vintage Woodworks
For Your Porch Parts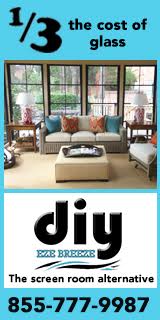 DIY Eze Breeze
Screen Porch Windows
PCA Products
Complement Any Home!
End sponsor section
---
---
---
Katherine says, "I love your site and look forward to every post. I sit on my porch and read everything posted. Thank you so much. "
---
Featured on national TV. Read our
story!