Ideas for Front Porch Designs and More
Are you looking for inspiring front porch designs and front porch ideas?

Whether you dream of a country style porch, a sophisticated contemporary style or you only have a small space for a charming portico, we welcome you here to design, plan, decorate, and landscape your porch.



Ghosts, Goblins, Treats and Decorated Front Porches
Halloween Decorating Tip: Add a Touch of Levity
Kids of all ages like Halloween displays that make you smile; it doesn't have to be so "ghostly"!










Explore Our Pumpkin Carving and Display Ideas
See our selection of carved pumpkins to get lots of ideas this year!








Scary Is Always in for Halloween
Check out our scary Halloween decoration ideas if you'd rather design a FRIGHT NIGHT!

We discovered this lighted skeleton at Plow and Hearth - sure to be a hit in the neighborhood!










Visit Our Porch Market
Our 2017 Porch Calendars Available Now!
Mary and I could never find a really nice porch calendar, so we created not only one but two. Be one of the first to get a 2017 Porch Calendar. They make wonderful gifts, too.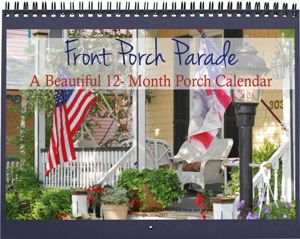 Our beautiful 2017 porch calendars are available now in our Zazzle store.




Fall Porch Fancy
While we continue to enjoy the colors, aromas, and cooler weather of fall, we know many look forward to Halloween ghosts and goblins. You've come to the right place for all of your fall and Halloween porch and yard decoration ideas.



Mary and I love October and all it has to offer, especially decorating and spending more time on the porch. If you haven't already, fall is the perfect time to decorate and to start planning your Halloween festivities.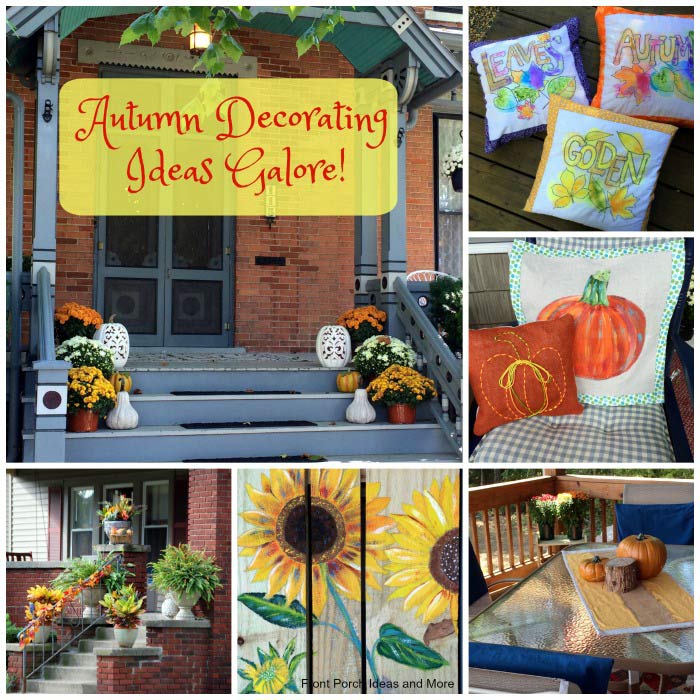 Fall porch decorating ideas galore!
Get the Perfect Fall Porch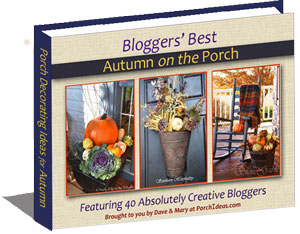 The two of us gathered a great collection of delightful autumn porch decorating ideas.

Our 251-page eBook includes fantastic fall ideas from 40 creative bloggers. Pictures galore, tutorials and even some of their favorite recipes.

Want a super nice autumn porch? Then get our attractive eBook, Autumn on the Porch. You'll enjoy the beautiful ideas inside!

Learn more or just purchase it right now.





Fun Fall and Halloween DIY Projects
Here's just two of many DIY Fall and Halloween DIY projects - your kids well love 'em!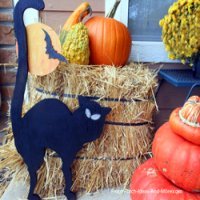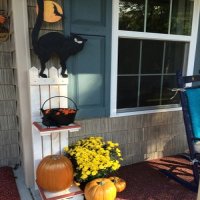 Halloween Decorations that Little Kids Will Love
Add a little levity to fall this year by hanging a whimsical fall or Halloween wreath on your front door. Kids of all ages will love it!








Build It and You Will Enjoy!
No doubt about it, build a porch and enjoy not only the comfort it brings but also the value it will add to your home. We walk you through the process of building a porch along with design ideas.






Tis the Season for Screened and Three Season Porches
There's nothing quite like a screened porch in the fall. Enjoy cooler temps, dinners in the autumn air, and watching falling leaves. You have several options too!

Build one yourself by using a screen porch plan which can be modified to fit your needs or find a local contractor to help.







Friday Night Lights, Saturday Afternoons and Sunday Game Day
Whether you enjoy collegiate or professional football, your porch is the perfect place from which to display your team spirit. We discovered unique football decorative items that are perfect for football parties and tailgating too!

Here's but a small sample of what you'll find: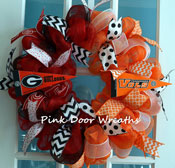 You Don't Want to Miss Jennifer's Advice for Halloween Porch Decorating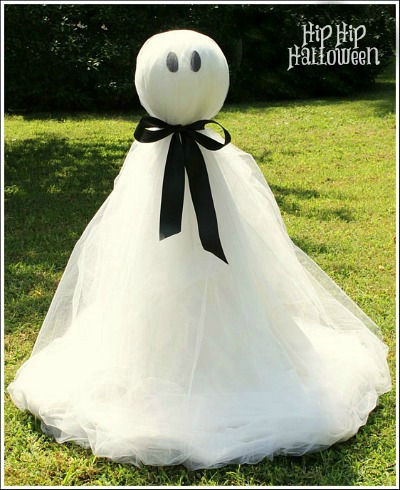 Our Interior Decorator friend Jennifer shares lots of easy Halloween decorating tips with us like how to make a ghost from a tomato cage.

Enjoy the written program notes or listen to our fun conversation with Jennifer here:






Have You Tried Our Porch Illustrator


If you have a ranch home, our Porch Illustrator will give you some idea how a porch would look on it. Try it!

We also have a Porch Illustrator for a two-story-home, too. Both very helpful with planning your front porch designs.




Our Picks
Our Site is a Labor of Love
As Dave and I have looked at homes over the years and strolled through neighborhoods, we have always been drawn to charming front porches. We've lived in homes with big porches, small porches and no porch (sad!).

We once purchased a home just because it had a screened porch. And that was a terrific decision.

Dave and I use our passion to bring you the best porch decorating and design ideas for your front porch.

We hope that our front porch designs, decorating and entertaining ideas will help you whether you have a front porch, side porch, or a great back porch!
---


You will find many front porch designs and porch pictures throughout our site.

Our front porch pictures will help you visualize and plan your projects.
Thinking of building or renovating a porch? From stone columns to renovating to building a new porch from scratch we have photo gallery pictorials to show you how it is done.













---
Our Sponsors
Vintage Woodworks
For Your Porch Parts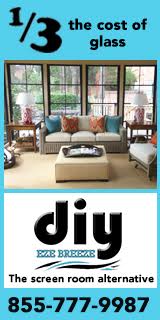 DIY Eze Breeze
Screen Porch Windows
Porch Store
Custom Porch Products
PCA Products
Complement Any Home!
End sponsor section
---
---
---
Katherine says, "I love your site and look forward to every post. I sit on my porch and read everything posted. Thank you so much. "
---
Featured on national TV. Read our
story!