Porch Designs for Mobile Homes
Great for Manufactured, Modular, and
Prefabricated Homes Too
A front porch on your mobile home will not only add curb appeal but also provide needed shade and protection from the weather. Learn more about Ready Decks ® below.



Now's the perfect time to plan and design your new front porch.

There's no reason you can't have the perfect place to relax, to enjoy a good book or a glass of fine wine.

Front porches for mobile homes will help you extend your outdoor time.








Mobile Home Front Porch Design By Ready Decks ®



You have almost as many design options for your mobile home as do others for their stick-built homes. We really like the stone-like porch skirting in the photo above. That, along with other options for porch columns, railings, steps, ceilings, and more, will give you plenty to consider when planning your front porch.


---
Screen Porch Options and Porch Roof Options Too
There are also options to either add a screen porch kit or if you already have a porch, add screen walls to create a screened porch.

In addition, you can screen either the entire porch or just a portion.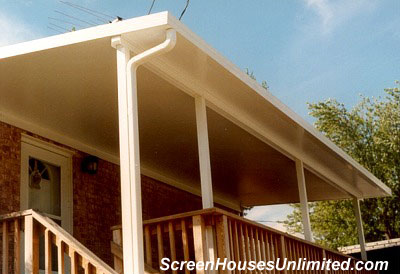 Need a porch roof? An insulated roof panel system may be just what you are looking for. Creating a porch may never have been easier.






Mobile Home Parts Store
Ranch Home Inspiration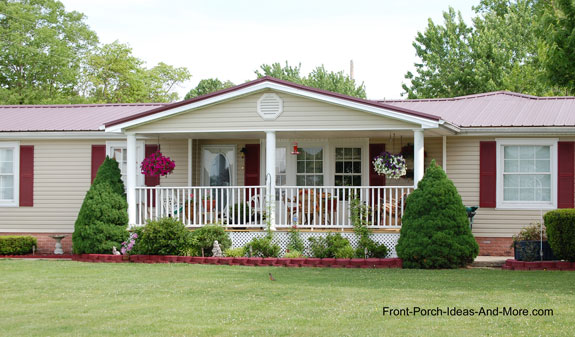 The porch on this charming ranch home is a great design for a mobile home. And we like the beauty of the
metal roof
on this home, too.
Dave and I were happy to see this home on one of our road trips! So positively charming!
Porch Designs for Mobile Homes
Gable Roof Designs and Ideas
Note in the photo below the additional columns adjacent to the home. Most mobile home porches must be self supporting include holding the roof in place.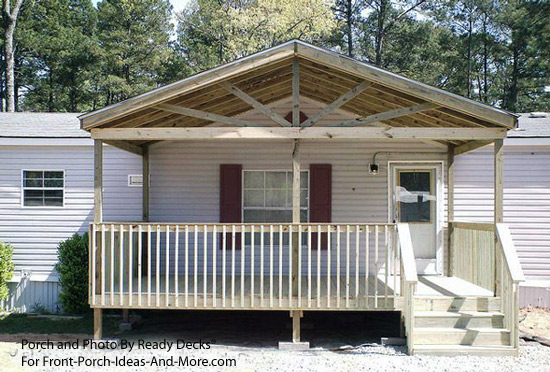 Open Gable Roof Design With Wagon Wheel Pattern





Homeowners could easily install porch skirting to hide the porch piers in the photo below. This would give it a more finished look and possibly give you additional storage space.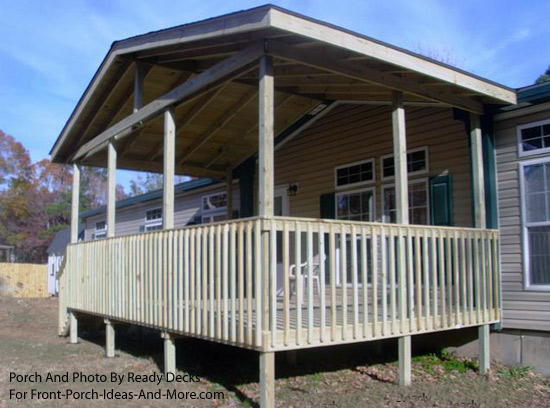 Love the placement and width of the steps in the photo below. Wider staircase gives you a more open feel and makes your porch appear larger. It also provides space for potted plants or other decorative items.

Mary and I would add custom vinyl lattice panels to hide the piers. You can choose from a wide variety of lattice panel designs or even create your own. They come in a variety of colors but we prefer black for porch skirting.






Note the exposed rafters on the gable roof below. You could opt to cover them with bead board or tongue and groove panels to give it a finished look. Add an outdoor ceiling fan for additional comfort! When considering porch designs for mobile homes also include amenities like fans, lights, and railing and column options too.








Porch Designs for Mobile Homes - Tip: If you live in an area that is prone to the wind blowing leaves and other debris on your porch, consider installing a bottom rail no more than 4 inches above the porch decking. This will allow you to easily sweep the debris off your porch.





Really nice design for an accessible wheel chair ramp. If you don't have the space for a wheel chair run as depicted in the photo below, you can make it shorter by creating a turn; however, porch designs for mobile homes must meet specific building code requirements.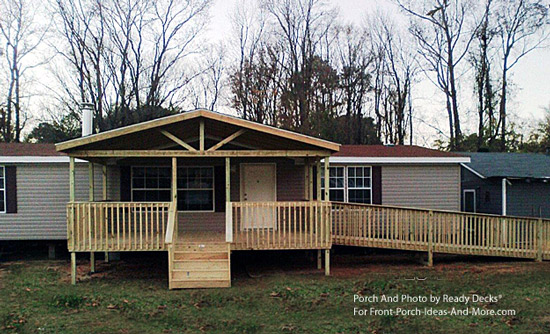 This is really neat as a porch design for mobile homes - a front porch and deck combination. If you have the space you ought to consider one of these for your home. The porch skirting is also an attractive feature.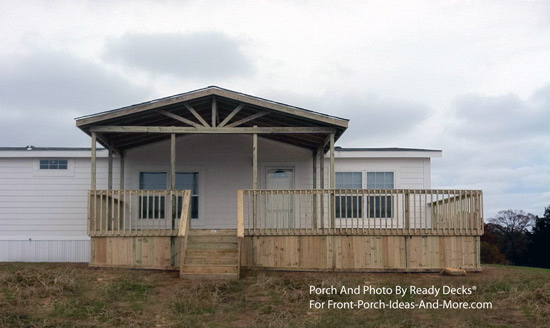 Mary and I are excited to share these porch designs for mobile homes and are grateful to Ready Decks ® who are both builders and designers. Ready Decks ® is not one of our paying advertisers, but we are pleased to show off their products with you to give you ideas for your mobile home.
Finished Gable Roof Mobile Home Porch Design
Here's one of Ready Decks gable style porches painted and ready for outdoor enjoyment. Add landscaping, grab a glass of iced tea, and do some porch sittin'. Note how this has a closed gable with vinyl to match the home.


Shed or Flat Roof Designs
A shed-type or flat roof design may be perfect for porch designs for mobile homes having either very low roof clearances or for those with straight roof lines. It allows for maximum use of head room yet maintains openness. Check these out:



See how the flat roof gives you maximum space. Your local building codes will dictate the rise and run (steepness) of your porch roof. People living in snow country normally require a minimum rise and run.






We like this one. It has an open feel and is large enough to accommodate comfortable furniture. Note the metal roof which is recommended for flat roofs.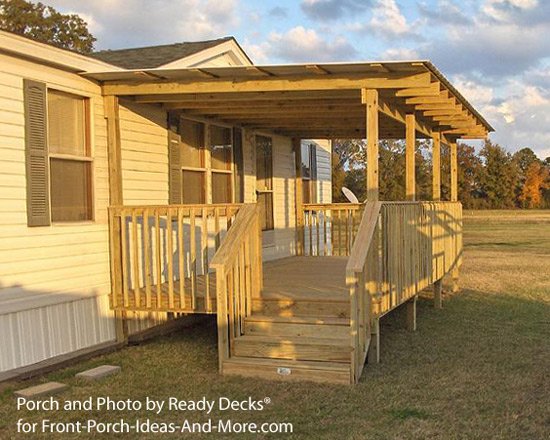 Spacious and well designed, this porch will provide you with lots of outdoor time. Note the porch skirting which gives it a finished look.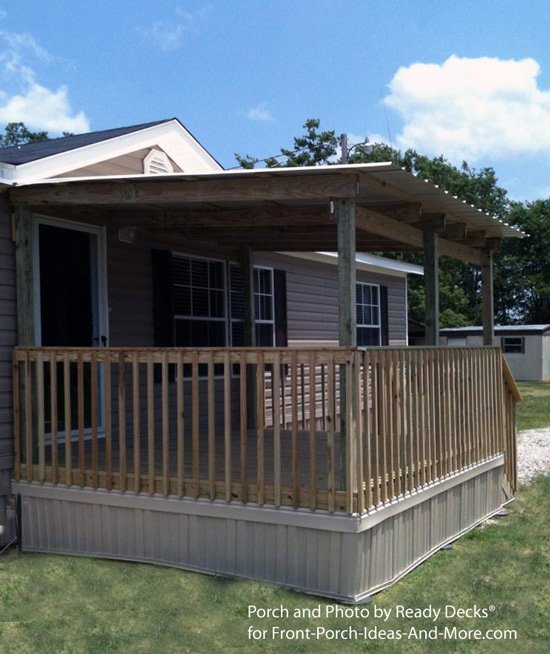 This porch design incorporates an accessible ramp without taking away the curb appeal.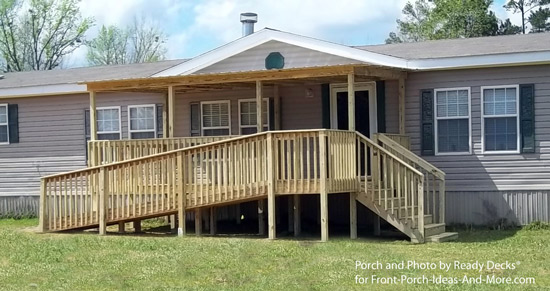 Are you a mobile, modular or manufactured home owner?
Do you take pride in your porch or stoop? If so, we would love to hear from you and may feature your home on our site.
Please
drop us a line here
. When we hear from you we'll let you know how to send us pictures.
Inviting Florida Room on a Mobile Home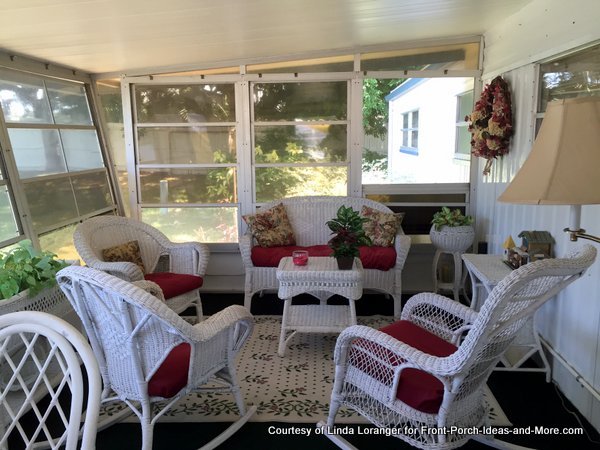 Our sweet friends Linda and Jerry shared this picture of their Florida room on their mobile home. Comfortable and inviting, don't you think?




Listen to Our Mobile Home Porch Design Audio Program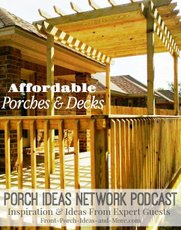 Join us as we interview Bradley Johns of Ready Decks to discover ideas for mobile home porches from one of the best builders in the business.





Porch Designs for Mobile Homes - Frequently Asked Questions
Bradley Johns of Ready Decks ® addresses a few common mobile home porch issues:


1. What are some typical problems you encounter when building a porch for a mobile home?

The only recurring issue we have with adding a porch to a manufactured home is when the home's roof is constructed with a sheet galvanized metal that has no overhang.

The is usually a tiny gutter that can be flashed behind but we cannot get a proper mechanical fix so to prevent leaking we often end up relying on sealants which often fail in places.



2. What are typical concerns of owners considering adding a porch to their mobile home?

The biggest concern for adding a porch to a manufactured home is, "is the roof attached to the homes roof". Most manufactures tell their customers that they cannot attach anything to the home. We at Ready Decks had already solved this concern by making our porches fully self-supporting. This takes the load off of the home and the customers mind.



3. How is building a mobile home porch different than one for a stick-built home?

There are actually no any mentionable differences in the building process between a site built home and a manufactured home with the exception of the sheet metal roof homes in which roof flashing is often not an option.



4. What is a common mistake mobile home owners make when designing a porch for a mobile home?

Placement of your porch in relation to door entrance and steps. I have notice that, in general, people tend to want to put their porch center of their door and center the steps on the front of the porch.

Even on a popular 12x16 porch, the walking path from this layout cuts the porch in half leaving little usable room for a patio table set or other items. When it is possible, position porch to one side of the door with the steps on the same side. This often looks just as good as center and frees up the rest of your porch space.
Watch this testimonial and see this beautiful deck by Ready Decks ®
Share Photos of Your Porch Designs for Mobile Homes
We'd love to share mobile home porch designs that you may have seen and like with our site visitors. It's so easy to do - use our share photos form!


---
We may receive a small commission on affiliate sales which does not affect the price you pay.
---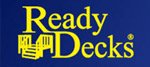 Ready Decks ® began in 2001 with the goal to build decks on site in the shortest time while giving their customers quality, service, and value for their money.

Brad Johns, owner of Ready Decks ® , uses the best materials along with a patent-pending building system that can actually build your deck in one day. Not only that, as you have seen from their photos above, they can build your mobile home porch too.

Not only do they build decks and porches, Ready Decks ® can also build your screen porch, ramps, pool decks, car ports, gazebos, and more - all with the same quality and service.

Want more porch designs for mobile homes? Contact Ready Decks ® to see how they can help you with your porch or other building needs.



Ready Decks ® Deck in a Day Video




Helpful Links
Popular Pages
---
Our Sponsors
Porch Store
Custom Porch Products
Vintage Woodworks
For Your Porch Parts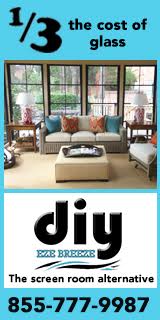 DIY Eze Breeze
Screen Porch Windows
PCA Products
Complement Any Home!
End sponsor section
---
---
Copyright© 2009-2016 Front-Porch-Ideas-and-More.com.
All rights reserved.
Content and photos may not be reproduced
in any way without our written permission.