Wall Art Ideas for Your Porch
Porch decorating never got easier than with these outdoor wall art ideas. Turn your porch from ordinary into extraordinary with outdoor wall art that is both beautiful and fun.

We almost guarantee that whoever comes to your front door will see and comment favorably if you have outdoor artwork. You'll be a creative genius.

Use several art pieces together or separately on large porches. Try these wall art ideas on small porches and porticos.

Wall art comes in every imaginable genre and materials like outdoor metal wall art - so it is easy to find something you love.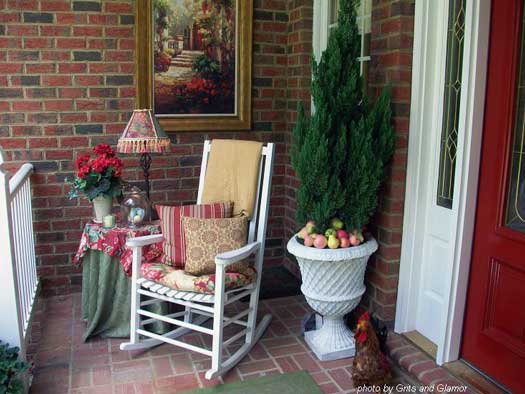 Barb's beautifully decorated porch with outdoor wall art.
Photo by The Everyday Home - formerly Grits and Glamour
More Wall Art Ideas to Inspire You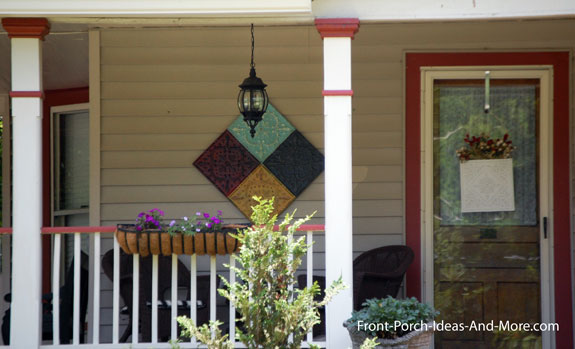 Aesthetically pleasing outdoor wall art on porch
The wall art is the center of focus on this wonderful porch.
Courtesy of the "Pretty Up Your Porch Contest" in Fairfield IL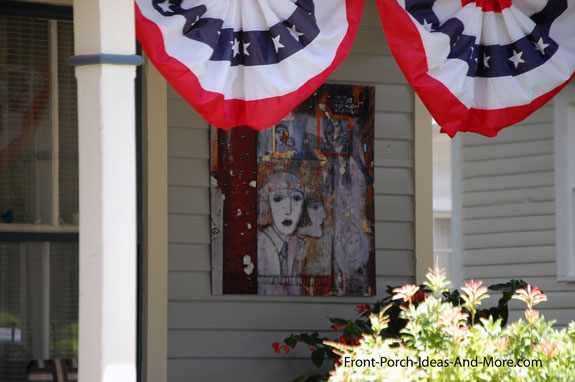 Contemporary painting on front porch
Whimsical outdoor metal wall art
This homeowner hung outdoor wall art on their front door.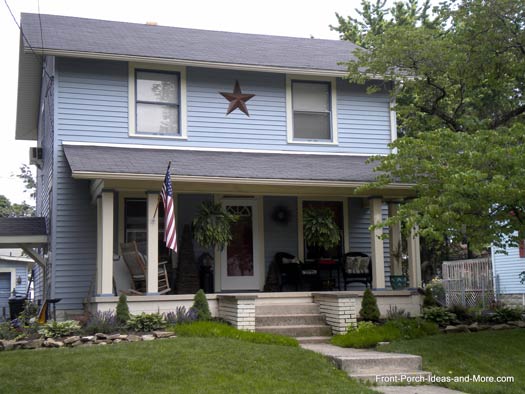 A star decorates this home.
Do you know the background behind stars like this?
How to Hang Wall Art
To hang art on your walls, you need some way to fasten them to your porch. If you have wood siding, then it's pretty easy. But if you have brick or vinyl siding, it takes more care.



Wall Art Ideas - No Hole Siding Hangers - We Like These
For Your Siding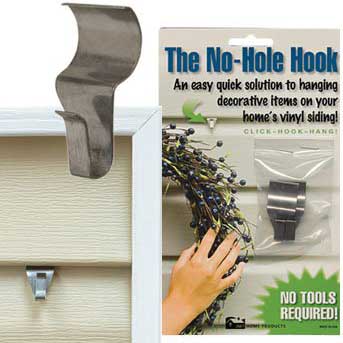 Vinyl siding hangers on Amazon just clip on your siding - easy! This is what Dave and I use on our porch to hang wall art and we like these. This is our Amazon affiliate link.
Hang Items from Your Soffits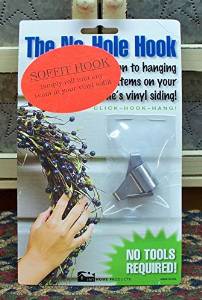 Soffit hangers on Amazon no hole required!

You could hang wind chimes from these! This is our Amazon affiliate link.



Brick Clip-On Hangers (ready-made)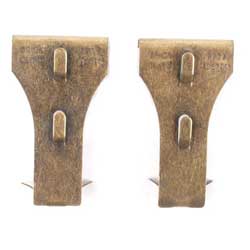 These hangers support up to 25 pounds and snap onto exposed brick. Available at Amazon.com
This is our Amazon affiliate link.



Another Type of Vinyl Siding Hangers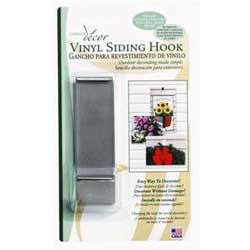 These hangers slide up and underneath your vinyl siding; no drilling required. They make it easy - no muss, no fuss. Available at Amazon.com
This is our Amazon affiliate link.



Wall Art Ideas - How to Make Freestanding Decorating Hangers (DIY)
We have another way to hang outdoor art work on your porch without making holes or drilling through brick or siding.

This simple and inexpensive solution works great almost anywhere - all you need is a floor and ceiling. We've used it indoors and out and it works like a charm.

Although it is not meant for heavy objects, it is perfect for hanging artwork, lights, holiday decorations, wreaths, holiday lights and a host of your favorite items. And it only takes a few minutes.

Here's how to create you own freestanding hanger:


Measure the distance from your ceiling to the floor and subtract 1 inch.
Purchase inexpensive 1x2 lumber (cut to length), 3/8 inch t-nuts, and 3/8 inch by 2 inch carriage bolts at your local home supply store.
Drill a 3/8 inch hole 2 1/4 inches deep in the bottom of the 1x2(s).
Tap the t-nut(s) into the holes.
Insert the bolts in the t-nuts leaving about 3/4 inch exposed.
Paint the 1x2s if so desired. Let dry.
Place felt on the top of the 1x2s to protect the ceiling.
Position the 1x2s flat against the wall. With the top of the 1x2 against the ceiling, unscrew the bolt at the bottom until the 1x2 is securely lodged between the ceiling and floor (place felt under bolt head to protect floor). Make snug; do not over tighten.
Attach your favorite artwork, wreath, pictures, lights, or holiday decorations to the 1x2s with small nails, screws, or hooks, etc.
Use as many 1x2s as you need. You can paint the 1x2 sides different colors for different holidays. Attach two or more and hang lattice over them. Now you have a perfect trellis for climbing plants or hang additional artwork or memorabilia.
They work really well in kids rooms for posters and other fun decorations - no more tape on your walls! You can even use them under cabinets or in closets to hang handy items.

This method is ideal for porches as you don't have to make holes in siding or drill into brick. They are easy to remove or to relocate to another area of your porch which makes them ideal for porch decorating.



Drilling Method
Although I recommend any of the above options over drilling into the side of your home, sometimes drilling is the best solution. For example, if you want to hang something that is heavy and needs to be secured, then drilling is probably the way to go.

Drilling in brick or concrete requires the use of a drill, concrete bit, and concrete screw. I really recommend using a hammer drill rather than an ordinary drill but it can be done with either.

I also recommend using Tapcon screws. You can find these at your local home building supply store.

If drilling into wood, a regular drill and drill bit will work fine.

Please don't hesitate to ask any questions you might have about hanging outdoor wall art on your porch; we are happy to offer suggestions.



More Outdoor Art Ideas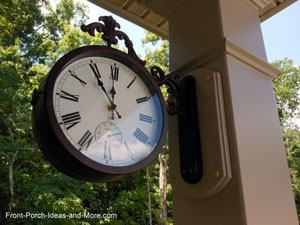 We also have instructions about hanging an outdoor thermometer clock (another artsy idea to use on your front porch).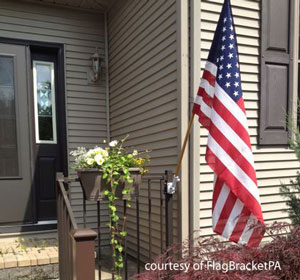 We also have a nifty idea for hanging flags on your porch columns or railings without screws or nails!

Now you easily hang all types of flags and banners from your porch railings or columns - think of the possibilities.


---
Imagine an Artist Painting a Portrait of Your Home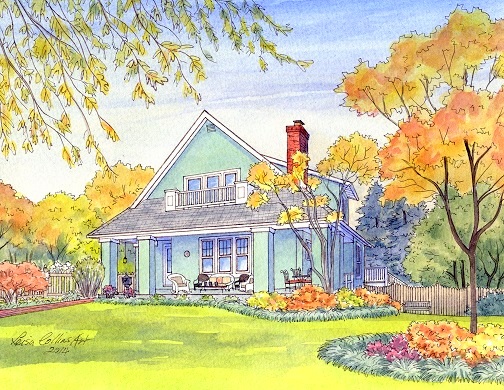 Imagine an artist who can beautifully draw and paint a portrait of your home! We found Leisa and she paints these lovely works of art. What an amazing treasure for yourself or someone you love.

Take a look at more of Leisa's watercolor works.





Porch

/

Front Porch Decorating

/ Wall Art Ideas



Porch

/

Porch Furniture

/ Wall Art Ideas





The Amazon ads are our affiliate links. Thank you.




Popular Pages
---
Our Sponsors
Porch Store
Custom Porch Products
Vintage Woodworks
For Your Porch Parts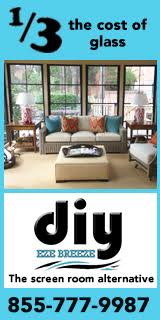 DIY Eze Breeze
Screen Porch Windows
PCA Products
Complement Any Home!
End sponsor section
---
---
Copyright© 2009-2017
Front-Porch-Ideas-and-More.com.
All rights reserved.
Content and photos may not be reproduced
in any way without our written permission.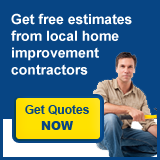 FIND A LOCAL CONTRACTOR
Search Our Site
Our Sponsors
Porch Store - Custom Porch Products
Vintage Woodworks for Your Porch Parts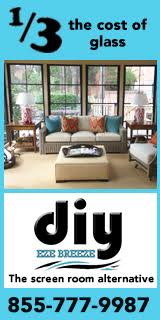 DIY Eze Breeze - Screen Porch Windows
PCA Products Complement any Home
---
House Plans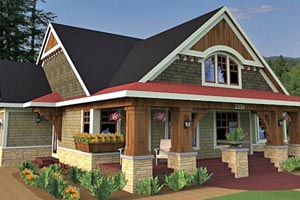 Home Plans with Porches
---
What's New
See Our Latest Updates
Porch Market
Browse Our Porch Market
Get Our Porch Ideas Generator eBook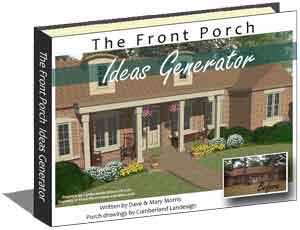 See Our Porch Illustrator eBook
Porch Ideas Network