Halloween Decorations Outdoors
for Both Front Porch and Yard
Halloween Lawn Decorations that Will Surely Add Fesitivity to the Holiday
Use these Halloween decorations outdoors to create an amazing array whether you enjoy fun and frivolity or want add a lot of fright for the little ghosts and goblins coming to your door. We also show you examples of Halloween decor to give you more ideas.

Mary and I have selected some of the most popular Halloween lawn decorations that can be used in your yard or on your front porch. Use a combination of items to create a theme or just a few to add for effect. Either way, it's fun to decorate for Halloween which in turn will be enjoyed by all.





It's time to get your "spook" on and have a ghoulish time decorating for this unique holiday. We can help!



Popular Halloween Decorations Outdoor Items
A very popular item for Halloween lawn decorating, these card stock sidewalk warning placards look like old wood and will surely get the attention of all who are brave enough to come to your door for Halloween treats! Use these indoors or out.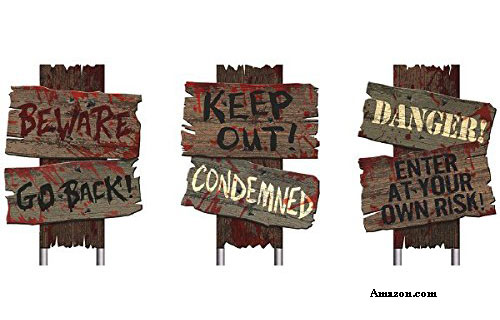 Halloween warning signs available on Amazon (affiliate link)



A most popular Halloween lawn decoration (perfect for the porch too), these peeper lights will delight both young and old. You'll receive three colorful sets of spooky, flashing, adjustable eye light strings; plug them in and create a most fun Halloween night.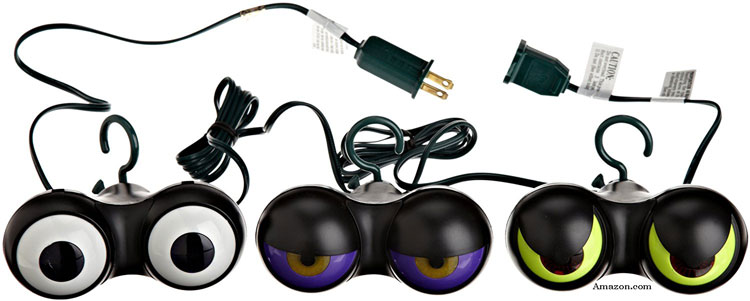 Peep n' peepers flashing eye lights available on Amazon (affiliate link)
Watch This Short Peep n' Peepers Video



Add a festive feel with a smiling ghost, a happy skeleton, and four jack-o-lanterns. Kids will love these Halloween decorative signs and you can use them in your yard or even your porch.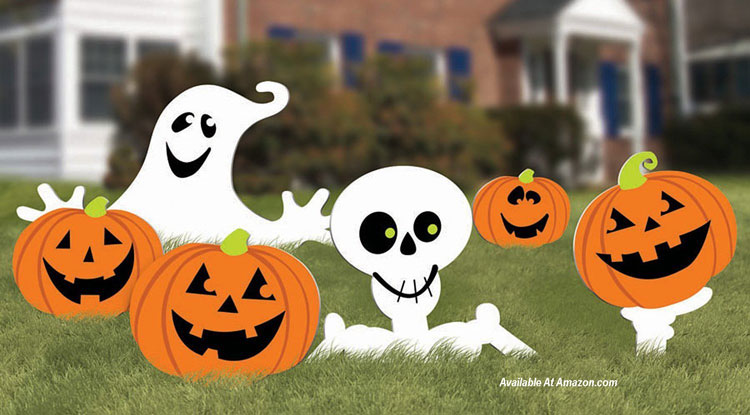 Happy Halloween yard signs available on Amazon (affiliate link)



Create the perfect Halloween graveyard with these life-like zombie hands. Add several pairs to delight the little ones! Match them with prop gravestones (below) to give your yard real spookiness.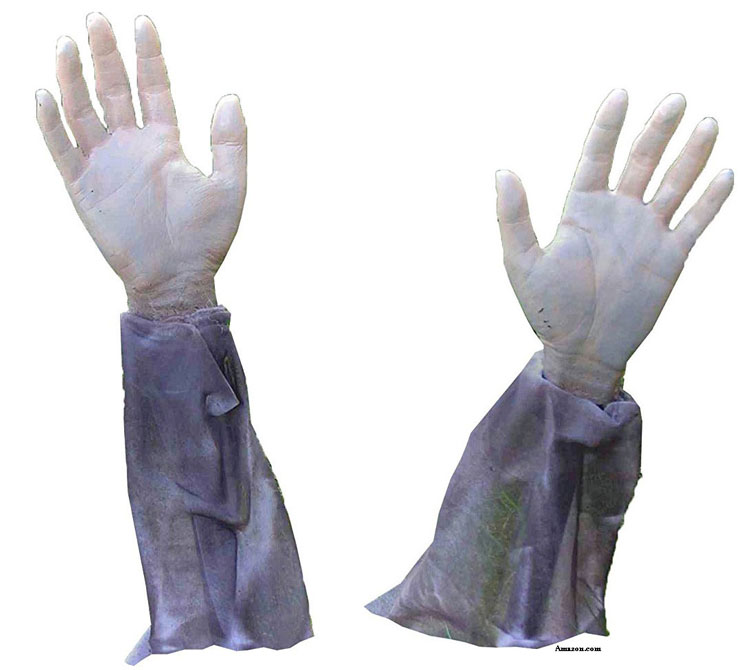 Zombie hands available on Amazon (affiliate link)




Add these 4 amazing stone-like gravestones to create just the right amount of spooky ambiance.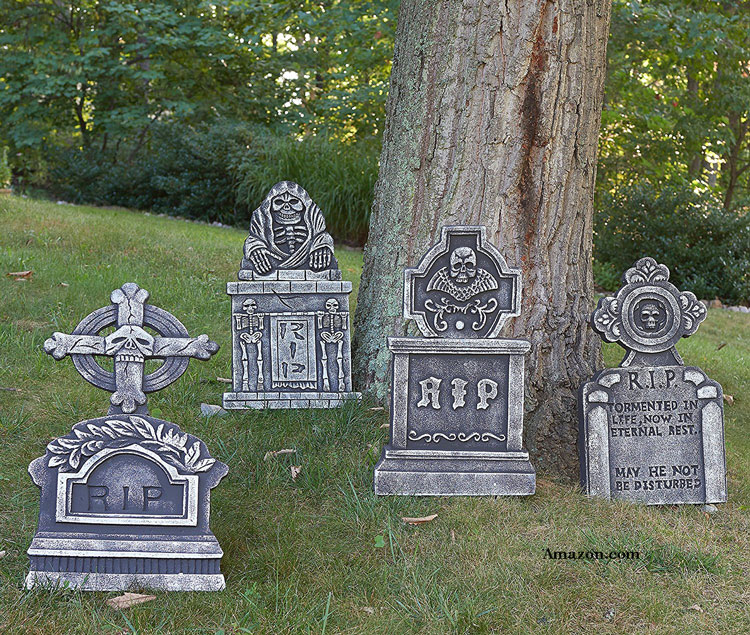 Gravestones available on Amazon (affiliate link)




This four foot skeleton with detachable limbs can be used in a variety of ways to enhance your Halloween experience. Use it (or several) to create a scene or place on a porch swing or chair for a more fun appeal.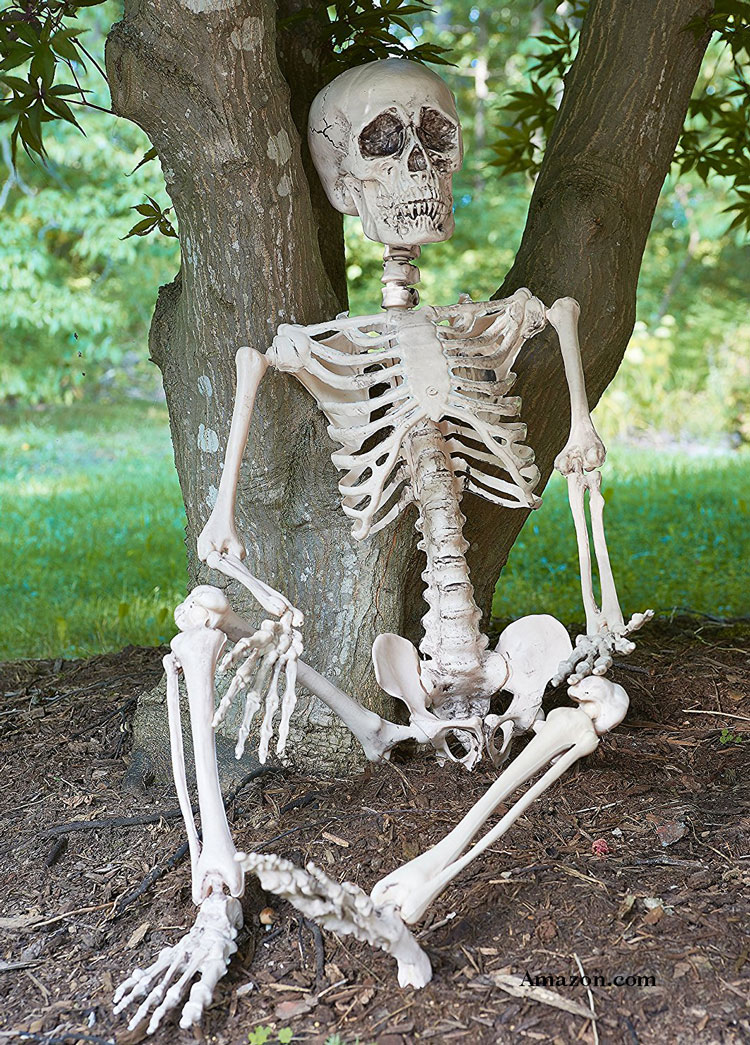 4 Foot Tall skeleton available on Amazon (affiliate link)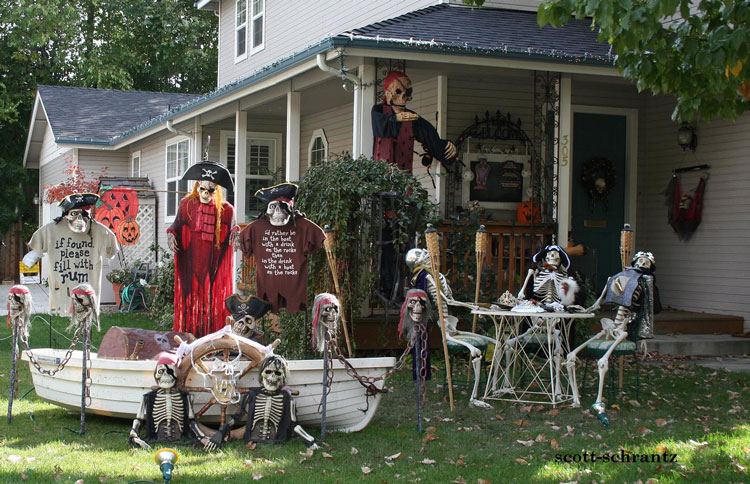 Photo courtesy of Scott Schrantz
Use your skeletons to create a theme like this pirate ship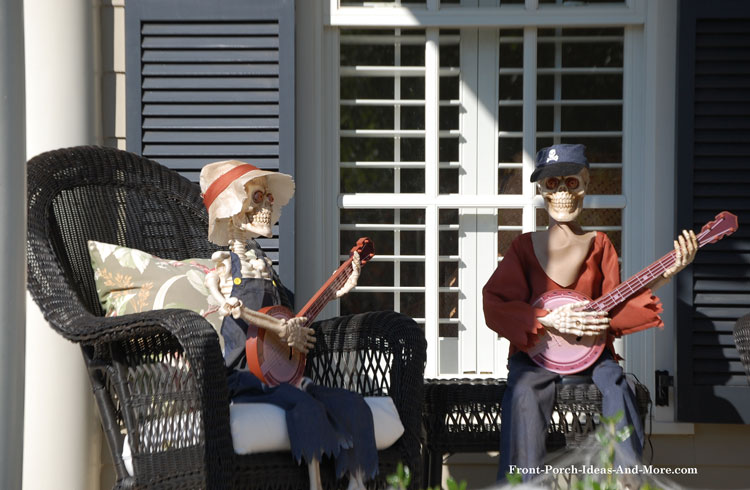 Pose Your Skeletons To Create A Scene





This furry spider has a furry black body with beady red eyes that light along with 22" wire legs you can bend into various positions as shown below. It is a perfect Halloween lawn or porch decoration; add it to other decorative items to create an amazing scary scene indoors or out. It even screams in terror!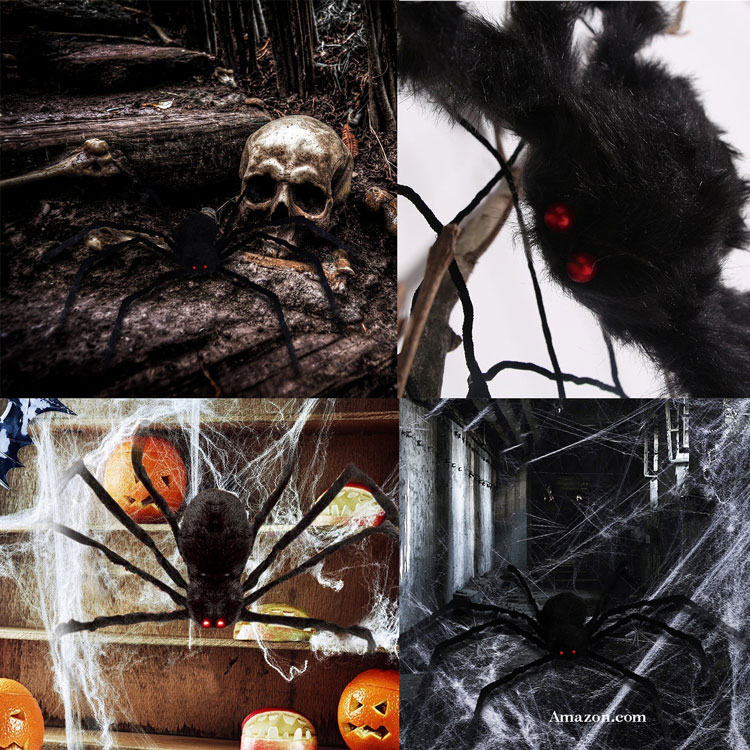 Furry Halloween spider available on Amazon (affiliate link)
Halloween Lawn Decorations - Popular Inflatables
Halloween inflatables are very popular; this one will be the hit of the neighborhood for sure! At 16 feet tall X 6 feet wide, this grim reaper has self inflates with a durable built-in fan and comes with yard stakes and tethers. It appears and disappears into the night creating a really scary Halloween effect.



Grim Reaper inflatable available on Amazon (affiliate link)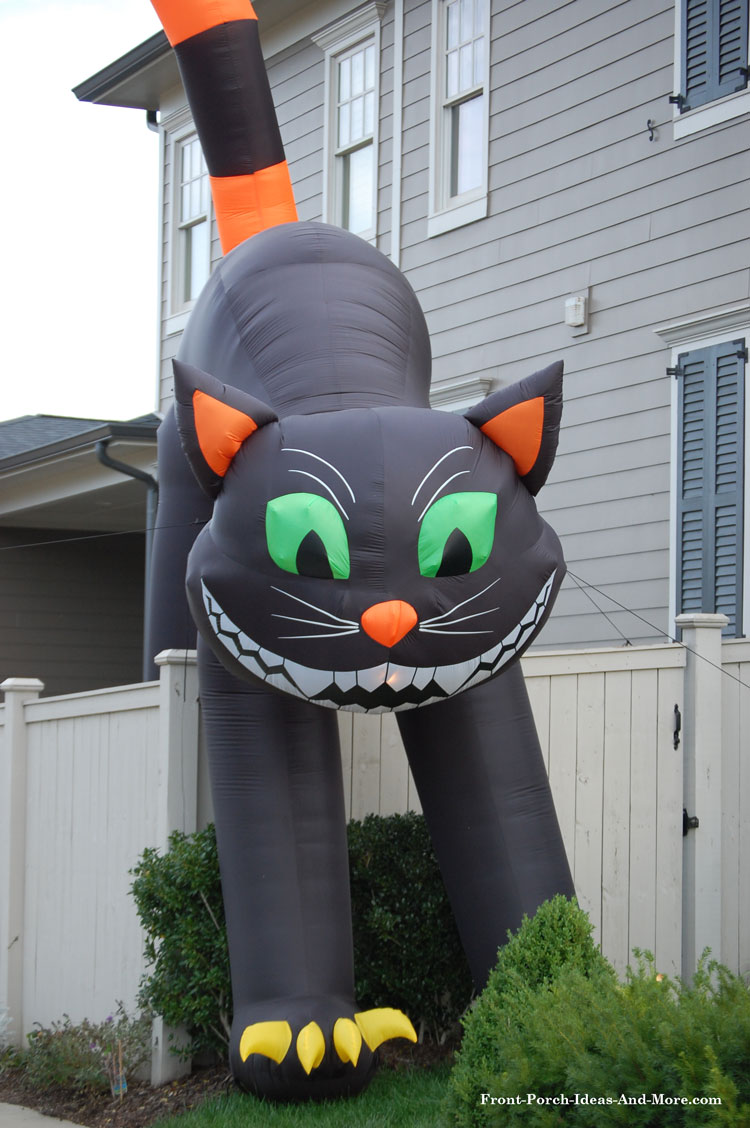 Now that's a Halloween cat






Nothing quite like a scary witch for Halloween and this one fits the bill. Dressed in witches attire, she cackles with broomstick in hand as you approach; eyes light up too. Kids will love it!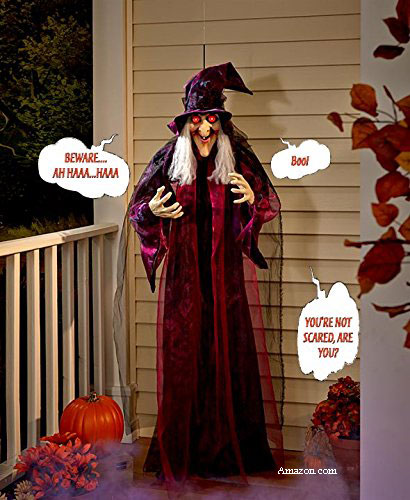 Talking Halloween witch available on Amazon (affiliate link)
Scary witch and zombie on front porch
Video: Fun Halloween Outside Decorations
Dave and I want to show you these very fun Halloween porches we had the pleasure of seeing.



Autumn and Halloween outside decorations galore!












The Amazon ads are our affiliate links. Thank you.











Popular Pages
---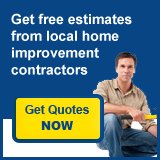 FIND A LOCAL CONTRACTOR
Advertisements
Our Sponsors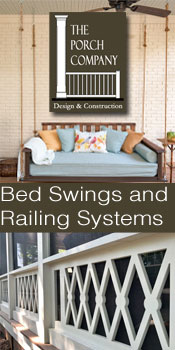 Porch Store - Custom Porch Products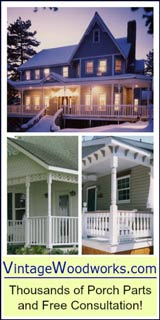 Vintage Woodworks for Your Porch Parts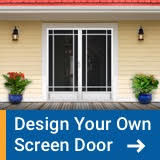 PCA Products Complement any Home
---
---
What's New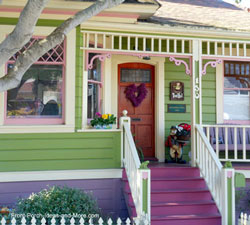 See Our Latest Updates
Porch Market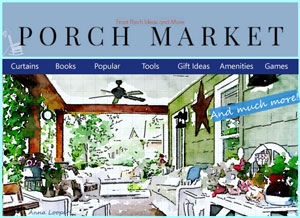 Browse Our Porch Market
Get Our Porch Ideas Generator eBook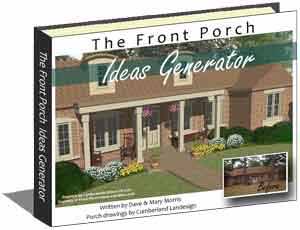 See Our Porch Illustrator eBook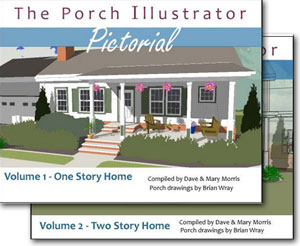 Search Our Site
Porch Ideas Network