Outdoor Fall Decorating Ideas
For Your Front Porch and Beyond
Outdoor fall decorating has never been easier and more fun and better yet - we'll show you how. We depict inexpensive, yet sophisticated and fun ways to decorate your front porch and yard and share with you, a wide variety of bloggers' porches too. You will be amazed at all of the ideas!



Our fall decorating directory leads you into an amazing collection of autumn decorating ideas and projects. They include many autumn crafts, simple to exquisite wreaths for fall, pumpkin arrangements, and curb appealing front porch and yard decor you can use to enhance your autumn experience.

We make it easy - use our directory below to find just the right autumn decorating ideas for your front porch and home.







Incorporate These Three Components Into Your
Outdoor Fall Decorating Ideas
Use Color
Whether mixing colors or working with only one, use color abundantly to create massive appeal. Autumn isn't the time to add a splash here or there. Mary and I recommend you exploit color this year and make a statement!



The autumn color palette offers a myriad of wonderful colors from which to choose. Purples, rusts, golds, yellows, oranges, deep greens, and browns can be used in your outdoor rugs, outdoor door mats, cushions, and decorating accessories.

On a budget? No worry, you can add color by using inexpensive painter's cloths (see Mary's pillow toppers in the Projects Section below). You can also purchase inexpensive paint remnants at your local home supply store.




Include Natural Elements
Add a bit of nature into your front porch or yard fall decorating scheme. Branches, corn husks, berries, and other materials can be easily added to planters, vases, etc., to enhance the overall appeal.



Outdoor fall decorating is meant for natural elements like wicker, rattan, dried floral arrangements, and of course pumpkins, gourds, and corn stalks, that will enhance the overall look of your outdoor decor.

Wrap porch columns with corn stalks, raffia, or even straw. Embellish with colored ribbons in colors mentioned above.




Add Texture
Almost anything with depth will work, from old tools to a set of antlers. Be creative and use everyday items you may have in your home, garage, or attic. And don't forget your plants; they can be added to almost any fall array. It need not cost you a thing!



Comfortable throws on your chairs or porch swing will keep you warm on those cool fall evenings. Use baskets filled with pumpkins and gourds for added effect. Fall themed napkins and cups with cider and cinnamon sticks make for fun times on your fall porch. Use fall garland around your front door.


Front Porch and Yard Fall Decorating Ideas Directory
Featured Outdoor Fall Decorating Ideas To Help Celebrate The Season
We've assembled some amazing fall front porch decorating ideas and are excited to share them with you. Our collection includes ideas from over 25 creative bloggers and others to give you timeless ideas for your autumn decorating.




























Take Our Fall Front Porch Tour
Ideas For Fall Wreaths For Your Front Door
Fall Pumpkin Decorating Ideas
Autumn Projects To Capture The Season
We love making fall projects to display on our porch and yard. Our featured outdoor fall decorating ideas are easy and relatively inexpensive to make. Most can be made with materials you may already have on hand. We include instructions and photos to show you how!
















Have You Seen Our Autumn Decorating eBook?










We hope you enjoyed our creative fall decorating ideas for your porch. Be sure to check out our Halloween decorating ideas too - see below.




















Our Sponsors
Vintage Woodworks
For Your Porch Parts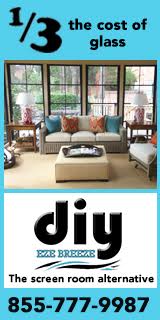 DIY Eze Breeze
Screen Porch Windows
Porch Store
Custom Porch Products
PCA Products
Complement Any Home!
End sponsor section
---
---