Autumn Front Porch Decorating Ideas
Cozy Porch Ideas for the Fall
These autumn front porch decorating ideas are examples of what you could do on your porch. In our quest to find beautiful porches across the country, we love going through our photos to inspire you!

We are often asked where to purchase the the porch amenities that appear in our photos. To that end, we've included links to similar products for some of the photos below. If you purchase an item through affiliate links within our content, we will earn a commission at no cost to you. As an Amazon Associate we earn from qualifying purchases. See our disclosure policy.




How about using colorful fall cushions as a focal point?
Warm up your autumn porch with a fresh, new outdoor rug
Tip: Select a fall theme to make your decorating easier

See These Outdoor Mats
Outdoor door mats add warmth and color to your porch. What style and color do you like? Shown here is a washable outdoor rug that is highly durable and environmentally safe. We also love the look of layered mats.

Fall Pillows and Pillow Covers
Fall pillows and pillow covers give you an easy solution to wake up your porch for the fall season. Pillows add comfort to your outdoor chairs, benches, or porch swing and what a nice way to add a vibrant autumn touch. From beautiful autumn leaves to a country style flair, which style do you seek?
Mixing colors, shapes and textures makes a pleasing arrangement
This small front porch has become a grand entrance
Why not add a little whimsy for fall fun?

Porch Tables
A porch table can become your decorating focal point for fall. So convenient for drinks and books, but also perfect for displaying an autumn floral arrangement, pumpkins or an outdoor lamp. We like to cover our porch table with a seasonal runner too.

Outdoor Table Lamps
An outdoor lamp adds a welcoming feel to your porch. We enjoy ours! Many lamps allow you to set the level of lighting and if you add a timer, your lamp will go on and off automatically.
Nature's autumn beauty
More Autumn Front Porch Decorating Ideas
Picturesque autumn front porch
The foliage, flower pots and decor make a striking combination
Why not add some decor to your step railings?
But please keep them safe!

Outdoor Fall Flags
An outdoor fall flag is a simple recipe for quick decor. Hang flags on your porch or by your steps to greet family and friends during the season. Hang decorative fall banners around your front door!

Autumn Door Mats
Greet your family and guests with an aesthetically pleasing fall door mat. Select from many different fall themes to suit your fancy! It is a fun way to decorate while keeping your indoor floors cleaner from rain and dirt.
Use display stands or tables to add interest to your autumn decor
Fall wreaths are always in fashion
Your porch steps can be a nice place for fall decor
but please ensure your guests have a safe path

Autumn Wreaths
It wouldn't be fall without a beautiful wreath to hang on your front door, porch wall, or columns. Enjoy finding the right one to grace your home this fall. Your guests are sure to notice the beautiful wreath you've chosen.

Vinyl Siding Hangers
These little hangers make hanging wreaths, flags, artwork, and more much easier. Mary and I use them all the time for our porch projects. No more ruining your vinyl siding with holes or tears; just clip them on and hang away!
Need A Little Extra Warmth on Your Porch or Screened Porch?
The coming of fall implies cooler temperatures and if you want to extend your outdoor time comfortably consider a radiant heater. Radiant heat is clean, instant, and odorless. So, why infrared? Infrared heaters heat people and fixtures but not the air. If you have ever been outside on a really cold but sunny day, you can feel the warmth from the sun on your skin. When infrared rays touch you, the heat energy is expended regardless of the temperature outside.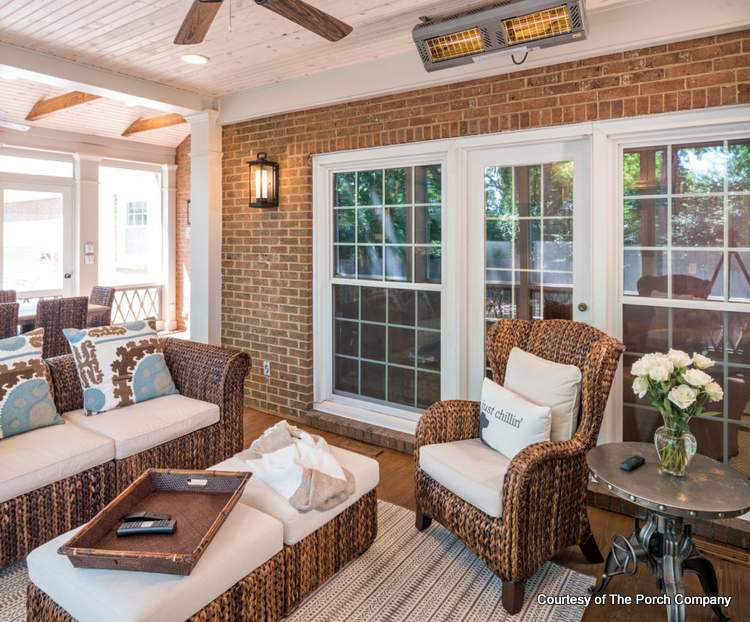 Radiant heater perfectly located for maximum effect
Photo courtesy of The Porch Company
Shown below is a Dr Infrared Heater DR-238 Carbon Infrared Outdoor Heater from Amazon.com
Maximize Your Comfort
Fall is the perfect time to relax on your porch. Why not do it ultimate comfort with a swing bed from our sponsor, The Porch Store! These custom made beds convert to a bed and then back to a porch swing to give the best of both worlds!


Wouldn't you love this rustic version of the cottage swing bed?
by The Porch Store
Let the Autumn In!
Enjoy the season by letting those cool autumn breezes flow into your home via one of the best aluminum screen doors in the market. A screen door from PCA Products may very well be the last screen door you will buy. Truly a remarkably designed and manufactured door, choose from a very wide selection of styles and colors.


Quality aluminum screen doors create curb appeal
Perk Up Your Porch
Adding a little exterior trim to your porch can turn the ordinary into the extraordinary before your very eyes. Porch trim is easy to install and can add immense curb appeal. See lots of ideas at Vintage Woodworks.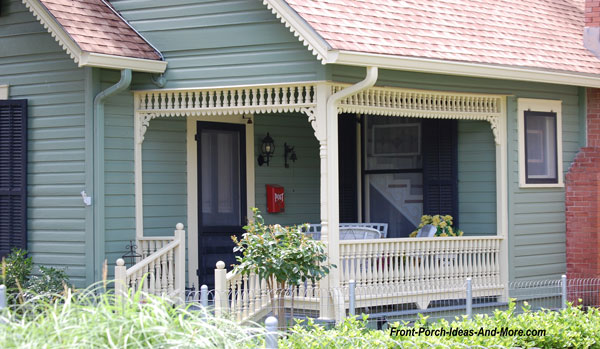 Spandrels have been added under the eave
Outdoor Fall Decor Ideas
Find lots more outdoor fall decorating ideas for your porch, yard, and home. Take a moment to peruse a multitude of creative and colorful autumn products that will enhance your porch's curb appeal!
Before You Go...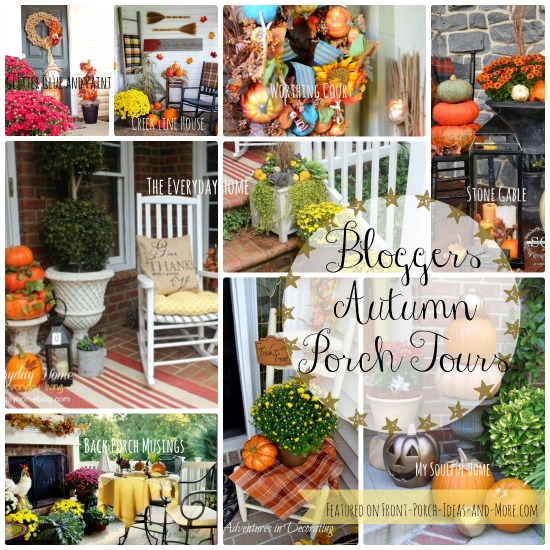 Whether you are looking for cheap fall decorating ideas or cozy and cute autumn front porch decorating ideas, we hope you've gleaned something for your porch with us!