Enjoy Making Our
Christmas Mailbox Decoration
Perfect for Your Front Porch or Yard
Our Christmas mailbox decoration will be a big hit with your neighbors and guests. It is easy to make and will remind everyone of how much fun it is to receive gifts and Christmas cards in the mail. Email is alright but it can't replace the joy of opening brightly covered packages or decorated cards.

We use scrap lumber and a little paint to create the magic of Christmas mail. Place it on your front porch or stand it in your yard.

We designed the Christmas mailbox decoration to not only be simplistic in design but also aesthetically pleasing.

Add your own decorating touches Christmas and you will have a Christmas decoration to use year after year.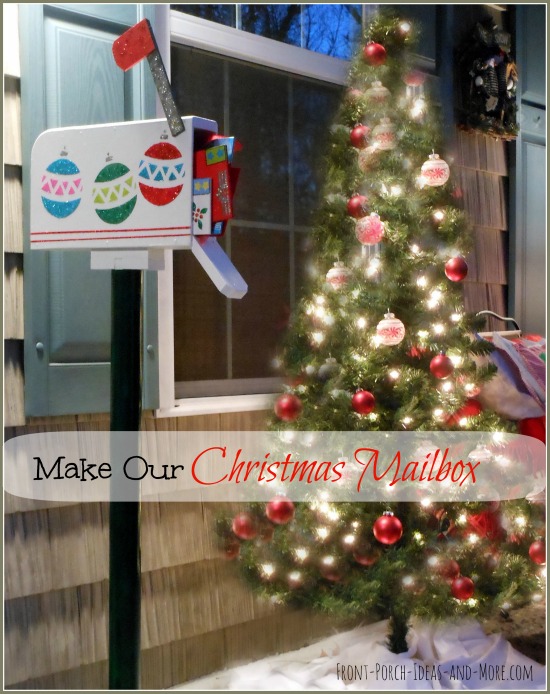 Our mailbox decoration is packed with holiday cheer!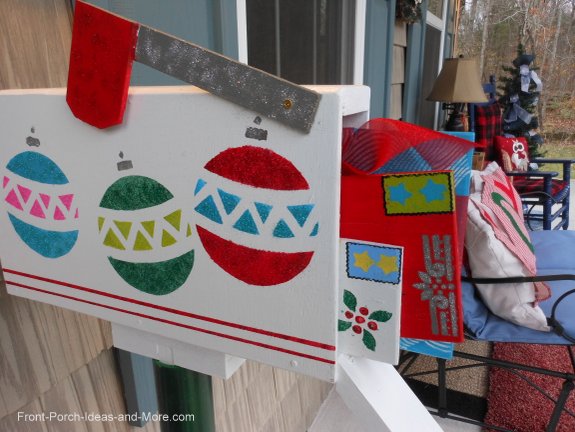 And it is complete with handmade letters and gifts!
You will only need to make straight cuts. Like ours, you can make yours from available scrap lumber. Change the dimensions to suit your needs and paint or decorate it to suit your own holiday decorating style.






Video: Watch Us Make This Mailbox Decoration
Mailbox Tutorial
You'll only need a few tools and a little time to make this project. I've designed it to assemble and disassemble easily, making it convenient for storing after the holidays.

Don't be intimidated by the materials, tools, and process I've outlined below to make this Christmas mailbox decoration. It is always easier to do something than to describe each step. Use the photos to guide you as it is really a simple wood craft to make.

I used 1/4 inch plywood and 1x3 inch poplar (which I ripped to size on a table saw). You do not have to rip the poplar; use it at its fullest dimension if you do not have access to a table saw.

You will need a 3/4 inch piece of plywood, pine, or poplar for the box base. See specific measurement requirement below.



Christmas Mailbox Decoration Materials and Cut List
Materials List
1/4 or 1/2 inch plywood
3/4 inch poplar, pine, or plywood
2" PVC Pipe
Pencil
Tape measure
Duct tape
Hammer
Jigsaw, Band saw, or regular wood saw
Sandpaper or Orbital Sander
Drill,1/8 inch bit, driver
Paint (your choice), paint brush(es), glitter, stencils (optional)
Wood Glue
Wood screws
Finishing nails
Clamps
Cut List
From 1/4 Inch Plywood
A. Two - 9 inch x 15 3/4 inch (mailbox sides)
B. One - 1 inch x 10" (flag support)
C. One - 2 1/2 inch x 4 inches (flag)
D. One - 6 7/8 inch x 9 3/4 inch (package
E. Two - 5 inches x 8 1/4 inches (cards)
F. Two - 3 3/4 inches x 10 inches (letters)
From 3/4 inch 1x3 Poplar or Pine, or use 3/4 inch Plywood
G. Two @ 15 3/4 (top and bottom frame)
H. One @ 7 3/8 (end or back frame)
I. One @ 5 1/8 (mailbox door)
J. One @ 5 3/4 (mailbox PVC Support)
K. Two @ 2 1/2 (Mailbox PVC Support)
L. One @ 10 (Base PVC Support)
M. Two @ 4 5/8 (Base PVC Support)
From 1x3 Poplar/Pine or Plywood - may need to rip to proper dimension or widths exceed 1x3 boards as indicated below
N. One @ 1 7/8 x 16 (Base PVC Support to fit inside PVC pipe)
O. One @ 1 7/8 x 8 (mailbox PVC support to fit inside PVC pipe)
P. One - 7 3/8 x 10 7/8 (mailbox stand bottom)
Q. Two - 4 x 8 1/2 (mailbox stand sides - could use 1/2 inch plywood)
R. Two - 4 x 10 7/8 (mailbox stand sides -could use 1/2 inch plywood)
From PVC Pipe
S. Cut to desired height. I cut ours at 38 inches but recommend you wait till you determine your display location to determine the right height.
Make Our Christmas Mailbox Decoration
Step 1
Cut pieces according to the cut list above. (Blade guard removed for photo)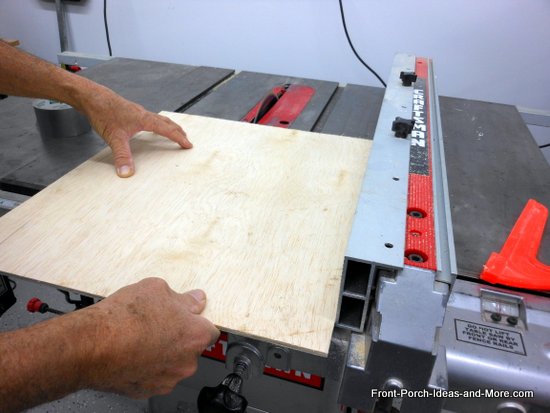 Cutting the sides from plywood using table saw
Step 2 - Assemble the Christmas Mailbox Decoration
A. Tape sides (A) together and mark one corner with an arc. Cut along the arc line. Skip this step if you prefer to make a rectangular mailbox.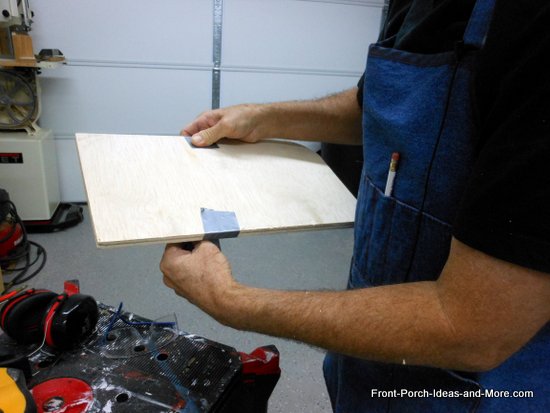 Tape plywood sides together and mark an arc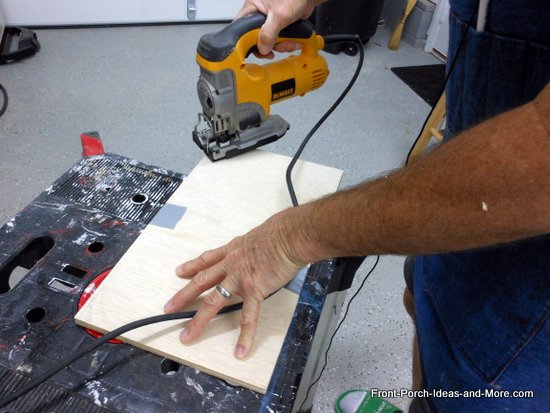 Cutting arc



B. Attach sides (A) to both top and bottom frame (G) with wood glue and finishing nails.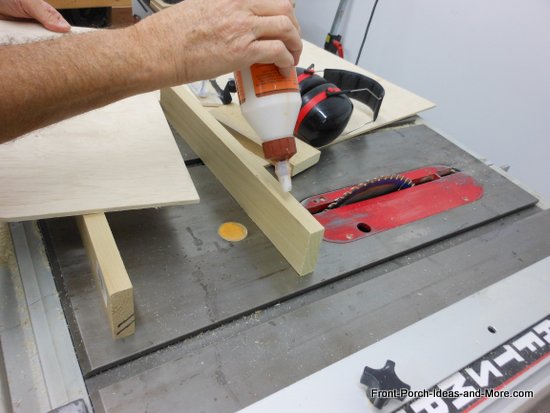 Applying glue to frame members
C. Attach end frame (H) to sides A with glue and finishing nails. Let dry.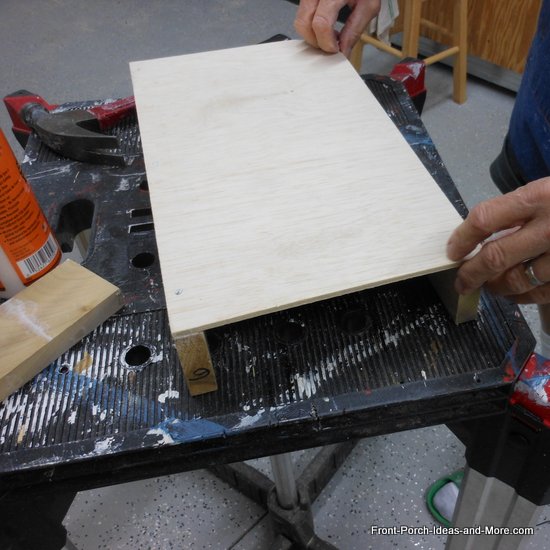 Applying sides to frames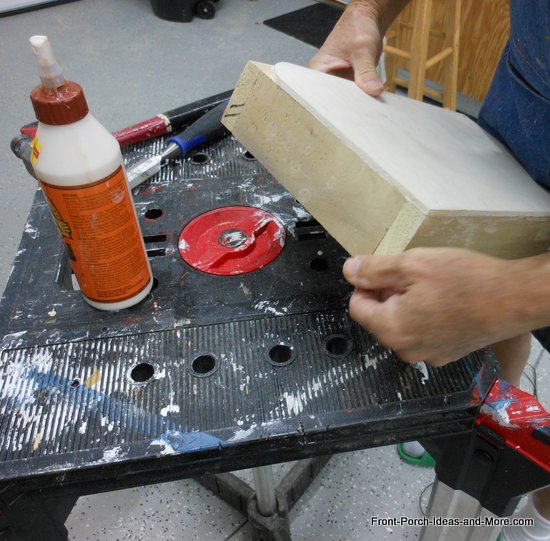 Applying end frame to mailbox
D. Cut along the arc line and sand to make a rounded corner as shown. If you have already cut the arc, use the arc as a guide to cut the exposed frames and sand to make a rounded corner as shown. Skip this step if making a rectangular mailbox.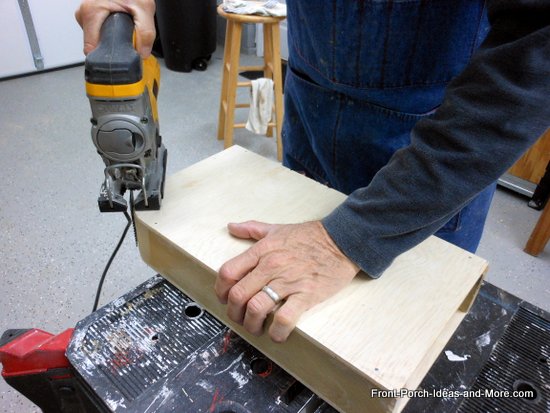 Cutting frame using arc as guide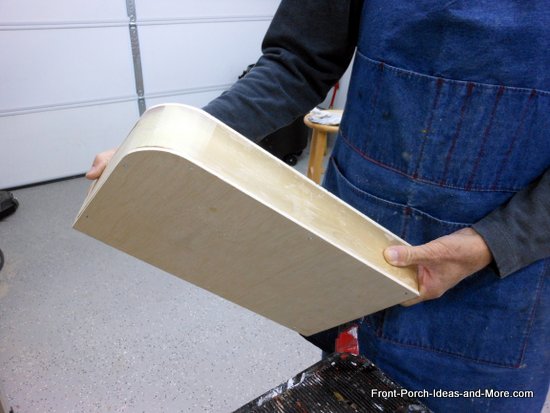 Back corner rounded and sanded
When making your Christmas mailbox decoration, be sure to sand all of the edges smooth. I used a router to round the top and end edges of the mailbox. You can use an orbiter sander or block and sandpaper to do the same if desired.



Step 3 - Assemble the Mailbox Mount
Assemble pieces J, K, and O.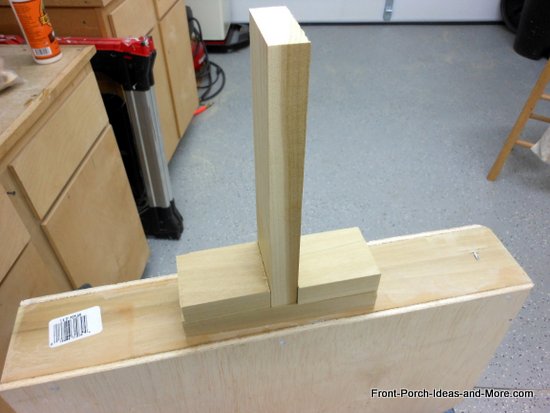 Mailbox mount
NOTE: Ensure piece O fits snugly inside the PVC pipe.

Find the center line in J and drill and countersink two pilot holes. Glue bottom of O. Align O over holes and insert two screws through J into O. Glue bottoms and one end of each K and sandwich those between O as shown below. Clamp together and let dry.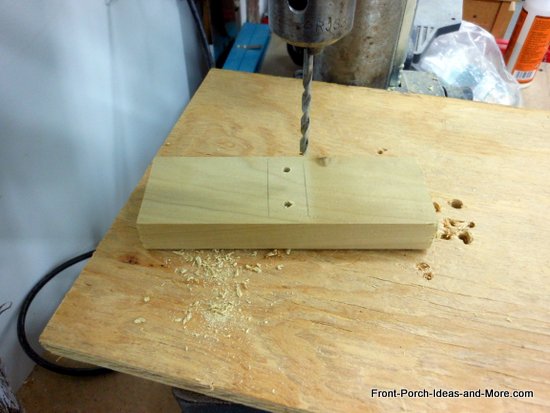 Drill two holes in base plate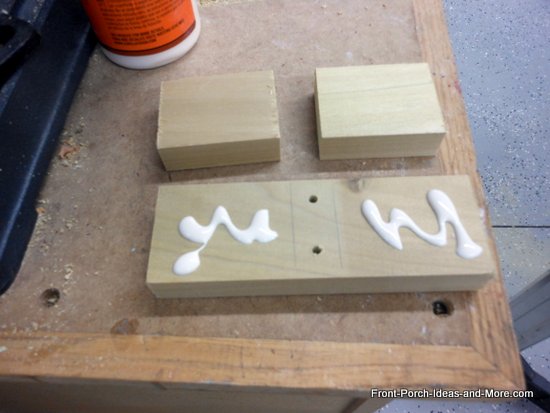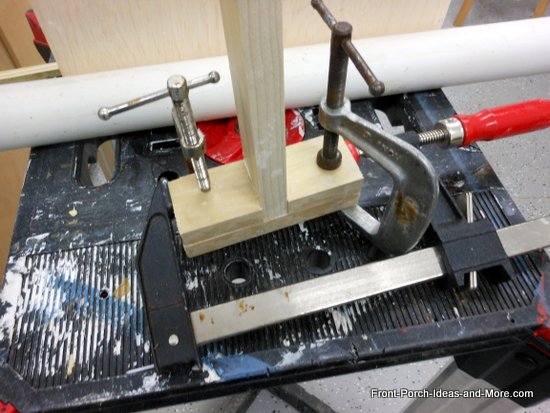 Attach the mailbox mount by centering it on the bottom of the mailbox, glue, and insert screws through the mount into the mailbox.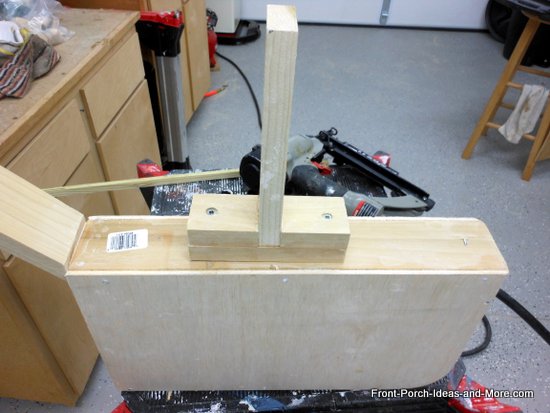 Mount attached to bottom of mailbox
Step 4 - Assemble the Mailbox Stand Mount
Repeat Step 3 using pieces L, M, and N.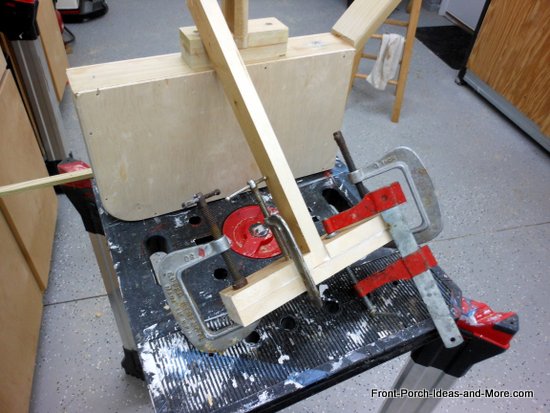 Assembled mount for mailbox stand
NOTE: Ensure piece N fits snugly but not too tightly inside the PVC pipe.



Step 5 - Assemble the Mailbox Stand
Assemble the stand using pieces P, Q, and R.



Mailbox stand pieces
Attach the sides Q and R using glue and nails. Set aside to dry.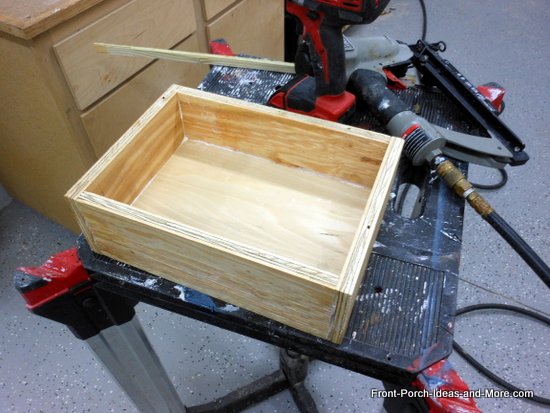 Mailbox stand assembled
Step 6 - Attach the Base Mount
Attach the mount to the base with screws. I added a spacer as seen in the photo to minimize movement.



Base support attached to base
Step 7 - Assemble the Mailbox Flag
Assemble the mailbox flag as shown below by gluing B to C. Attach the flag to the mailbox with a screw after all painting has been accomplished.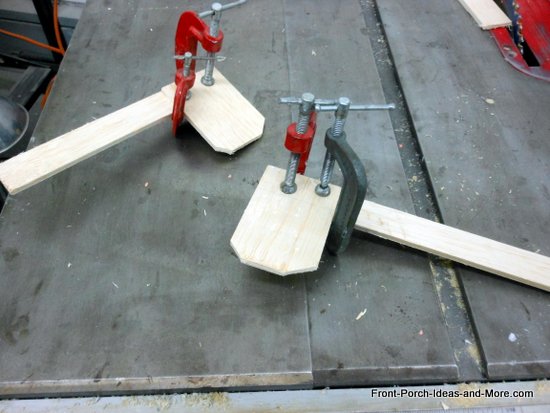 Mailbox flags glued and clamped (you only need one for per mailbox)
Step 8 - Attach the Mailbox Door
Begin by cutting one end of the door (I) at a 45 degree angle. Drill two pilot holes through the 45 degree angle. Glue the end and attach the door to the bottom of the mailbox opening with two screws as shown.

When making your Christmas mailbox decoration, you may also want to cut the door ends at 45 degrees also as depicted in the photo below.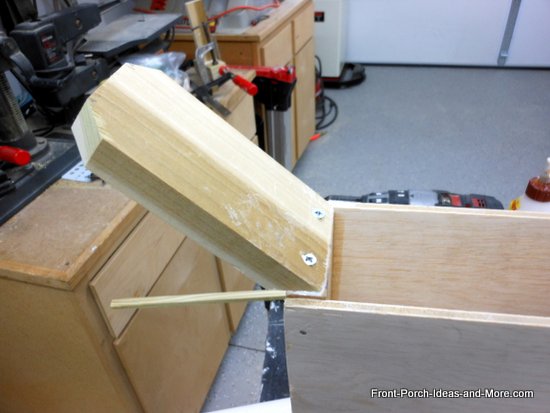 Door attached to mailbox
Step 9 - Paint Your Mailbox
Remove the mailbox from the PVC post and gather your package (D), letters (F), and cards (E) for painting.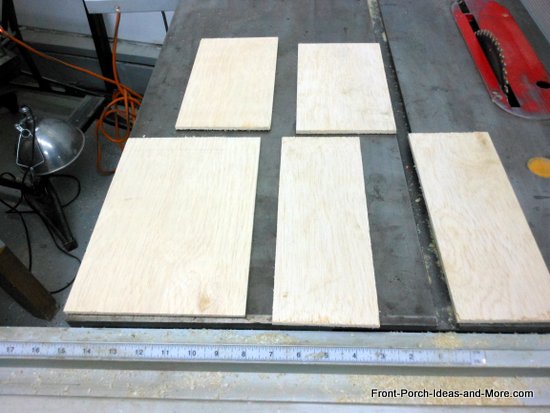 Christmas package, letters, and cards before painting
I primed the mailbox, PVC post, stand, package, letters, and cards with white semi-gloss primer and let dry.

We downloaded a Christmas ornament template and Mary used it as a guide to enlarge the pattern on a piece of paper. We recommend using card stock for transferring the template - rather than plain paper.



Enlarging template on paper
She then taped the template on the side of the mailbox. Using craft paints, Mary then went to work creating these colorful holiday Christmas balls. Be creative and add colors of your choosing along with glitter to make them shine.



Positioned and taped template to side of mailbox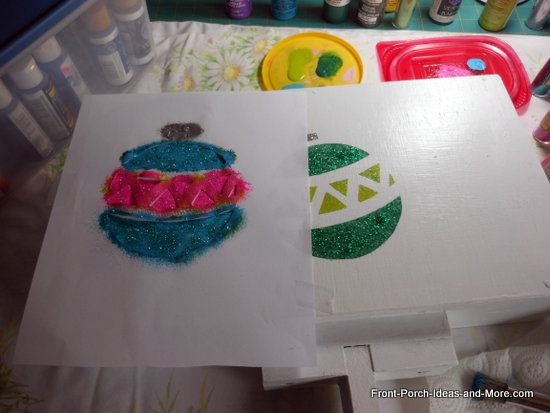 Painting ornaments on mailbox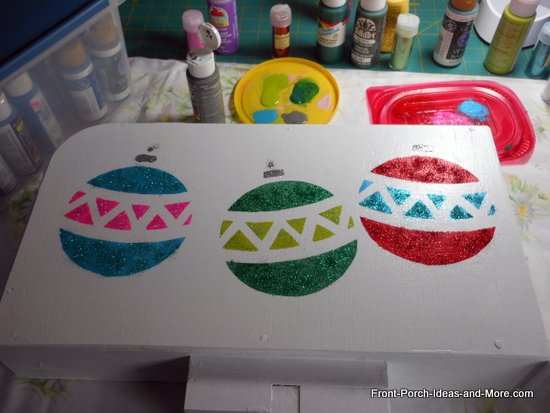 Finished ornaments on one side of mailbox
Repeat the above process for painting the other side of the mailbox. When finished, let dry and begin painting the Christmas package, cards, and letters.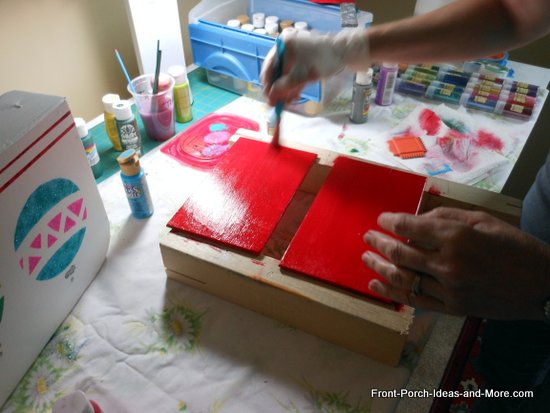 Painted Christmas cards
Create a Christmas package to place in the mailbox along with the letters and cards.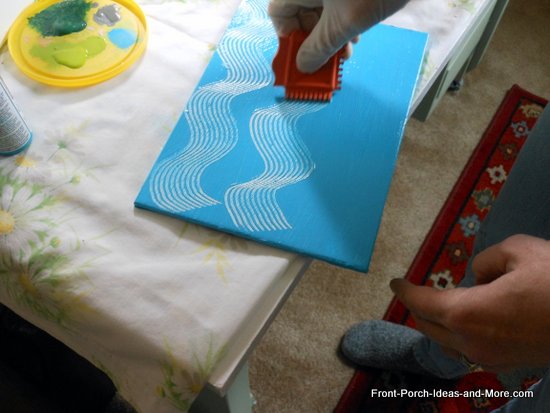 Making the Christmas package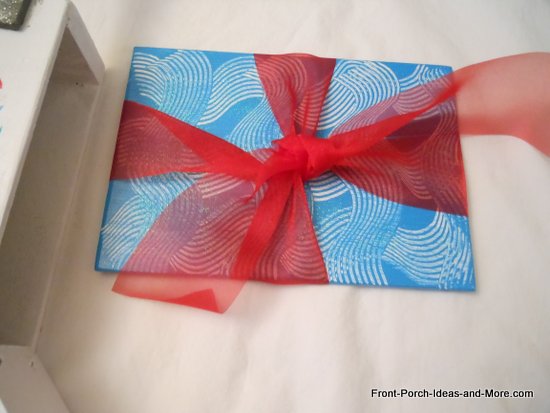 Finished Christmas package
Address the cards and letters, add details and glitter to make them as real as possible. Mary painted and glittered the flag and flag staff too.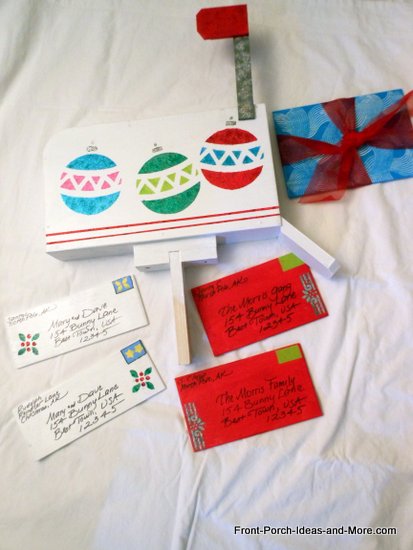 Finished mailbox with Christmas package, addressed letters and cards
Step 10 - Attach the Mailbox Flag
Position and attach the mailbox flag to one side of the mailbox.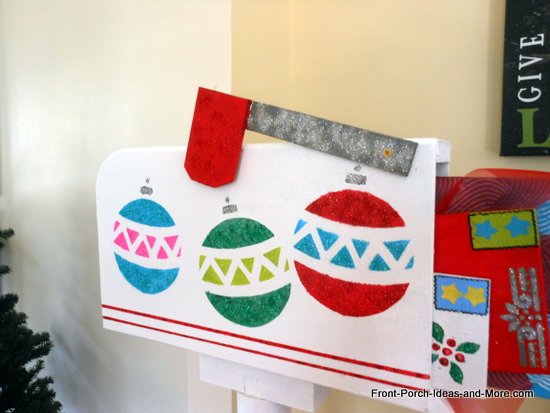 Flag attached to mailbox
Advertisement
Step 11 - Cut the PVC to Length
Assemble your mailbox. Insert the PVC over the base mount. Then insert the mailbox mount into the top of the PVC.

Next, determine the location of your mailbox, i.e., beside the front door, along a porch railing, or on the porch steps. Try placing your mailbox in various locations to determine what works best.

That will help you determine the height of your mailbox. Cut the PVC pipe (S) accordingly. I cut ours to 38 inches.

NOTE: To keep the mailbox from tipping add stones or bricks to the base and cover with garland, etc.



Paint or Decorate the PVC Post
We initially painted it with white semi-gloss. To make it appear as a candy cane, either paint the red stripe or use red duct tape as we did.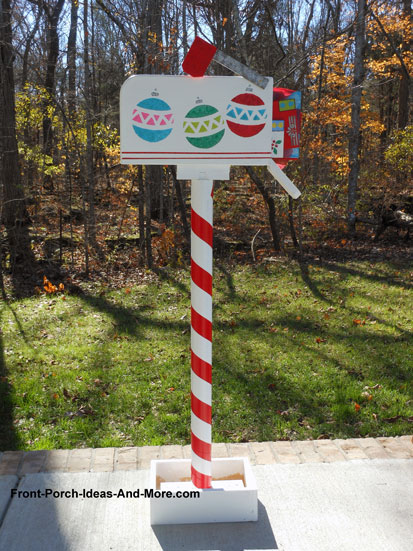 Post wrapped with red duct tape (easy!)
If you prefer, you can paint it in a solid color as well to make the mailbox stand out.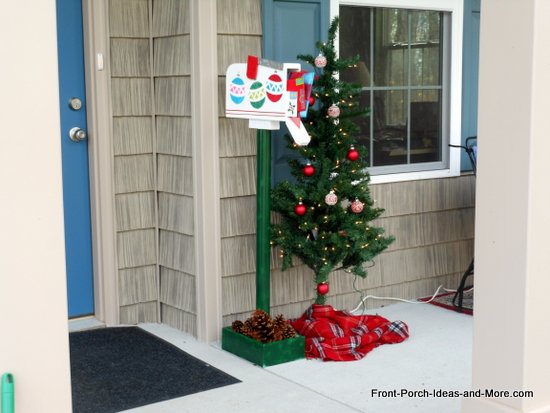 Post painted a solid green
Step 12 - Position Mailbox and Insert Materials
Find an ideal spot for your Christmas mailbox decoration and insert the package, cards, and letters. Add garland, lights, or other ornaments to suit your personal decorating style.

This makes a colorful and fun mailbox decoration that can be used year to year. Make two at the same time and give one away as a Christmas gift!

Send us pictures of your Christmas mailbox decoration or other craft ideas for the holidays so we can share them with others.




Our Sponsors


End Sponsors


---
Helpful Links
Enjoy shopping Amazon
(affiliate link)
Popular Pages
What's New
Join Our Newsletter Family
Porch Designs
Porch Ideas for Mobile Homes
Find a Local Contractor
Build a Porch
|
Small Porches
Porch Columns
|
Porch Railings
Screened Porches
Porch Curtains
|
Porch Enclosures
Porch Landscaping
|
Vinyl Lattice
Porch Decorating
|
Porch Ideas
Shop
Navigation Aids
Home
|
Top of Page
Site Search
|
Site Map
Contact Us
Policies
Disclosure Policy
|
Privacy Policy
Legal Info
---
Please Join Us Here Also

Find a Trusted Local Pro
---
Copyright© 2008-2024
Front-Porch-Ideas-and-More.com All rights reserved.
No content or photos may be reused or reproduced in any way without our express written permission.
At no extra cost to you, we earn a commission by referring you to some products on merchant sites. See our
disclosure policy
.
We, Front Porch Ideas and More, confirm, as stated on our
privacy policy
, that we do not sell personal information.
All content here is solely for presenting ideas. We recommend consulting with a licensed, experienced contractor before you begin your project.
We make no guarantees of accuracy or completeness of information on our site or any links to other websites contained here.



Thank you for taking your time to stop by. See what's popular and new here.
Enjoy shopping Amazon
(affiliate link)
Our Sponsors
End Sponsors
---
Find Top-Rated Service Pros (our referral link)
---
Get Our Newsletter,
Front Porch Appeal
and a bonus!
Learn more
!
Subscribe and also receive our eBook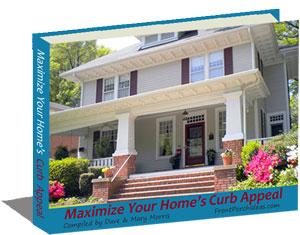 We will use your email address only to send our newsletter and this helpful ebook on curb appeal!
Enjoy our
back issues
.
---
What's New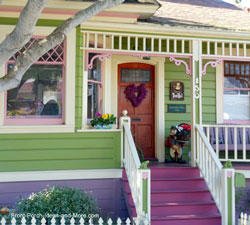 See Our Latest Updates
Get Our Porch Ideas Generator eBook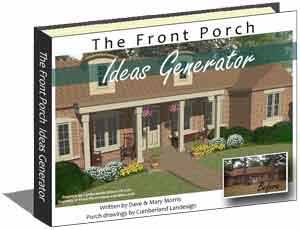 See Our Porch Illustrator eBook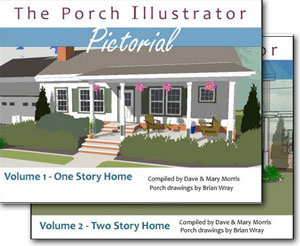 Search Our Site

Porch Ideas Network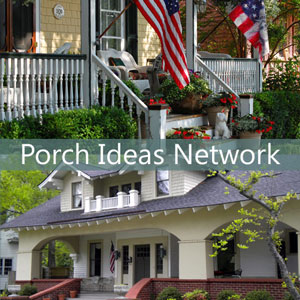 Thank you for taking your time to stop by.
See what's popular and new here
.