An Outdoor Bistro Set
Perfect for Your Porch
No matter the size of your porch, a bistro set may be just what you need for some extra charm. Named for the small French restaurants at which they first appeared, bistro patio sets are typically comprised of a small circular table and two chairs.

What we like about bistro sets is the conversation and sharing moments you will enjoy - just as if you were at a cafe enjoying coffee or a glass of wine with your best friend.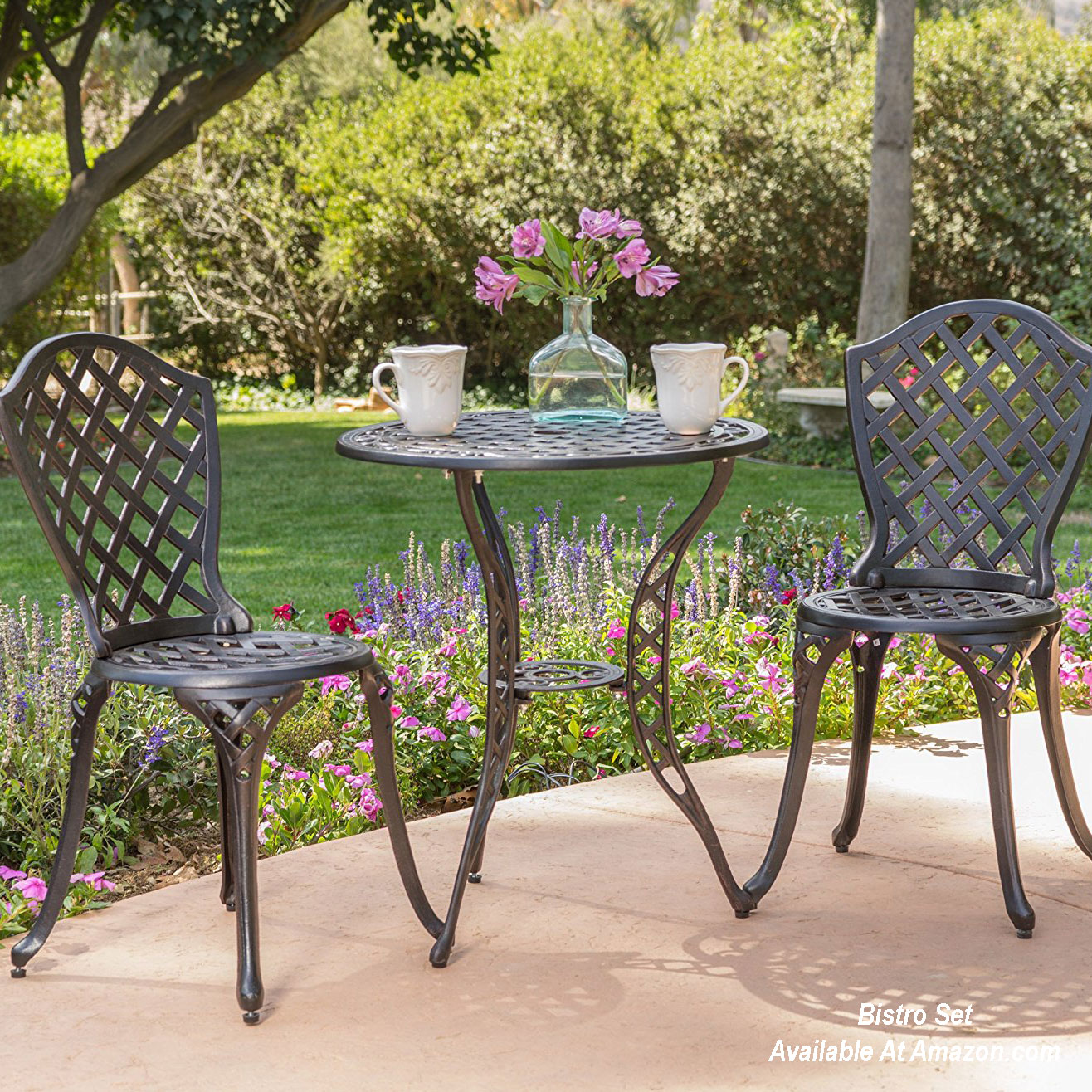 Bistro sets are perfect for porches - available at Amazon.com (affiliate)
Photo courtesy of Hayneedle
Even if you just have a small porch or tiny patio, you might be able to fit a nice bistro set. Take a look at the ideas we found. Perfect for an intimate evening with someone you care about. Imagine sitting here!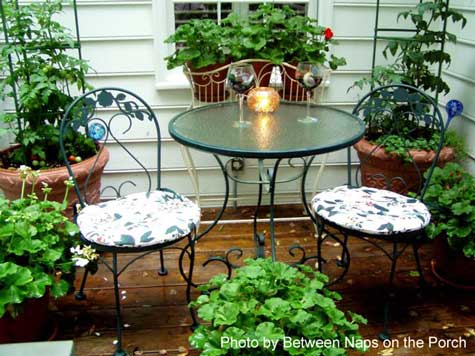 Are you a romantic? Then a bistro table and chairs is a must-have furniture addition. Why not use a bistro table and chairs to create an intimate nook for morning coffee, a friendly lunch, or to enjoy an evening glass of wine.

Match the style of your bistro patio set to your decorating theme. If you'd like to create a cozy Tuscan area on your porch, then choose a bistro patio set in wrought iron.

If country is more to your liking, wood bistro patio furniture might be just what you need.

To set the mood, choose nice outdoor porch lighting. An exterior chandelier or wall sconces might look fantastic over or around your set.
Bistro Set Options For Your Porch, Deck or Patio
This elegant and artistic mosaic bistro table will look fantastic on almost any porch.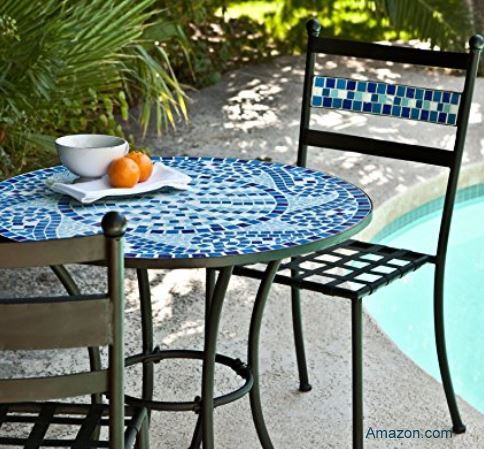 Blue mosaic bistro table - available on Amazon.com (affiliate)
An artsy yet contemporary round outdoor bistro table that will definitely be admired by family and friends alike. We like the inlaid mosaic tiles on the chair back. Do you?



Contemporary bistro table - available at Amazon.com (affiliate)
Made with hand-laid terra cotta tiles, this table is one of our favorites. Enjoy your morning coffee or perhaps an afternoon glass of wine with cheese.



Terra cotta bistro table - available at Amazon.com (affiliate)
Enjoy this 3-piece brown wicker set with cushions on your porch; it adds sophistication and charm too!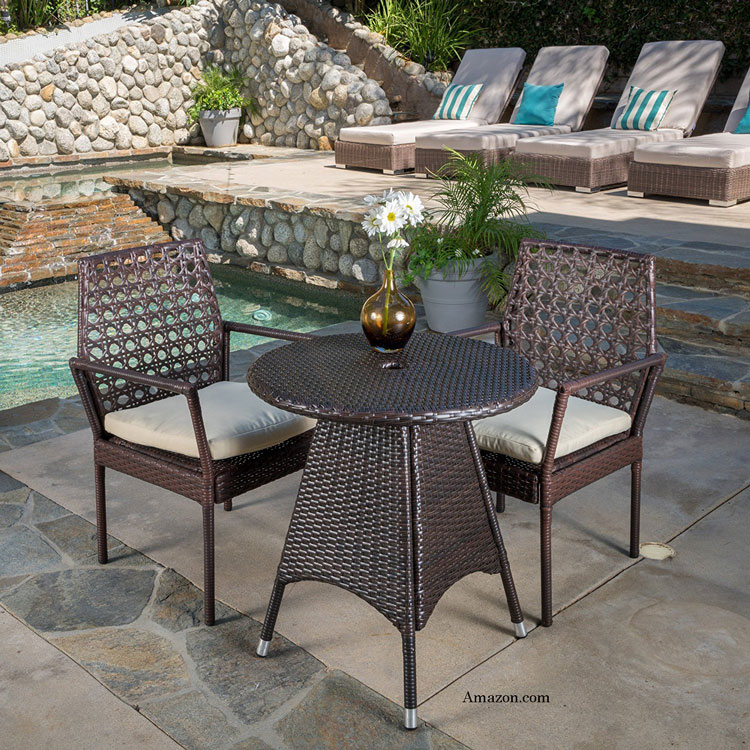 Brown wicker bistro table - available at Amazon.com (affiliate)
This all-weather wicker set is built to last a long time. Even waterproof cushions.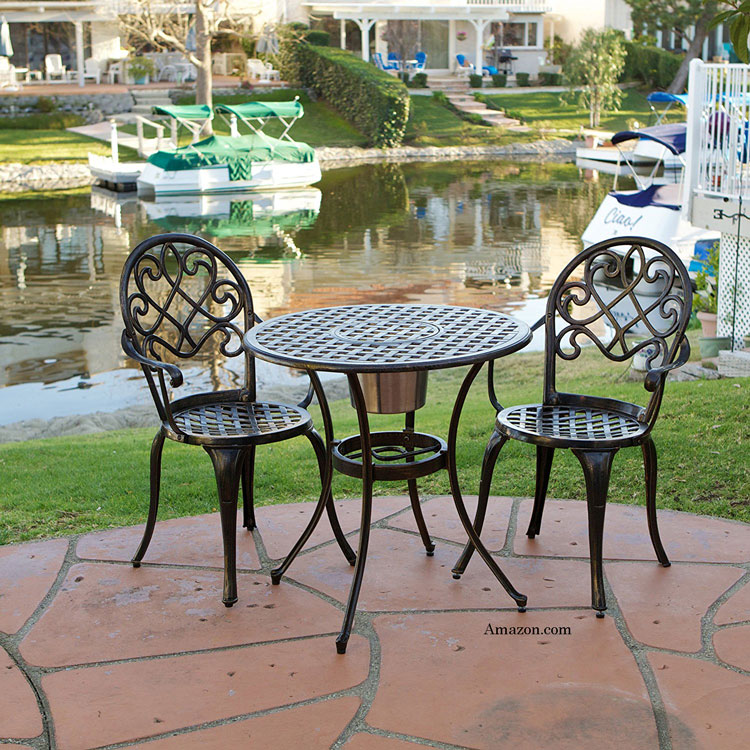 Brown wicker bistro table - available at Amazon.com (affiliate)
This 3-piece set with built in ice bucket is perfect for gathering friends to enjoy an evening on the porch. The copper finish will look nice in any decor.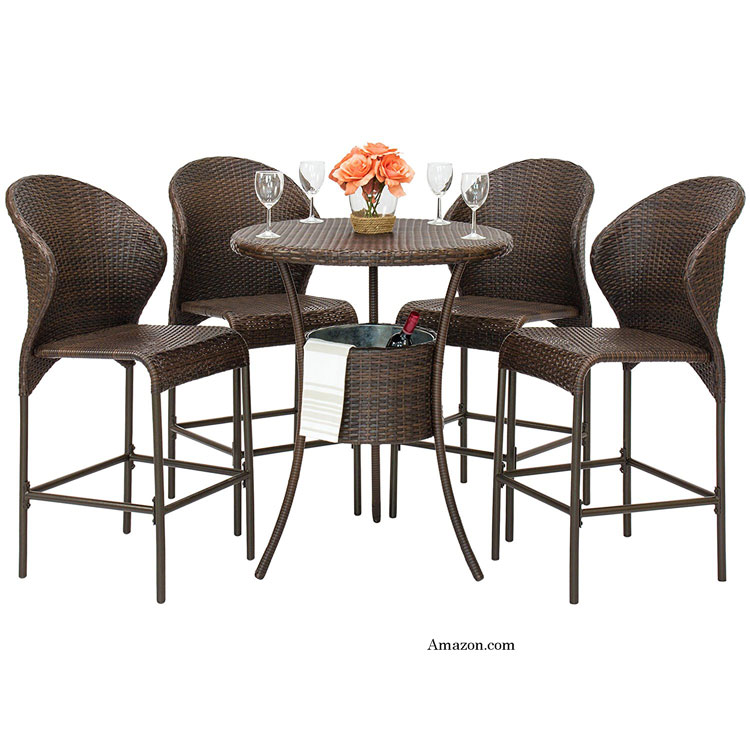 5 Piece bistro table - available at Amazon.com (affiliate)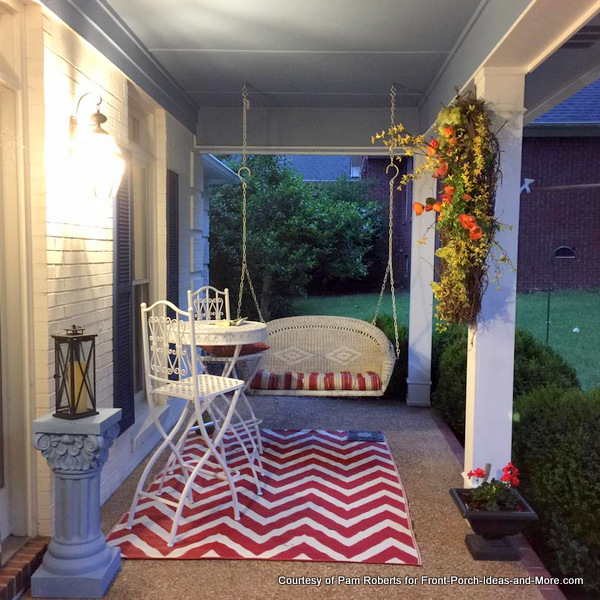 A delightful bistro table on Pam's porch. - photo courtesy of Pam Roberts




If you make a purchase through one of our affiliate links, we earn a commission but at no cost to you. Here is our

full disclosure

about affiliate marketing.

We are a participant in the Amazon Services LLC Associates Program, an affiliate advertising program designed to provide a means for us to earn fees by linking to Amazon.com and affiliated sites.





You can find outdoor bistro patio type sets in lots of wonderful styles, patterns, and materials - practically for any budget or decorating style, too.

French or Italian motifs are very popular. French sets have clean, uncluttered lines and strong, solid colors, while Italian themes have floral designs and rough, earthy tones and textures.













Popular Pages
---