If you purchase an item through affiliate links within our content, we will earn a commission at no cost to you. We share products that we hope will bring value and joy to your home. See our disclosure policy for more details.
Childrens Rocking Chairs
For Your Front Porch
Childrens rocking chairs can be a huge hit with your kids or grandchildren. I know because our grandsons got kid-sized recliners from Santa and they love them and have used them for many years.

And imagine how nice it would be to have their own rocker on the porch. Think of the long-lasting memories they will make.

I made a small children's trestle table and chairs years ago for our two sons and now our grandchildren play with it.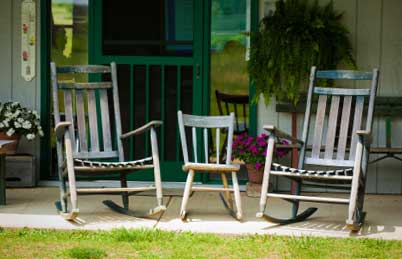 A child's rocking chair might become an heirloom for future generations
Imagine you and your child on the porch, together in rocking chairs, big and small.

Rocking chairs for kids come in all sizes, colors, and styles. You can even find novelty pieces like the sports-related chairs or frilly ones for little girls like you see below.

You can even find kids' personalized rocking chairs for your child's name.



Unique Childrens Rocking Chairs
We found these children's rockers on Amazon and thought you'd enjoy seeing them too.

Great gift idea; this chair is made from durable ash and will be enjoyed for hours by your child or grandchild.



Classic children's rocking chair - available on Amazon.com




Bouquet adorned child's rocking chair with non-toxic paint; will look fabulous indoors or out.



Adirondack children's rocking chair- available on Amazon.com (affiliate)
Green is fantastic and who wouldn't love a gentle giraffe!



Green giraffe rocking chair- available on Amazon.com (affiliate)


Unique wire child's rocking chair; comes in green too - available at Amazon.



Wire child's rocking chair- available on Amazon.com (affiliate)
Make this rocking chair really special by adding your child or grandchild's name.



Personalized child's rocking chair- available on Amazon.com
See lots more options at Amazon.com (affiliate link for which we may receive a commission); you'll be pleasantly surprised with the variety of rocking chairs available.

Spend some time with your children or grandchildren on your front porch and make some nice memories. We think a kid-size rocking chair is a pretty neat idea. Kids do too.





At no cost to you, we receive commissions for purchases made through affiliate links in our content. Here is our

full disclosure

about affiliate marketing.

As an Amazon Associate we earn from qualifying purchases.

















Popular Pages
---